9 Gut-Healing Snacks We're Obsessing Over

Contributing Food Editor
By Liz Moody
Contributing Food Editor
Liz Moody is a food editor, recipe developer and green smoothie enthusiast. She received her creative writing and psychology degree from The University of California, Berkeley. Moody is the author of two cookbooks: Healthier Together and Glow Pops and the host of the Healthier Together podcast.
We all gotta snack sometime, and when we do, we might as well reach for food that's gut healing (and, of course, super delicious). Whether you want to buy something ready-made or whip up a treat at home, this list has you covered, with the good-for-your-gut snacks I'm obsessing over right now.
Buy 'em
1. Probiotic chips:
Yes, probiotic chips. These just came out, and I'm fairly obsessed. They're made out of sauerkraut (yes, sauerkraut) and have over a billion CFUs (colony-forming units) of good bacteria per serving—and, oh yeah, they taste amazing. When I need a healthier Doritos fix (you know that irresistible crunchy/salty combo), these are what I reach for, usually in the Zesty Garden Veggie flavor.
2. Probiotic chocolate granola:
If, like me, you're a sweet snacker, I'd like to introduce you to your new best friend—chocolate sea salt probiotic granola. From Purely Elizabeth, this is filled with gluten free oats, amaranth, quinoa and more, plus a heat-proof strain of probiotics that the brand has patented. The taste is out of this world, a deep, creamy chocolate with just the right amount of crunch. I sprinkle it on coconut yogurt or just it eat it straight from the bag.
3. Sprouted almonds: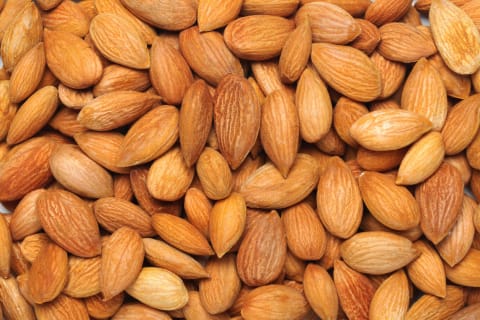 When you eat nuts that haven't been soaked or sprouted, they won't kill you—but they're not great for your digestion either. Soaking or sprouting your nuts ensures you get all of their nutrients and avoid any bellyaches. You can buy nuts pre-sprouted from places like nuts.com, or you can simply cover almonds with water and let soak overnight. In the morning, drain and transfer to fridge, then consume within a day or two.
4. Kombucha:
Drinking fizzy things makes you feel full, and kombucha has extra benefits, with acids that help with digestion and good bacteria to colonize your microbiome. I like to use it as a way to crush midafternoon sugar cravings. Right now, I'm loving the healing herbal blends made by Brew Dr. Kombucha—the rose-spiked Happiness blend is my favorite.
Make 'em
1. Celery with almond butter and cinnamon:
Celery is a prebiotic, meaning it provides food for the good microbes in your gut. Topping it with a bit of almond butter adds protein and good fat that will keep you full while the cinnamon provides a burst of flavor and stabilizes blood sugar.
2. Gut gummies:
I love making gut gummies, which are essentially like healthy Jell-O. To make, simply heat one and a half cups of liquid of choice (you can blend berries with water or milk, or just use a pre-bought, ideally low-sugar juice) until almost boiling, then remove from heat and whisk in three tablespoons of grass-fed gelatin (you don't want to use trendy collagen protein here, as you want it to really gel—I like Vital Proteins). When it's all blended, pour into a small, glass, rectangular container and place in the fridge to let cool. Once it's firm and jiggly, cut into squares and munch whenever you need a high-protein, gut-friendly fix!
3. A roasted, cooled sweet potato with ghee, sea salt, and cinnamon: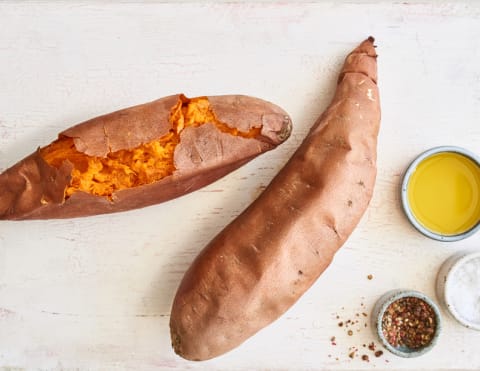 The cooling is key here, as it turns the potato into a resistant starch, a preferred fuel source for the good bacteria in your gut. It also increases production of a short-chain fatty acid called butyrate1, which helps with your digestion and decreases inflammation in your colon. I like to just chuck a whole sweet potato in a 375-degree oven for about an hour or until really soft. Then I scoop out the insides, mix in a teaspoon or so of ghee (fat helps digest all that vitamin A and also tastes amazing), a pinch of salt and a sprinkle of cinnamon. I'll usually do a few at a time and leave the mash in the fridge to munch throughout the week—it makes a great pre-bedtime snack.
4. Collagen tea:
This one is a make but barely. Essentially, I brew up a glass of tea (any flavor will do), then stir in a heaping spoonful of collagen powder. You won't taste it, but it makes the tea slightly more viscous (and, I think, satisfying)—and, more importantly, it helps to repair the gut lining. I typically use Bulletproof's brand, but just make sure you look for one that's grass-fed from a company you trust.
5. Chia fresca:
Commonly found in Mexico, chia frescas are essentially liquids spiked with chia seeds. It's said that Aztec warriors used them as ancient Gatorade, to boost their energy before going to war. Whether you're off to battle or not, you can simply squeeze some lemon juice and maple syrup into a glass of water, then stir in about a teaspoon of chia seeds. Let them expand, and you have your own bubble-tea-like thirst quencher.
Want to turn your passion for wellbeing into a fulfilling career? Become a Certified Health Coach! Learn more here.