Make Any Salad Taste Great With This Avocado & Lemon Dressing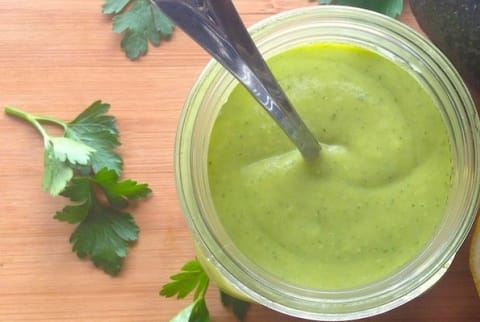 March 18, 2014
Having a delicious homemade dressing (or two) on hand in your refrigerator is one of the tricks to getting a meal on the table fast without compromising on taste or nutrition. Store-bought dressings are loaded with calories and preservatives. Making your own dressing is a terrific way to jump-start your healthy eating and cooking commitment.
Fresh greens and a delicious homemade dressing form the foundation of so many meals. Add any number of ingredients to the salad (eggs, chicken, veggies, seafood, nuts, or beans) and you have a full meal.
And with a dressing handy you have a shortcut that will make cooking easier, faster, and less stressful. I encourage you take store bought dressing off your shopping list. There are tons of recipes online and on this site, including three of my own and of course my new favorite, this lemon avocado dressing below. It's tastes and looks like springtime.
I was inspired to make it the other day because I had an avocado that would soon be overripe if I didn't use it. It's creamy, lemony, satisfying, and can easily be made in about five minutes. Everyone has time for this. This recipe makes enough for several large salads and can easily be doubled or tripled so you can keep a big jar in your fridge and have a quick start to many meals to come.
Avocado-Lemon Salad Dressing
Makes enough for 10 salads
1 large avocado ripened (skin and pit removed)
1/4 cup (62.5 ml) extra virgin olive oil or avocado oil
1/4 cup water
1/4 cup fresh Italian parsley (flowers only)
1 small clove fresh garlic
Juice of 1/2 lemon
1 tsp (5ml) agave or honey (optional)
Salt and pepper to taste
Place all ingredients except oil and water in the bowl of a food processor or mixer. (A high-speed blender works beautifully, too.) With the blade running, add the oil, slowly followed by the water. Puree until smooth. Add a bit more oil and water if too thick.
Refrigerate after use. Enjoy all week!
Silvia Bianco
Live a vibrant, connected, physically and spiritually nourished life.
As a native Italian, connection is in my DNA. As a holistic professional chef, good nutrition and great taste go together.
We've sacrificed cooking for convenience and lost the sacredness of sharing a lovingly prepared meal. I'm on a mission to change that.
For 20 years, I've taught thousands of people (regardless of their dietary choices or restrictions) how to cook whatever they want to learn using simple, fresh, everyday ingredients along with practical, easy techniques.
Now I've gathered the tools and inspiration for you to make cooking simple and meeting at the table a meaningful and memorable experience. Get them by
SUBSCRIBING to chefsilvia.com and LIKE my FB page to get my latest divine, Mediterranean inspired recipes and cooking tips. Subscribe to Miracles & the Chef for some Sacred Sustenance - based on the teaching of ACIM.