Close Banner
Advertisement
This ad is displayed using third party content and we do not control its accessibility features.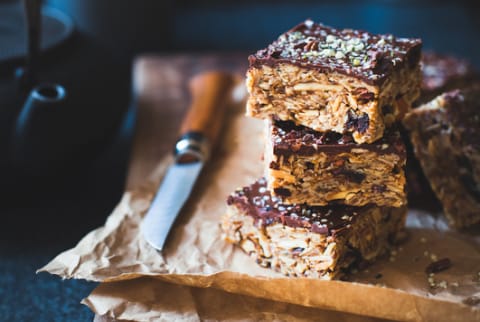 Photo by Alanna Taylor-Tobin
My mom, who's a bit of a health nut (understatement), used to disparage an ex by saying, "He ate COOKIES for BREAKFAST!" as if there were no worse crime. Call me rebellious, but I'm a fan of cookies for breakfast, particularly if there's chocolate involved, and that's essentially what these no-bake granola bars are.
I always assumed no-bake bars were inferior to the baked variety, but Laura of the blog Tutti Dolci changed my mind when she mixed hers up with plenty of almond butter and topped them with a smear of salted chocolate.
I like mine with a dose of dried tart cherries, buttery hemp seeds, and crunchy cacao nibs, though feel free to switch up the nuts, seeds, and fruit as you see fit; the recipe is quite forgiving. If you're anything like me, you'll find yourself dipping into your stash … any time of day.
Tart Cherry, Chocolate + Hemp Seed No-Bake Oat Bars
Makes 16 small but rich bars
1 cup (235 mL) smooth, unsalted almond butter (preferably at room temperature, stirred if separated*)
½ cup (120 mL) maple syrup
2 teaspoons (10 mL) vanilla extract
¼ teaspoon fine sea salt
2½ cups (225 grams) GF old-fashioned rolled oats
½ cup (55 grams) unblanched sliced almonds
½ cup (70 grams) dried tart cherries (or cranberries)
¼ cup (30 grams) hulled hemp seeds
¼ cup (30 grams) cacao nibs
1 tablespoon (15 mL) extra-virgin coconut oil
¾ cup (130 grams) chopped bittersweet chocolate
Flaky salt such as Maldon, cacao nibs, and hemp seeds, for sprinkling
1. To make the bars, in a large bowl, whisk together the almond butter, maple syrup, vanilla, and salt until smooth. Set aside.
2. Place the oats in a wide, heavy-bottomed skillet set over low heat, and toast until golden and fragrant, 8 to 12 minutes, stirring frequently. Pour the warm oats into the bowl with the almond butter mixture.
3. Wipe out the skillet and add the almonds, toasting over low heat and stirring frequently until golden and fragrant, 4 to 6 minutes. Add the almonds to the bowl with the oats, then add the dried cherries, hemp seeds, and cacao nibs. Use a flexible spatula to fold the mixture until well-combined. Let sit until cool enough to handle, 5 to 10 minutes.
4. Line an 8-inch (20-cm) square pan with a sling of parchment paper, leaving an overhang on each side to use as handles. Scrape in the oat mixture, and use damp hands to pack the mixture firmly into an even layer.
5. To make the topping, place the coconut oil and chocolate in a small saucepan and set it over the lowest possible heat, stirring constantly with a heatproof silicone spatula until the chocolate is melted and smooth.
6. Pour the melted chocolate over the bars, and tilt the pan gently to coat in an even layer; there will be just enough. Sprinkle the top with a few small pinches of flaky salt and several large pinches of cacao nibs and hemp seeds. Chill the bars until firm, at least 2 hours and up to 1 day.
7. Loosen the edges of the mixture with a small, offset spatula or the tip of a knife, and use the parchment handles to lift it up and out of the pan and onto a cutting board. Use a large, sharp chef's knife to cut 16 squares.
Store the bars airtight in the refrigerator; they will soften if left at room temperature. They are crispest on the day of making but will keep well for up to 5 days.
*Note: Natural nut butters often come with a slick of oil at the top of the jar, so be sure to give yours a good stir before you get started measuring.
Alanna Taylor-Tobin
Alanna Taylor-Tobin is a classically trained pastry chef and founder of the popular recipe website The Bojon Gourmet. Her recipes, food styling and photography have been featured in New York Times, Food and Wine, Food52, The Huffington Post, GFF: Gluten-Free Forever Magazine and Williams-Sonoma. She lives in San Francisco, California.