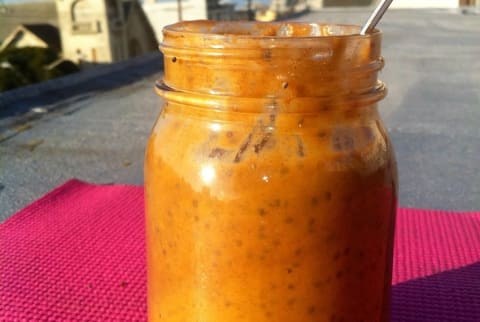 January 8, 2014
With more fiber than oatmeal and over 700% of your daily recommended beta-carotene, this sweet treat will keep you full for hours and make your skin glow like you spent your Christmas break on the Big Island. And thanks to chia seeds, this pudding has even more antioxidants than a serving of blueberries!
The best part? It tastes like dessert, but you can eat it for breakfast!
1 cup puréed sweet potatoes (made from 1 large or 2 smaller potatoes)
2 cups unsweetened vanilla almond milk
½ frozen banana
1 tsp. cinnamon
1 Tbsp. chia seeds
Bake or boil sweet potatoes (for 40 minutes on 375 degrees Fahrenheit, or 20 minutes in boiling water)*.
Add the softened sweet potatoes, without skins, to your high speed blender of choice.
Add ½ frozen banana, 2 cups almond milk, 1 tsp. cinnamon, and blend.
Move to Mason jar or bowl and mix in 1 Tbsp. of chia seeds. If pudding is very thick, go ahead and add a bit more almond milk and stir.
Cover and store in fridge for 12-24 hours.
Take out of fridge, the Chia Seeds will have expanded, and you have a delectable breakfast/snack/dessert.
*I love eating plain, baked sweet potatoes, so I always bake a bunch of them at a time to save for later, or in this case — to make some SuperPudding!
Kristen Brotemarkle
Kristen is a San Francisco based yoga teacher, writer, and healthy recipe creator, working to change the world. She believes this change starts within and that we all have both the right and obligation to live happy, healthy lives of purpose. She hopes to make this lifestyle accessible to all, using yoga and healthy eating as vehicles for self-realization and self-love. Through her writing and teaching, she aims to inspire others to move beyond fear, and towards authentic lives of love and possibility. In short, living life as our best selves.
For your daily dose of food and inspiration, you can visit Kristen on her mat at KristensMats.com, or on Facebook, Twitter, and Instagram @KristensMat