Close Banner
Advertisement
This ad is displayed using third party content and we do not control its accessibility features.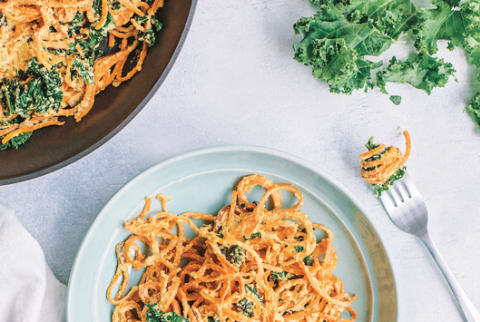 Photo by Real Food, Real Simple
The sweet potato, kale, and onion combo is one of my favorites in general, but the addition of the Cheesy Cashew Cream takes this dish to a whole new level of yum! Plus, it adds a little protein and plenty of healthy fats to the carbohydrates in the base, which is a winning combo for keeping you satisfied.
Sweet Potato Noodles with Kale, Onion + "Cheese" Sauce
3 large sweet potatoes
1 tablespoon (15 mL) olive oil
½ cup (50 g) yellow onion, finely chopped
6 cups (120 g) kale, roughly chopped
1½ cups Cheesy Cashew Cream
1. Spiralize the sweet potatoes into thin, spaghetti-like noodles.
2. Heat the olive oil in a large skillet over medium heat and add in the onion and kale.
3. Sauté until the onions start to soften and the kale begins to wilt, about 2 to 3 minutes.
4. Add the sweet potato noodles and continue to sauté until noodles are al dente, about 7 to 8 minutes, or until cooked to your liking.
5. Remove the pan from the heat and add the Cheesy Cashew Cream. Stir to combine.
Tip: Not a kale fan? Try spinach or arugula in its place!
Cheesy Cashew Cream
It's OK if you want to bathe in this cashew cream, really. It's soft, creamy, and delicious with a "cheesy" essence that will have you addicted in no time.
2 cups (225 g) raw cashews
3¼ cups (300 mL) water, divided
¼ cup (20 g) Dijon mustard
¼ cup (15 g) nutritional yeast
2 tablespoons (30 mL) apple cider vinegar
1 teaspoon garlic, minced
½ teaspoon sea salt
Pepper to taste
1. Soak the cashews in 2 cups (480 mL) of water for at least 2 hours (overnight is best if you have the time).
2. Drain the cashews, then add them to a food processor along with the remaining water, Dijon mustard, nutritional yeast, vinegar, garlic, salt, and pepper, and blend on high until very smooth, about 2 to 3 minutes.
Tip: You can make this sauce without soaking the cashews at all if you're in a pinch. It won't be quite as creamy, but it will be just as delicious!