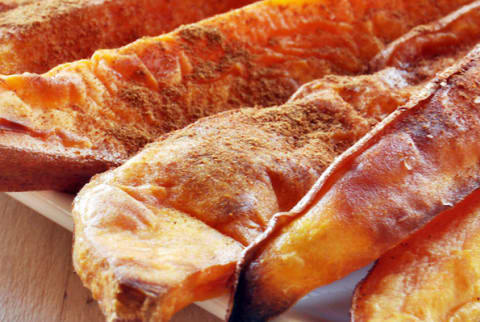 August 21, 2014
These fries are my go-to when I want something warming, indulgent and decadent. Unlike the fries you would order at a restaurant, this version is baked and 100% good for you! The recipe is super simple and makes the perfect weeknight side dish or snack.
For a savory version, simply swap the cinnamon for black pepper and a dash of cayenne.
Easy Coconut-Cinnamon Sweet Potato Fries
4 medium sweet potatoes, scrubbed
2 Tbsp. coconut oil, melted
1/2 tsp. ground cinnamon
1/4 tsp. salt
Preheat oven to 400° Fahrenheit.
Cut ends off sweet potatoes and peel if they are not organic. Slice them lengthwise, then into strips about 1/4" thick.
In a large bowl, toss sweet potato slices with coconut oil, cinnamon and salt, making sure all pieces are coated.
Spread out over baking sheet. Bake for 40-45 minutes (until edges are lightly browned), flipping halfway.

Ilene Godofsky
Ilene Godofsky is a health coach, recipe developer and food blogger dedicated to sharing plant-based recipes that are colorful, not complicated.
Connect with Ilene on her recipe blog The Colorful Kitchen and sign up to receive your free 2-day vegan meal plan!