Close Banner
Advertisement
This ad is displayed using third party content and we do not control its accessibility features.
If you're anything like me, you love a good hot chocolate but are not interested in any of the store-bought, sugar-laiden, dairy-added options out there. You want clean, high quality ingredients and a made-from-scratch option.
This hot chocolate recipe has quickly become my favorite! It's 100% real food, packed with superfood goodness, and is the perfect afternoon pick me up (with a little kick!) to keep you energized for the rest of your day.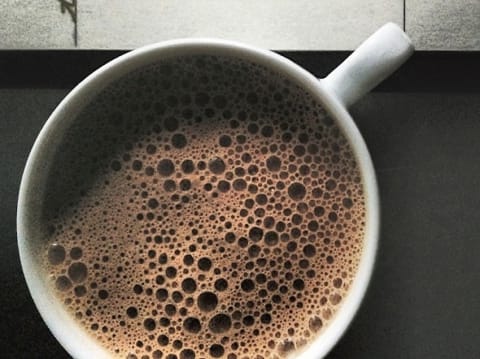 1/2 cup almond milk + 1/2 cup water, warmed on stovetop
1 tablespoon coconut oil
1 tablespoon raw cacao powder
1/2 teaspoon raw maca powder
1/2 teaspoon turmeric
1/2 tablespoon maple syrup
3 dashes cinnamon
cayenne + sea salt, pinch of each
Add all ingredients to blender. Blend well and enjoy!
Photo courtesy of the author
Katie Hussong
Katie Hussong is a Registered Nurse turned Holistic Health Coach and Culinary Nutrition Expert with a passion for integrative nutrition, yoga, and radical self-care. Through her writing, coaching, and classes, she offers a healing hand and loving heart to help stressed out folks get healthy naturally. Connect with her on Facebook and sign up here to keep in touch as she explores good food, good living, and the power of gratitude throughout the year.