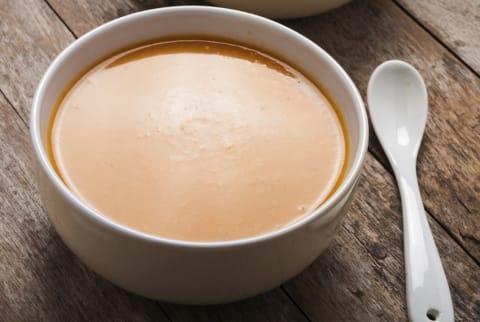 September 24, 2013
This soup is rich and velvety smooth and a beautiful orangey- brown color. Since the early years at Moosewood, it's been a perennial customer request, and it always shows up multiple times on surveys of our fans' favorites. For many Moosewood cooks, it's a good old standard at home.
Peanut soups and sauces are found throughout West Africa. Moosewood cook Nancy Lazarus developed West African-style peanut soup for our Sundays at Moosewood Restaurant cookbook, and more than thirty years later, she developed this revised version to reflect how we do it today, a bit simpler and still divinely delicious.
1 tablespoon vegetable oil or olive oil
2 cups chopped onions
1 cup diced celery
1 teaspoon salt
2 tablespoons peeled and grated fresh ginger
1 tablespoon Tabasco, or other hot sauce, or 1 fresh hot pepper, minced
4 cups peeled chopped sweet potatoes (about 1 1⁄2 pounds whole)
3 cups water
3 cups tomato juice
1 cup smooth peanut butter
1⁄4 cup chopped fresh cilantro chopped scallions or chives
Warm the oil in a covered soup pot on medium heat.
Add the onions, celery, and salt and cook, stirring frequently, until softened, 10 to 15 minutes.
Stir in the ginger and hot sauce or hot pepper.
Add the sweet potatoes and water and stir well. Bring to a boil, cover, and simmer until the vegetables are very tender, about 20 minutes. Add the tomato juice and peanut butter to the pot. In a blender in batches, or using an immersion blender, purée the soup until smooth.
Add the cilantro and reheat gently. Add more salt and hot sauce to taste.
Serve topped with scallions or chives.

The Moosewood Collective
The Moosewood Collective has nineteen members who share responsibilities and participate in the various jobs necessary to run what has grown from a very small natural foods restaurant to a larger and more diversified company. Some members have worked for the restaurant since its founding in 1973.