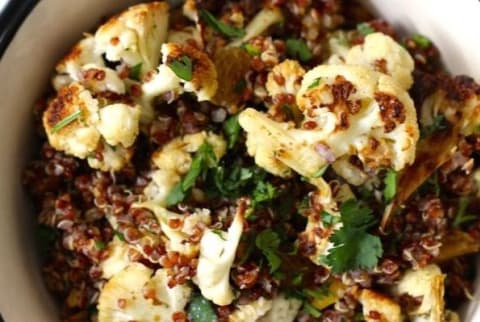 April 6, 2014
One of the best things about quinoa is its versatility. You can sub quinoa into all sorts of recipes that call for rice, couscous, orzo, and other grains. This dish has Middle-Eastern inspired flavors that would classically pair with couscous or bulgur. We're roasting cauliflower with aromatic spices and garlic, and then mixing it all up with fresh preserved lemon and cilantro, crunchy nuts and sweet golden raisins.
The dish makes a great side for roasted chicken or fish simply seared with lemon and garlic. Or, bring leftovers to work for a healthy lunch.
Advertisement
This ad is displayed using third party content and we do not control its accessibility features.
The recipe is endlessly adaptable. You can sub in 2 Tbsp. lemon juice for the preserved lemon, and also play around the other herbs and spices like mint, coriander and cinnamon.
Spice Roasted Cauliflower With Quinoa
Ingredients
1 head cauliflower, separated into small florets
2 Tbsp. olive oil
1 Tbsp. za'atar
1 tsp. cumin
¼ tsp. red pepper flakes or 1 tsp. Aleppo pepper flakes
2 cloves garlic with skins on
Salt and freshly ground pepper
1 cup quinoa, rinsed and drained
1 2/3 cup water
3 Tbsp. finely chopped preserved lemon rind (flesh removed before chopping rind)
3 Tbsp. golden raisins
3 Tbsp. toasted, chopped hazelnuts, pine nuts or sliced almonds
handful cilantro leaves, chopped
Optional: drizzle of plain yogurt and/or pomegranate molasses
Directions
Preheat oven to 425 F. Line a baking sheet with parchment paper. In a bowl, combine cauliflower, olive oil, spices, and a good dusting of salt and pepper.
Spread on baking sheet and add garlic cloves. Bake for 35-40 minutes, stirring every 15 minutes to get the cauliflower evenly browned.
Meanwhile, bring water to a boil in saucepan, then reduce heat and add quinoa. Cover and simmer 15 minutes until liquid is evaporated.
Remove cauliflower from oven. Remove garlic cloves and let cool. Once cooled, squeeze garlic from skins and mince or mash with a fork.
In a large bowl, fold together cauliflower, garlic, quinoa, preserved lemon and pine nuts. Garnish with cilantro, and perhaps some yogurt and pomegranate molasses. Tastes great served warm or room temperature. Serves 6-8 as a side dish.
Advertisement
This ad is displayed using third party content and we do not control its accessibility features.

Amy Endemann
Amy Endemann is an avid traveler, amateur cook and author of Borrowed Salt, a blog about learning to cook on the fly. It's inspired by her attempts to cook around the world - meals inspired by diverse flavors, friends, restaurants, and a LOT of different kitchens.
Cooking does not have to be about perfection. For Amy it's about using what you've got, seeking out what's worth it, and laying low with great people around a well-stocked table.