Close Banner
Advertisement
This ad is displayed using third party content and we do not control its accessibility features.
Spice Up Your Quinoa, South-Indian Style!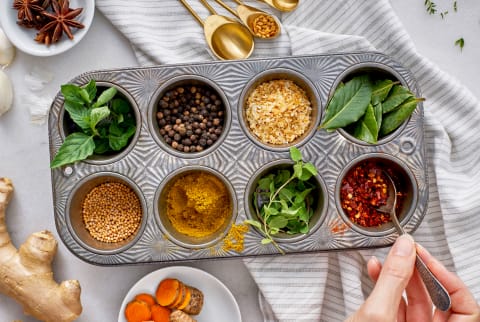 Image by Suzanne Clements / Stocksy
Let's face it — quinoa dishes can be a bit boring, uninspired and bland. So I set about to create a unique and delicious quinoa dish for all!
Upma is a traditional Southern Indian dish, cooked to a firm polenta-like texture with toasted semolina. The beauty of upma is you have the creative freedom to embellish your dish with as many seasonal vegetables as you like.
I created a quinoa version of upma, that works brilliantly with simple roasted cauliflower. This dish is fantastic served warm but equally tasty at room temperature or even the next day. You can even skip the cauliflower and enjoy quinoa upma on its own!
Quinoa "Upma" With Simple Roasted Cauliflower
Total Prep Time: 45 minutes; Active Prep Time: 25 minutes; Serves 6-8
3 cups quinoa (red or white)

2-3 Tbsp. canola or vegetable oil

1/2 tsp. black mustard seeds

1 tsp. grated fresh ginger

2-3 minced green chilies (less if you're averse to spice)

1 medium yellow onion, diced

1 large carrot, diced

1 cup peas (fresh or frozen, optional)

1/4 cup toasted peanuts (optional)

Juice of 1 lime

2 Tbsp. chopped cilantro (optional)

Salt to taste
Dry-roast quinoa in a hot pan over medium heat until — about 12-15 minutes, set aside.
In a large saucepan or wok, heat the oil over medium heat and add mustard seeds, but wait for them to sputter. Add ginger, green chilies & onions and cook until the onions take on a bit of color. Add all chopped vegetables, salt to taste and 3 cups of water. Bring to boil.
Add the toasted quinoa, lower the heat and stir for a few minutes to avoid lumps. Cover and cook until all water is absorbed (15-20 min), stirring a couple of times in between.
Garnish with peanuts, chopped cilantro and a squeeze of lime.
Simple Roasted Cauliflower
1 head of cauliflower

A clove or two of garlic, smashed

Olive oil, just to coat

Dash of red chili flakes

A few sprigs of fresh thyme

Juice of 1 lemon

Salt & pepper to taste
Preheat the oven to 400 degrees.
Lightly marinate the cauliflower florets in smashed garlic, red chili flakes, lemon juice, fresh thyme, salt, pepper & olive oil.
Roast until crispy brown edges form (about 40 min or so, turning once or twice).
You might need to raise the temperature of your oven to 425 for the last few minutes to really brown up the edges.
Sudhir Kandula
Sudhir Kandula is a great eater, mediocre distance runner & an accidental reality TV personality. He lived in Paris, San Francisco and NY (current residence) and sees himself on a farm in Northern California in the near future. He runs mostly to support his eating habits.