Perfect Weekday Snack: Vegan Almond Butter Chocolate Mousse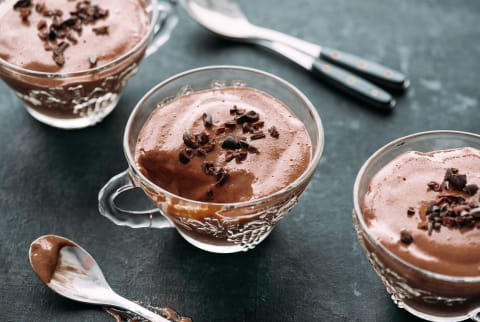 Image by Ina Peters / Stocksy
May 21, 2014
This little treat is super easy to whip up and is absolutely delicious. I love it as a mid-afternoon snack or when I crave something chocolatey.
Personally, I don't add any sugar at all in this one. The maca powder is enough for me, but if you'd like it on the sweeter side, add half a banana or your favorite sweetener, which is what I do when I prepare this for my family or friends.
Almond Butter Chocolate Mousse
1 small avocado
1 Tbsp. chia seeds
1 Tbsp. maca powder
2 Tbsp. cacao
1 Tbsp. cacao beans
1 heaped Tbsp. almond butter
1/2 cup almond milk
Your favorite sweetener to taste (optional)
Blend everything (except your toppings) in your high speed blender.
Add more milk if the texture is too tick.
Totally optional: Adjust the taste by adding your favorite sweetener.
Want more recipes like this? You can download your free copy of my Healthy & Happy People recipe book here.

Pauline Hanuise
Holistic Health Coach
Pauline Hanuise is a certified Holistic Recovery & Health Coach and one of Cosmopolitan's top 5 women in health and wellness. Having recovered from 15 years of struggles with full-blown bulimia, she is now helping women making peace with food. Get her FREE email coaching series to stop binge eating here.