A Simple Shakshuka Recipe With Brain-Supporting Benefits*
Assistant Managing Editor
By Abby Moore
Assistant Managing Editor
Abby Moore is an assistant managing editor at mindbodygreen. She earned a B.A. in Journalism from The University of Texas at Austin and has previously written for Tribeza magazine.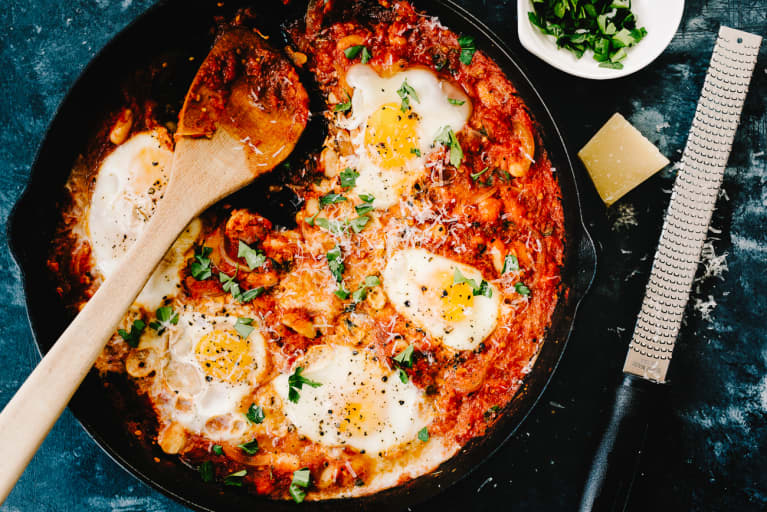 This article was produced to support the mindbodygreen supplements+ line. Our supplements adhere to the highest standards of ingredients and quality. We hope you enjoy these products, for more information
click here
.
As the seasons change and the days get darker, many people begin to shift into a natural hibernation-like mode, which is why staying inside and eating warm, nourishing food becomes so appealing. When a comfort craving strikes for breakfast, lunch, or dinner, a simple soothing shakshuka nearly always hits the spot.
This tomato shakshuka recipe, adapted from cookbook author Leah Vanderveldt, incorporates roasted red peppers for immune-supporting vitamin C, vitamin A, iron, and the antioxidant beta-carotene.
What's more, adding mbg organic veggies+ to the recipe can enhance the nutritional value further. "Even if you're eating a massive salad at lunch or incorporating greens into your morning smoothie, you still may not be getting an adequate amount of veggies in your daily diet," chef and nutritionist Danielle Shine, BSc, previously wrote for mbg.
Adding veggies+ to your meals, baked goods, or snacks is a simple way to increase your entire family's daily vegetable intake.* "It's a fantastic organic whole food blend of vegetables and fruits that even contains sea veggies," says registered dietitian and mbg Collective member Maya Feller, M.S., R.D., CDN.
On top of the overall health benefits of dark leafy greens, like kale, spinach, and broccoli, Shine says those vegetables also support cognitive acuity and may delay age-related cognitive decline.* "What's more, sea veggies offer omega-3 fatty acids, which can be beneficial to brain health," she says.*
Since most standard comfort foods are high in refined carbohydrates and sugars, they can increase inflammation in the brain and potentially lead to depression, research suggests.
Doubling down on brain-supporting nutrients during cold, dreary days may have protective benefits against seasonal affective disorder (SAD) or brain fog, and adding veggies+ to simple, hearty meals, like shakshuka, may be one way to do that.
Brain-Supporting Tomato Shakshuka
Olive oil
1 shallot or ½ small onion, finely chopped
1 garlic clove, finely chopped or grated on a microplane
½ teaspoon smoked paprika
1 14-oz. can chopped tomatoes
1 roasted red pepper from a jar, chopped
½ teaspoon salt
1 Tbsp. mbg organic veggies+
A big handful of baby kale or spinach
2 to 3 eggs
Pinch of red pepper flakes (optional)
Finely chop shallot (or onion), garlic, and roasted red pepper.
Coat a small pan in oil and heat over medium-high heat. Add shallot and cook for 2 minutes, until beginning to soften.
Add garlic and paprika, and cook, stirring, for 30 seconds.
Add tomatoes, red pepper, salt, and veggies+. Cook, stirring, for 2 minutes. Stir in baby kale.
Make little divots with a spoon and crack eggs into them (so eggs stay relatively contained). Cover the pan and reduce heat to medium-low. Cook for 5 to 7 minutes until egg whites have set but yolk is still runny.
Sprinkle with chili flakes and serve with toast, pita, or quinoa.