A Simple, Hearty Shakshuka Recipe With Brain-Supporting Ingredients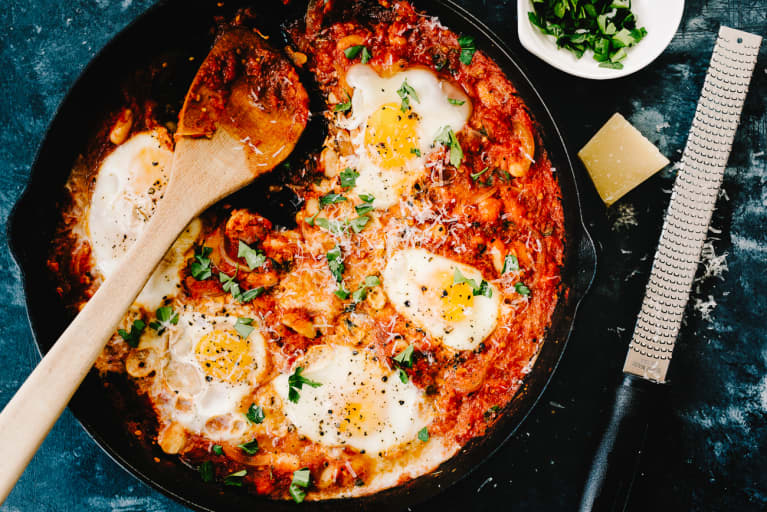 As the seasons change and the days get darker, many people begin to shift into a natural hibernation-like mode, which is why staying inside and eating warm, nourishing food becomes so appealing. Whether it's for breakfast, lunch, or dinner, a simple soothing shakshuka will always hit the spot.
This tomato shakshuka recipe, adapted from cookbook author Leah Vanderveldt, incorporates roasted red peppers for immune-supporting vitamin C, vitamin A, iron, and the antioxidant beta-carotene.
What's more, adding mbg organic veggies+ to the recipe can enhance the nutritional value further. "Even if you're eating a massive salad at lunch or incorporating greens into your morning smoothie, you still may not be getting an adequate amount of veggies in your daily diet," chef and nutritionist Danielle Shine, BSc, previously wrote for mbg.
Adding organic veggies+ to your meals, baked goods, or snacks is a simple way to increase your entire family's daily intake of vegetable goodness via a blend of organic veggies, berries, herbs, and more. "It's a fantastic organic whole food blend of vegetables and fruits that even contains sea veggies," says registered dietitian and mbg Collective member Maya Feller, M.S., R.D., CDN.
On top of the overall health benefits of dark leafy greens, like kale, spinach, and broccoli, Shine says those vegetables also support cognitive acuity.* "What's more, sea veggies offer omega-3 fatty acids, which can be beneficial to brain health,"* she says. We'll take all the focus and brain support we can get!
Beyond containing plenty of nutrients, shakshuka is a delicious, hearty dish that's perfect for any meal.
Brain-Supporting Tomato Shakshuka
Olive oil
1 shallot or ½ small onion, finely chopped
1 garlic clove, finely chopped or grated on a microplane
½ teaspoon smoked paprika
1 14-oz. can chopped tomatoes
1 roasted red pepper from a jar, chopped
½ teaspoon salt
1 Tbsp. mbg organic veggies+
A big handful of baby kale or spinach
2 to 3 eggs
Pinch of red pepper flakes (optional)
Finely chop shallot (or onion), garlic, and roasted red pepper.
Coat a small pan in oil and heat over medium-high heat. Add shallot and cook for 2 minutes, until beginning to soften.
Add garlic and paprika, and cook, stirring, for 30 seconds.
Add tomatoes, roasted pepper, salt, and veggies+. Cook, stirring, for 2 minutes. Stir in baby kale.
Make little divots with a spoon and crack eggs into them (so eggs stay relatively contained). Cover the pan and reduce heat to medium-low. Cook for 5 to 7 minutes until egg whites have set but yolk is still runny.
Sprinkle with red pepper flakes, if using, and serve with toast, pita, or quinoa.