Make This Sangria-Inspired Smoothie For A Post-Workout Boost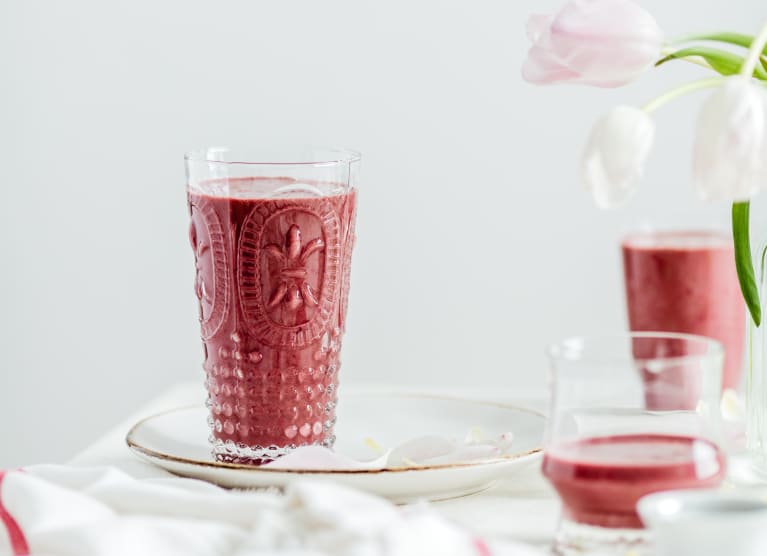 This article was produced to support the mindbodygreen supplements+ line. Our supplements adhere to the highest standards of ingredients and quality. We hope you enjoy these products, for more information
click here
.
While we've got our favorite go-to smoothie formula down to a T, we're still always looking for something new and delicious to try. And a smoothie with a cocktail inspiration that includes collagen peptides? That's definitely something we're eager to sip.
This easy recipe, from A Balanced Approach to PCOS by Melissa Groves Azzaro RDN, L.D., is the perfect thing to make for a post-workout meal or a fun breakfast option. "So many smoothies are overly sweet to me," says Azzaro, "and I've always loved a sweet-tart sangria." And so, she thought up this sangria-inspired smoothie, which has a collagen boost to support a healthy gut.*
And in fact, every ingredient in the recipe was carefully chosen for its particular benefits. "Pomegranate and citrus can help the body detox excess estrogen from the body and are high in antioxidants," explains Azzaro. "Raspberries are high in fiber and vitamin D. Adding cinnamon helps keep blood sugar balanced."
So next time you wrap up an at-home workout or when you've completed another run, try this citrus and berry blend for a perfect nutritious and hydrating treat.
Makes 1 serving
Ingredients
½ cup pomegranate juice
½ cup water
½ medium orange, peeled and sectioned
¼ cup fresh or frozen raspberries
2 tablespoons collagen peptides or unflavored protein powder
1 tablespoon lime juice
1 teaspoon coconut oil
¼ teaspoon ground cinnamon
1 ice cube
Method
Put all the ingredients in a blender and blend until smooth.