The Memory-Boosting Essential Oil Health Food Stores Are Selling Out Of
mbg Health Contributor
By Gretchen Lidicker, M.S.
mbg Health Contributor
Gretchen Lidicker earned her master's degree in physiology with a focus on alternative medicine from Georgetown University. She is the author of "CBD Oil Everyday Secrets" and "Magnesium Everyday Secrets."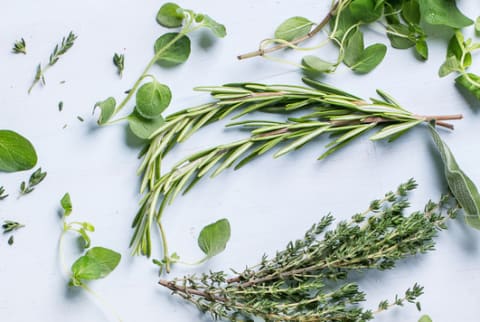 May 20, 2017
Who doesn't love rosemary; it smells fantastic, tastes delicious, and many people swear by its ability to banish cellulite and even help us live longer lives. And now, new research is showing that rosemary essential oil can improve memory in humans, which backs up one of its most important traditional uses with modern science.
Advertisement
This ad is displayed using third party content and we do not control its accessibility features.
Rosemary for a better memory.
A recent study from Northumbria University in the U.K. showed that students working in a room with the scent of rosemary scored 5 to 7 percent better on memory tests. The study was performed on 40 children ages 10 and 11, but the doctor on the study said the results hold true for adults as well. Rosemary has long been used to improve memory, relieve muscle pain and spasms, stimulate hair growth, and support the circulatory and nervous system; and this new research supports at least one of its traditional uses—which is pretty exciting. Researchers used a rosemary oil for this study, but it's also available fresh, dried, powdered in capsules, as a tincture, tea, or liquid extract.
How does rosemary work in the brain, exactly? According to Dr. Mariza Snyder, author of Smart Mom's Guide to Essential Oils, the terpene levels in rosemary essential oil enter the bloodstream and directly affect the body—easily crossing the blood-brain barrier. "Rosemary has the ability to inhibit the enzymes that break down acetylcholine in the brain, allowing more to remain and aid the brain in its function. Rosemary is one of my favorite ways to improve my daily focus without the worry of side effects or putting unnatural substances into my body," she explained.
Health food stores are selling out.
Just weeks after the study came out, a health food chain in the U.K. said it had to order extra shipments of rosemary essential oil, reporting a 187 percent increase in sales. It said the boom in sales can likely be attributed to the research study and the fact that most students are currently in the middle of final exam season.
If you're thinking about taking rosemary for a spin, make sure you look for a high-quality essential oil. It's also a good idea to keep in mind that not everyone reacts the same way to herbs—the researchers on the study observed that some participants responded dramatically to the rosemary while others didn't display any improvements at all. That being said, we're planning to give it a try the next time our brains are feeling a little bit run down. The worst-case scenario? If it doesn't help with memory your home is still filled with the sweet scent of rosemary—which doesn't really sound like a problem at all.
Advertisement
This ad is displayed using third party content and we do not control its accessibility features.
Reset Your Gut
Sign up for our FREE doctor-approved gut health guide featuring shopping lists, recipes, and tips