15-Minute Healing Meal: Roasted Broccoli + Tofu Bowls With Miso Dressing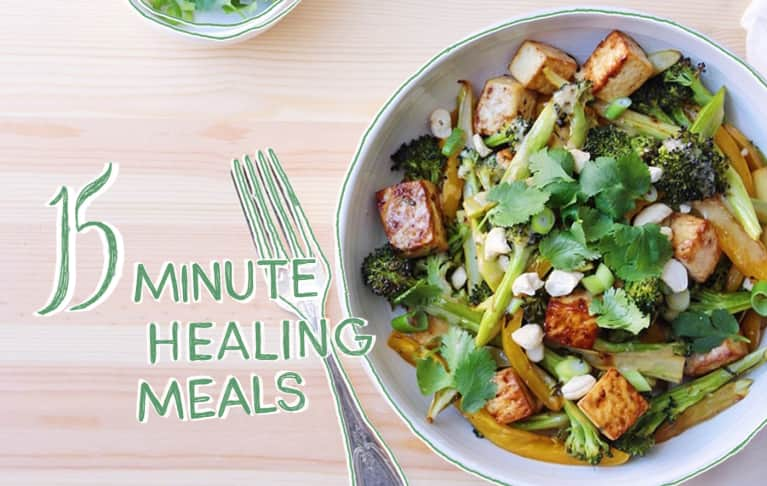 My perfect weeknight meal is packed with vegetables and whole foods, fills me up, and tastes delicious—all while being easy enough to put together quickly.
15-Minute Healing Meals are about feeding yourself well with minimal effort. These recipes are designed to inspire you to cook something wholesome without interfering with everything else you've got going on.
Note: While some foods may take a little longer to cook, we try to make sure that all hands-on time is kept to 15 minutes, to make your mealtimes as relaxing, restorative, and nourishing as possible.
Instead of a one-pan meal, this is more of a two-baking-tray deal. The concept is the same—chop all your ingredients, pop them into the oven together, let everything cook, then serve everything with a drizzle of sauce.
This recipe uses two baking trays to make sure we've got plenty of vegetables to make up the base of our bowls. Everything is brought together with a simple (five-ingredient!) miso-citrus dressing that you can whip up while everything's in the oven.
Broccoli is an often-underrated superfood. It contains antioxidants, fiber, and a range of vitamins and minerals. It also helps support the liver and is a great anti-inflammatory.
Miso is a fermented soybean paste (you can also get versions made out of chickpeas and barley if soy's not your thing). It's filled with good-for-your-gut probiotics, which can help immune function and digestion.
Roasted Broccoli + Tofu Bowls With Miso Dressing
1 small block extra-firm organic tofu, squeezed between two paper towels to remove excess moisture and cut into 1-inch cubes (you'll probably have a little left over)
2 tablespoons avocado oil, divided
3 tablespoons tamari, divided
1 medium head broccoli, cut into thin florets
1 small yellow bell pepper, or ½ large one, sliced into thin strips
Miso dressing ingredients
1 tablespoon miso paste
Juice of ½ a lime or lemon
1 teaspoon sesame oil
1 garlic clove, finely chopped or grated on a microplane
2 to 3 tablespoons warm water
Spring onions, thinly sliced
Fresh cilantro
Cashew pieces, toasted
Sriracha or other hot sauce
1. Heat oven to 400°F. Line two large baking trays with parchment paper. Slice tofu into cubes and place in a mixing bowl. Add 1 tablespoon avocado oil and 2 tablespoons tamari to the bowl and toss well to combine. Spread out on baking sheet and place in the oven.
2. Cut broccoli into thin florets and bell pepper into thin strips. Toss in the same bowl as the tofu with 1 tablespoon avocado oil and 1 tablespoon tamari. Spread out on the other baking tray and place in the oven.
3. Bake tofu for 25 to 30 minutes total, or until golden. Roast vegetables for 20 minutes or until slightly browned around the edges.
4. While everything is in the oven, combine dressing ingredients in a small bowl with a whisk or in a jar with a lid and shake well to combine. Gather all desired garnishes.
5. When tofu and vegetables are done, serve in bowls, drizzle with dressing, and top with garnishes.