9 Things To Make With Ripe Bananas (That Aren't Banana Bread)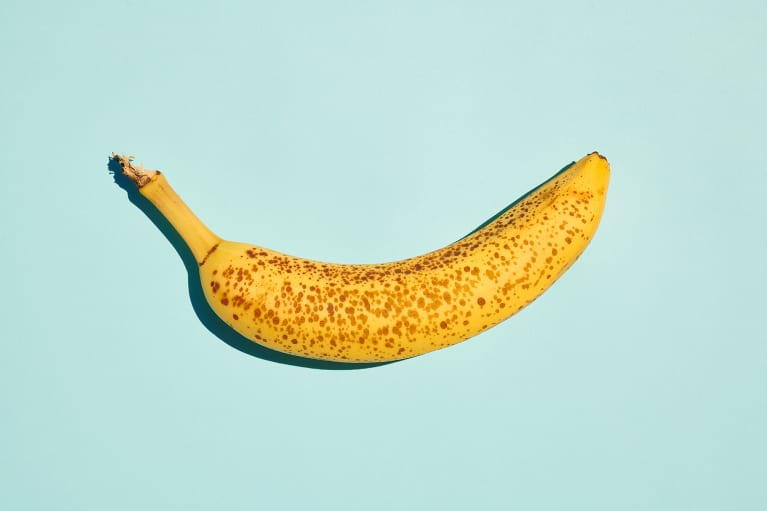 You had good intentions, you bought a bunch of bananas intending to grab them for a quick snack and slice them onto oatmeal, but there they are on the counter, brown spots starting to grow. You could make banana bread...again. Or you could try using them in any of these recipes that harness their natural sweetness and egg-like properties for tasty sweets or to thicken vegan versions of old standbys.
Here, you can find some of our favorite ways to use ripe bananas in innovative ways for healthy new breakfast options—or just to satisfy your sweet tooth.
1. Three-Ingredient Protein Pancakes
Arguably even easier to make than banana bread, these pancakes are completely grain-free and full of protein thanks to their second ingredient, eggs. The touch of baking powder lends them some lift to replicate the structure of the classic pancakes you know and love. As an added bonus, they also adhere to the guidelines for the keto diet.
2. Blueberry Muffin Mug Cakes
Another quick recipe to make with your slightly overripe bananas, these mug cakes get most of their flavor from another wonderful fruit: blueberries. Mug cakes are the ultimate treat, particularly for those of us who prefer the near-instant gratification that goes with them.
3. Banana Coconut Granola
Bananas and breakfast are a match made in heaven. This sugar-free granola recipe harnesses the bananas' natural sweetness in place of sugar that laces store-bought packs. Flavored with cinnamon and based on a classic granola blend of oats and seeds, plus coconut, this makes a perfect topping for your favorite plant-based yogurt, or simply enjoy it with homemade oat milk.
4. Banana Nice Cream Sundaes
Homemade ice cream a little bit too much effort? Enter "nice cream," the perfect quick dessert to use up your bananas that are past their prime. The ice cream itself in this sundae recipe is literally one ingredient: frozen bananas. While this does mean you need to give them a few hours to freeze fully, you'll reap the rewards when you layer it with a chocolate and nut butter for the perfect sundae.
This recipe may not work for super-ripe bananas, but if they simply look worse for wear (or you really just want a sweet treat), they're a perfect solution. Even slightly brown bananas will also carry a bit more sweetness, which will make these treats even sweeter. While this recipe advises chocolate and pecans for toppings, one of the appeals of this banana recipe is its flexibility—top them with whatever you like!
While it may sound too good to be true, cookies are the healthy breakfast option you've been looking for. More portable than a morning bowl of oatmeal and more interesting than a granola bar, you can find a perfect formula for concocting our own version here, or you can follow along with our favorite combination: banana and chocolate chips.
7. Endless Energy Muffins
Partial to a morning matcha over a morning coffee? These muffins are for you. Packed with energy-boosting ingredients, they set you up for success first thing in the morning as breakfast or are the perfect pick-me-up come afternoon. Their being paleo-friendly also means they're free of gluten and refined sugars—which the banana is in part to help with.
Banoffee pie is a classic English dessert with bananas, cream, and toffee, but with this vegan Banoffee-inspired dessert, you get all the tasty flavors without the added sugar or dairy. The perfect end to a dinner party, they also make for a great weekend treat for one. They harness a few of our favorite ingredients, like dates and avocados alongside bananas, all of which come together for a mousse-like dessert with minimal effort.
9. The Perfect Green Smoothie
When in doubt, a humble banana is the perfect base for a perfect smoothie. Using a simple formula, you can make a perfect green smoothie at home with only a few ingredients, and frozen bananas can work just as well. Start with leafy greens, and follow up with some fat, some liquid, and a banana—suddenly, you never need to pay for a green smoothie again.
Want to make it even easier to make a nutrient-dense green drink? Lean on a greens powder, the perfect way to get some extra nutrients and greens into a green smoothie (or just about anything else.)