17 Recipes To Bookmark For Your Plastic-Free Kitchen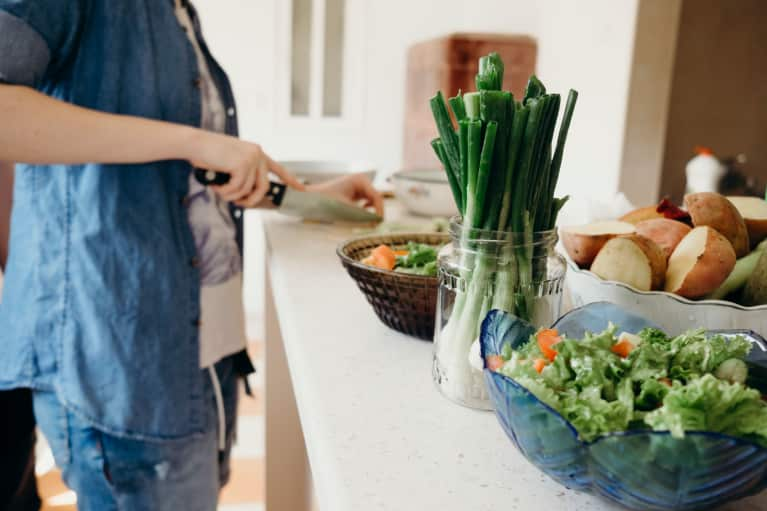 This article was produced to support the mindbodygreen supplements+ line. Our supplements adhere to the highest standards of ingredients and quality. We hope you enjoy these products, for more information
click here
.
Cutting down on single-use plastic waste doesn't just mean bringing your own cup to the coffee shop or your own produce bags to the grocery store (though those habits are certainly helpful!). Cooking more of your own pantry staples almost ensures that you'll save some serious plastic packaging—and money, too. While making them from scratch requires a few extra raw ingredients, those are usually easy to find unwrapped in bulk bins or loose produce sections.
To ring in Plastic Free July, we rounded up some of our favorite recipes to help you reduce plastic waste in the kitchen. Grab your Mason jars and get ready to skip packaged products in favor of homemade, whole food alternatives.
Speaking of nut butter: It's another ingredient that's super easy to make yourself. Buy the nuts from bulk bins (bonus points for bringing your own reusable container, if your store allows) and get grinding.
Here's how to make your own nut butter, plus a few customizations to try if you want to shake things up. And in case chocolate spread is more your jam, we've got a recipe for that, too.
Don't let the thought of homemade bread daunt you! Sure, some types (like, yes, sourdough) are a little more involved, while other varieties are super simple to make at home.
Sometimes you might want a light, airy slice of ferment-y goodness, while other times a dippable flatbread or rich loaf is what will hit the spot. Either way, we have you covered:
To go with that nut butter you DIY'd, you can also make healthier homemade jam super easily (the key is chia seeds). This recipe is easy to follow and comes with a list of fruits that make amazing jam every time. It's also a great method for cutting food waste, as it can use up your slightly bruised fruit.
Pickling is another great method for using up excess produce so it doesn't get wasted—and it works on more than cucumbers. Some of our favorite things to pickle include crunchy veggies like carrots and cauliflower, as well as sweet treats like berries.
Even though they usually come in glass or metal, which is easier to recycle than plastic, canned tomatoes can also be made at home to skip packaging. Starting with fresh tomatoes, you can actually make the most flavorful preserved tomatoes ever—ones that will keep in your freezer long after tomato season is over.
You can grab the recipe here (your pasta sauces will thank you).
A wonderful snack or grain-bowl addition, hummus consistently comes in those annoyingly flimsy plastic containers. Thankfully, these hummus recipes turn out arguably better than store-bought, so it's a win-win.
There are a lot of items we buy all packaged up in grocery stores that are deceptively simple to make a meal of at home. Ready to give it a whirl? Bookmark these delicious recipes to get you started.