Close Banner
Advertisement
This ad is displayed using third party content and we do not control its accessibility features.
Treat Yourself Right With This Raw Vegan Chocolate Smoothie!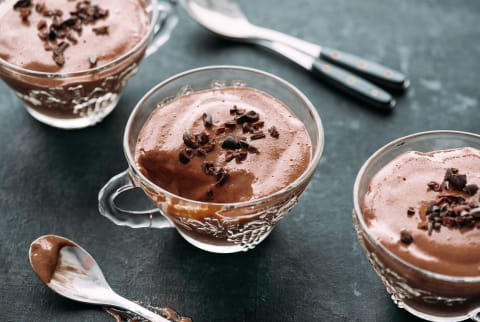 Image by Ina Peters / Stocksy
If you're a chocolate lover, you're going to make this one over and over. This recipe is ready in minutes and is 100% raw and vegan. On top of that, it's a real antioxidant-powerhouse (thanks to the spices, avocado, and cacao). Drink your way to a delicious youthful glow and health!
Raw Vegan Chocolate Smoothie
Half ripe avocado
Half cup young coconut flesh (or coconut milk)
Half cup coconut water (add more to adjust consistency)
1 small banana
2 tablespoons raw cacao powder
1 pinch cinnamon
1 pinch vanilla powder
2 tablespoons sesame seeds (optional)
Garnish with pieces of organic 85% dark chocolate (or make your own here) and goji berries
Blend all your ingredients in your hight speed blender.
Pour your smoothie in a nice glass and garnish with some goji berries and dark chocolate chunks.
Want more recipes like this one? Especially for the Mind Body Green readers, you can download your free copy of the Happy & Healthy People recipe book here.

Pauline Hanuise
Holistic Health Coach
Pauline Hanuise is a certified Holistic Recovery & Health Coach and one of Cosmopolitan's top 5 women in health and wellness. Having recovered from 15 years of struggles with full-blown bulimia, she is now helping women making peace with food. Get her FREE email coaching series to stop binge eating here.