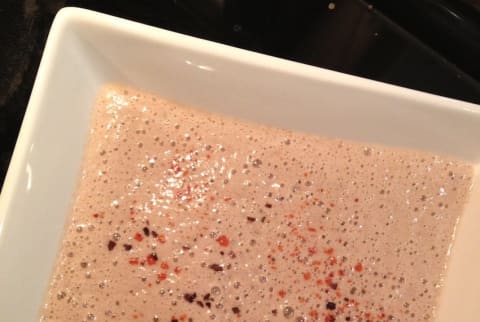 May 2, 2013
I don't know about you, but I have fond memories of Campbell's creamy mushroom soup. The decadence, the savory taste, the ease of preparation — all amazing features.
But the heavy, rounded belly paired with low energy and sleepiness — not so much.
Advertisement
This ad is displayed using third party content and we do not control its accessibility features.
What if I offered you an alternative with a quicker prep time, greater decadence and a taste that would blow your mind?
By the way, this alternative is RAW, meaning it's incredibly good for you, with accessible nutrients that will keep you energized, satisfied and offer you a full-body natural buzz.
Sold?
Here's my raw mushroom soup recipe; decide for yourself whether it lives up to the hype:
Makes 2-3 servings
Ingredients:
2 cups nut or seed milk (see my recipe for hemp milk here)
1 cup hot water
2 cups cremini mushrooms (stems included)
2 cloves garlic
1 tbsp ginger
2 tbsp wheat-free tamari or coconut aminos
1/2-1 tsp lemon juice (start with less and add more to taste)
1/2 tsp Himalayan pink salt or sea salt and black pepper (adjust to taste)
1/2 avocado (for extra decadence)
Optional: 1/8 cup porcini mushrooms, rehydrated in warm water for 10 minutes, 1/2 tsp red chilis, hot sauce or cayenne pepper, 1/2 shallot or pearl onion
Directions: 
Add all ingredients to a blender and blend on high for 1-2 minutes.
If you're using a regular-speed blender, you may want to chop the spices (garlic, ginger) prior to adding to the blender, or use a hand blender to chop up any remaining pieces, especially if you prefer a smooth consistency. If your blender isn't hot water friendly, I suggest warming your soup on the stove on low-heat until you reach a desired temperature. Keeping the temperature low will protect the nutrients from damage.
If you're using a high-speed blender (Vitamix, Blendtec, Nutribullet), the longer you blend, the hotter your soup will become. Adding hot water to the blender simply reduces the blending time.
Serve immediately while it's warm. Top with savory cashew cream, nutritional yeast (not raw, but vegan), dulse flakes or sesame seeds, if desired.
Tips:
For creamier soups, use unsweetened almond, cashew or soy milk. If preparing at home, remember to soak and rinse your nuts prior to blending, to remove anti-nutrients and ensure absorption of the nuts' healing goodness.
I stress again to start with a very small amount of lemon juice, as adding too much could compromise the taste. One option is to withhold lemon during the blending process, and simply add a small squeeze to your bowl before you eat.
If you want a stronger-tasting soup, simply reduce the volume of milk and water or add more mushrooms.
Microwave your empty bowl prior to adding your soup for some extra warmth.
If you're trying to reduce salt intake, substitute salt with 1 celery stalk or a red swiss chard stem. Both of these contain natural sodium.
You can also add dulse flakes (dried seaweed) to the blender and as a topping, which is high in iodine. Remember, both tamari and coconut aminos contain sodium.
Take a moment to smell this gorgeous, healing soup before taking your first sip, and allow your memories of Mr. Campbell to dissolve into thin air. Enjoy a few deep, calming breaths to activate digestion and remember to "chew" your soup to stimulate those precious enzymes in your mouth.
Happy soup sipping, slurping and chewing!
Advertisement
This ad is displayed using third party content and we do not control its accessibility features.

Rhea Mehta, Ph.D.
Toxicologist, Integrative Health Coach
Rhea Mehta, Ph.D., is a Canadian scientist (PhD, Molecular Toxicology from University of Toronto), social entrepreneur and community builder who has been working in the fields of science commercialization, health data privacy, and lifestyle medicine for over 10 years.
Committed to helping millions of people adopt a healthier and more joyful life, Rhea is the co-founder of Bowhead Health, a privacy-enabled health data capture and sharing platform, co-founder of Reset, a wellness-inspired Canadian adult summer camp and digital detox, and is the founder of Global Smoothie Day, an inclusive movement to inspire health awareness and accessible plant-based living.
Rhea recently entered the psychedelic medicine space to focus on developing transformative therapies for mental health disorders. In her spare time, Rhea practices and teaches meditation and kriya-kundalini yoga from the Himalayan Vedantic Tradition.