Quinoa Porridge With Grilled Tomatoes & Garlic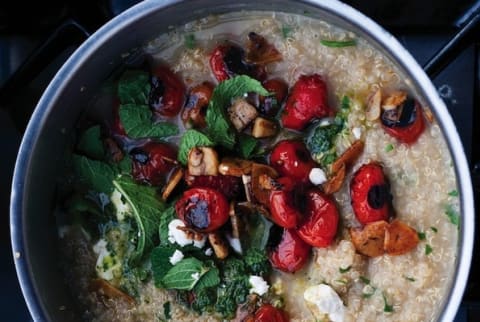 September 30, 2014
This savory quinoa porridge recipe from Yotam Ottolenghi is filled with mediterranean flavors, topped with grilled tomatoes and fresh herb oil.
1½ cups/250g quinoa
about 42/3 cups/1.1 liters vegetable stock
4 tsp/20g unsalted butter
1/3 cup/10g flat-leaf parsley leaves, chopped
3½ oz/100g feta, crumbled into ¾-inch/2-cm chunks
1 tsp olive oil
8 oz/250g baby plum tomatoes
4 cloves garlic, thinly sliced
1/3 cup/10g mint leaves
salt and black pepper
1 green chile, seeded and coarsely chopped
½ cup/15g flat-leaf parsley leaves
½ cup/15g mint leaves
7 tbsp/100 ml olive oil
salt
1. To make the herb oil, place the chile, parsley, mint, oil, and ½ teaspoon salt in the bowl of a small food processor and process to form a smooth sauce with a thick pouring consistency.
2. Place the quinoa in a medium saucepan, add the stock, and bring to a boil. Turn down the heat to medium and cook gently, uncovered, for about 25 minutes, stirring from time to time, until a porridge-like consistency is formed. You might need to add a bit more stock if the quinoa is sticking to the pan. At the very end, fold in the butter until it melts, followed by the parsley and then the feta, making sure the feta stays in chunks.
3. While the quinoa is cooking, place a large sauté pan over high heat and add the oil. When the oil is hot, add the tomatoes and cook for about 5 minutes, shaking the pan once or twice so that all sides get some good charred color. Add the garlic and cook for 30 seconds, so that it turns golden brown without burning. Transfer to a bowl and sprinkle with¼ teaspoon salt and some black pepper. Chop the mint and fold it into the tomatoes just before serving, as it will start to blacken once chopped.
4. Spoon the warm quinoa porridge into shallow bowls, top with the tomatoes, finish with a drizzle of the herb oil, and serve at once.

Yotam Ottolenghi
Yotam Ottolenghi is the author of Plenty, and co-author with Sami Tamimi of Ottolenghi and Jerusalum, which was awarded Cookbook of the Year by the International Association of Culinary Professionals, and Best International Cookbook by the James Beard Foundation. All three books were New York Times bestsellers. He lives in London, where he owns an eponymous group of restaurants and a high-end restaurant, Nopi.