Creamy Quinoa, Kale & Almond Milk Smoothie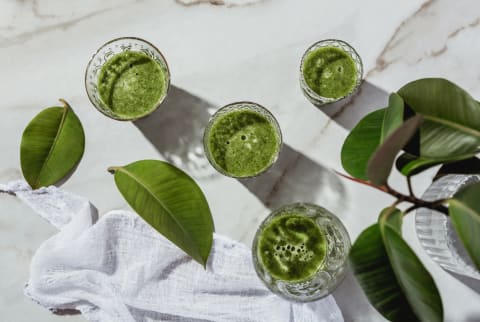 Image by Tatjana Zlatkovic / Stocksy
June 27, 2014
If you're after a sugar-free, fruit free, high-fiber, nutrient-dense, protein-packed, super hydrating green smoothie that still manages to taste absolutely delicious, then this is the recipe for you!
In most smoothie recipes you'll find fruits like bananas and berries for sweetness, fiber and bulk. While these fruits are great sources of nutrients, they're not so great for those needing to cut out sugars completely (including natural sugars) due to various health issues such as candida or type 2 diabetes.
Luckily there's life beyond the fruit smoothie! The quinoa in this recipe makes a fantastic green smoothie base that's packed with fiber, protein and minerals while avoiding the sugar issue. If you're having this smoothie every morning, I'd suggest cooking up a batch of quinoa to last you a few days and keeping it in the fridge so you can scoop out a portion each morning (this saves you having to cook up a new batch of quinoa every day). Being soft and light in texture, the quinoa blends in well, providing creamy thickness and a slightly nutty flavor.
3/4 cup cooked quinoa
1 cup leafy greens (kale/spinach)
1 cup filtered water
1 cup almond milk (sugar-free)
1/4 tsp. stevia (I use the powder extract)
optional: a Tbsp. of extra-virgin coconut oil
Blend all ingredients thoroughly and enjoy!

Shannon Flavell
Shannon is a Naturopath, Research Nutritionist, Writer and Blogger with bachelor degrees in psychology and health science. She shares her passion and guidance by helping her clients open their hearts and minds to the rewarding world of wellness and its endless possibilities. You can find more wellness advice and recipes on her site.