Kale flowers, also known as Kale Raab, are the flowering tops of the kale plant. They are edible and beautiful; a perfect addition to all kinds of dishes. Combined with the earthy barley, kale raab adds flare to this nourishing salad.
Purple Barley With Chard + Kale Raab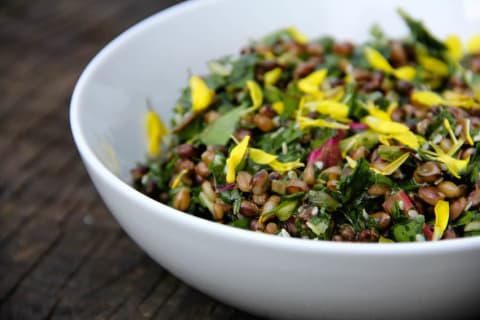 1 cup of purple barley
1 bunch of chard or about 8 large leaves
1 garlic clove
1/4 cup of kale flowers
1/4 cup of sesame seeds
2 tablespoons of chopped mint
juice from 1/2 a medium lemon
salt to taste
1. Combine the barley with 2 1/2 cups of water. Bring the water to boil, reduce heat and let simmer. Purple barley can take up to 1 1/2 hours to cook. Barley is ready when it's tender and chewy.
2. Finely chop the chard and mint.
3. Combine the chopped chard, kale flowers, mint and sesame seeds with the cooled barley in a large bowl.
4. With a mortar and pestle, crush the garlic into a paste with some salt. Add the garlic paste and lemon juice to the rest of the ingredients. Salt to taste. Mix well and serve.
Photo courtesy of the author