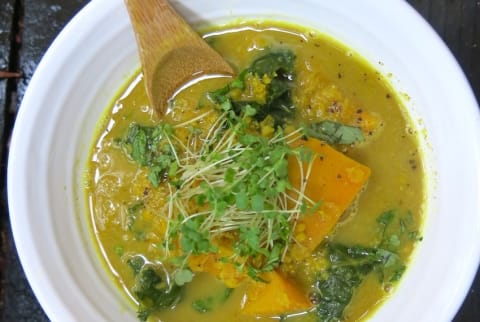 December 5, 2013
Last week, I made this pumpkin and lentil curry soup for myself, and it was completely delicious. But as I was eating the first bowl, I knew there was something missing. It came to me with a ginormous grin (and a, "yes I thought of that" laugh): maca.
But adding maca to soup? Why heat a raw superfood? Isn't that silly?
Actually, no! Traditionally, maca was always cooked because of some slightly toxic enzymes present in it. Adding it to soup is the perfect option.
Now I'm not saying that you'll go to nutritional jail by eating maca raw, but some people may do better with it by adding a little heat. Whichever person you are, this soup is for you.
2 cups lentils (preferably soaked in water overnight)
6 cups water
1 cup full fat coconut milk
1 small sugar pumpkin, peeled
1 tsp. curry powder
1/2 tsp. garlic powder
1/4 tsp. ginger powder
2 Tbsp. chopped basil
2 Tbsp. chopped sage
2 Tbsp. maca powder
1 tsp. mesquite powder (optional)
1 head kale, chopped
1/2 tsp (or more) sea salt
pepper, to taste
Add every ingredient except kale to the pot. Bring to a boil, reduce to simmer, and cover. Keep this on the stove for at least a couple hours. The longer the better; the flavors infuse more and more with each minute that goes by.
When you're getting ready to serve, add the kale. Let the soup heat the kale to the point at which it turns just green, approximately three minutes.
Top your soup with fresh basil and fresh sprouts for some raw goodness!
As always, sit in gratitude and love before eating your meal. Feel the radiance of the light and spirit within you, on your plate, in your life, and then you may begin.
Enjoy the heck out of it!

Carly Morgan Gross
Carly Morgan Gross is a plant-based food recipe developer, with a passion for mind-body healing; an energy loving, modern day health hippie combining the love of spirituality and food-into one. Her Health Education studies at The University of Florida are being paired with a firm foundation in holistic nutrition and her tendencies point her toward a life filled with ayurveda, raw foods, reiki, energy work, and a deep desire to use these things to help people reconnect with who they really are.