These Protein-Packed Raw Chocolate Brownies Are Super Easy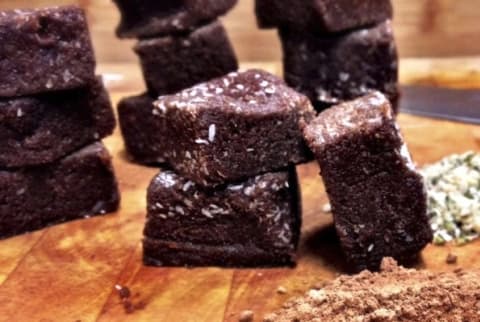 January 19, 2014
These small slices are moist, chocolaty and delicious! Super easy and quick to make, they are a great little snack to help satisfy those sweet cravings as well as provide a boost of energy in between the day, or you can make one big brownie slice and have it for dessert!
Hemp seeds are a protein superfood, they are a complete vegetable protein source that contains all 8 essential amino acids which are easily digestible. This nutty flavored seed contains a natural source of vitamins and minerals such as folate, iron, calcium and vitamin E. It is optimal for health and well-being, encourage weight loss, increasing energy and act as a natural blood sugar control.
Combined with the added health benefits of cashews and macadamias, these brownie slices are a sure win!
Raw Chocolate Brownies
Ingredients
1 cup cashews (soaked for 6 hours)
1 cup macadamias (soaked for 6 hours)
1/2 cup hemp seeds
1/4 cup cacao powder
2 Tbsp. maple syrup
3 Tbsp. coconut oil
1 tsp. vanilla essence
1/4 tsp. sea salt
Method
Combine all ingredients together and blend until it becomes a paste.
Form into squares and refrigerate for 2-3 hours.

Binny Liu
I am a full time Bikram Yoga teacher that lives in Perth, Australia. I developed compartment syndrome and fibromyalgia in my teens, and being gluten and lactose intolerant, have spent a large part of my years being in constant pain and suffering from digestive issues.
Over the past 10 years, I've shifted to a mainly raw plant based diet, explored alternative modalities of healing therapies and realised that being well and healthy is a way of life. I discovered yoga 4 years ago and have been teaching Bikram yoga since 2011, in the US and Australia.
I truly believe that we all have the power and the capabilities to heal our own bodies, to nourish the spirit and seek our own happiness and life's purpose.