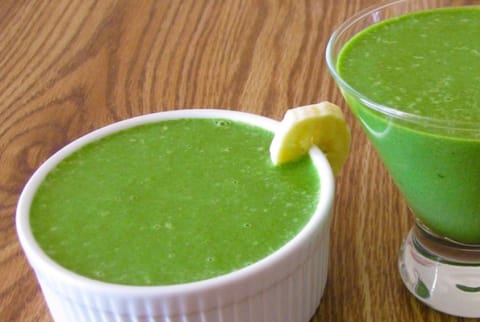 February 19, 2014
There's a certain pride that comes with starting the morning with a green smoothie. I love knowing that, no matter what french fries or frozen yogurt might come my way later, at least I had a nutrient-packed breakfast. This green smoothie recipe is sneakily healthy — it tastes more like a subtly sweet banana and almond butter milkshake. The almond butter and flax seeds provide protein and heart-healthy fats, which are essential for a breakfast that keeps you satisfied and energized for hours.
Protein-Packed Green Smoothie With Banana And Almond Butter
2 cups frozen spinach
2 Medjool dates, pitted and chopped
1 banana
3 tablespoons natural almond butter
1 cup unsweetened vanilla almond milk
1 cup water (or a little less if you like thicker smoothies)
2 teaspoons flax seeds
1 teaspoon cinnamon
Combine everything in a blender.
Blend on high speed until everything is blended together. (This might take a little longer than usual because of the dates.)
Pour into two glasses, or two mason jars if you're sipping on the go, and enjoy!
​Vicki Santillano
Vicki Santillano is the associate editor at WorldLifestyle, a health and wellness website for women. She writes about nutrition, emotional wellbeing, inspiration, wanderlust, and everything in between. You can find her on Twitter.