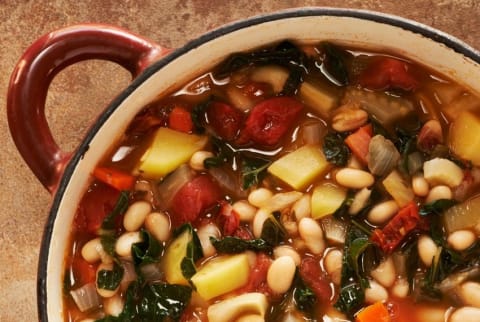 September 19, 2013
Portuguese white bean and kale soup is such a classic. It's traditionally made with linguica sausage, so it might be hard to convince purists that a vegetarian version could be just as good. (Or better!)
But we did just that in Provincetown, Massachusetts, where our version was cooked by Wynnie Stein while she was guest chef during Women's Week at the elegant Chester Restaurant.
Chester's chefs were skeptical, and she had to ignore their affectionate but mocking comments while chopping mounds of veggies for the soup. But she was really sweating that the customers might also scoff at the changes in this town's signature soup.
Happily, the ingredients won the day! The sun-dried tomatoes and ground fennel add some of the traditional flavor and enhance the natural sweetness of the kale. Folks (including the chefs— whew!) were swooning about how fresh-tasting was their beloved classic.
Portuguese Kale & White Bean Soup
1⁄2 cup sun-dried tomatoes
2 tablespoons olive oil
1 1⁄2 cups chopped onions
2 garlic cloves coarsely chopped
2 teaspoons salt
2 teaspoons ground fennel seeds
1 small fennel bulb, diced (about 2 cups)
1 cup diced carrots
1 1⁄2 cups diced potatoes
2 teaspoons dried thyme or 1 tablespoon fresh
1⁄4 teaspoon ground black pepper
3 cups chopped fresh tomatoes or one 15-ounce can diced tomatoes
3 cups cooked white beans (two 15-ounce cans drained)
4 cups water or vegetable stock
5 or 6 cups loosely packed chopped kale
3 tablespoons fresh lemon juice
If you don't chop the fennel and carrots beforehand, you'll probably have trouble keeping up with this cooking schedule. On the other hand, it doesn't hurt to cook a little longer at each stage.
In a small bowl, soak the sun-dried tomatoes in boiling water to cover.
In a covered soup pot on medium-low heat, warm the olive oil. Add the onions, garlic, and salt and cook for about 5 minutes.
Add the ground fennel and diced fennel bulb and cook for about 3 minutes. Stir in the carrots, potatoes, thyme, and black pepper and cook for 3 minutes.
Add the tomatoes, beans, and water or stock and bring to a boil.
Reduce the heat and simmer, covered, until the potatoes are just tender. If the soup is too thick, add another cup of water.
Meanwhile, remove the sun-dried tomatoes from the soaking liquid and coarsely chop.
Add the kale and sun- dried tomatoes to the pot. Simmer for about 10 minutes, until the kale is tender. Stir in the lemon juice. Season with more salt and black pepper to taste.
Serve with bread and cheese. Fresh fruit would be good, too. Enjoy with friends!

The Moosewood Collective
The Moosewood Collective has nineteen members who share responsibilities and participate in the various jobs necessary to run what has grown from a very small natural foods restaurant to a larger and more diversified company. Some members have worked for the restaurant since its founding in 1973.