Not Sure What To Make For Your Plant-Based Holiday Dinner? Here's A Sample Menu (Complete With Recipes)
mbg Nutrition & Health Writer
By Eliza Sullivan
mbg Nutrition & Health Writer
Eliza Sullivan is a food writer and SEO editor at mindbodygreen. She writes about food, recipes, and nutrition—among other things. She studied journalism at Boston University.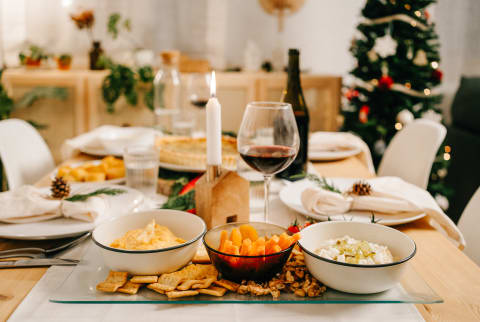 Image by Sergio Marcos / Stocksy
December 11, 2020
A plant-based holiday dinner is very much within reach, especially this year as we're gathering less and, therefore, are more able to hone our menus to fit our particular tastes (instead of catering to those of extended family or our friends).
A special meal is a great way to mark the holiday in a year when many other celebrations have been minimized and canceled—it's a perfect opportunity to make a more involved dish that you wouldn't otherwise make, or to enjoy something with rich, comforting flavors. That's exactly the focus of this menu: healthy food that will make you feel cozy and comfortable, and that certainly feels celebratory.
Advertisement
This ad is displayed using third party content and we do not control its accessibility features.
Whether this is the first time you're opting for a completely plant-based meal or not, here you'll find a few of our favorite festive recipes all on one page, making it easier for you to use when hitting the store. After all, a well-organized shopping list is probably the best way to avoid extra trips to the store—something that's even more important to think about as COVID-19 cases rise across the country.
For a fun and undeniably festive way to start your meal, consider making this Kombucha Mule. A flavorful take on the classic cocktail, it's got the added bonus of gut health benefits (thanks to the probiotics in the kombucha).
Kombucha Mule
4 oz. ginger kombucha
1½ oz. vodka
⅙ oz. lime juice
Mint, to garnish
To make, simply combine all the ingredients over ice.
Advertisement
This ad is displayed using third party content and we do not control its accessibility features.
For the main event:
There's just something about a pot roast that seems festive, and even though it's not the first dish that might come to mind for a vegan holiday meal, you can actually make a super-amazing plant-based pot roast by working to layer flavors—in much the same way as the original. That does mean you'll need quite a few ingredients—but the good news is this works in so many food groups, you won't even need sides (save maybe a leafy green salad). This will also make amazing leftovers, we bet.
Portobello "Pot Roast"
Advertisement
This ad is displayed using third party content and we do not control its accessibility features.
Ingredients
2 tbsp. olive oil
2 yellow onions, sliced
4 cloves garlic, minced
6 tbsp. all-purpose flour
3 cups stout beer or other dark beer, such as porter
3 cups vegetable broth
¼ cup vegan Worcestershire sauce (Annie's and The Wizard's are both reliable brands)
¼ cup tomato paste
2 tbsp. (5 g) fresh sage, slivered
¼ cup (10 g) chopped fresh basil
2 tbsp. (5 g) chopped fresh rosemary
Salt, to taste
Black pepper, to taste
4 portobello mushroom caps, stems and gills removed
2 cups (300 g) baby carrots
10 Yukon Gold potatoes, unpeeled and chopped into 1-inch (2.5-cm) pieces
Fresh rosemary sprigs (optional)
Method
Preheat the oven to 350°F (175°C, or gas mark 4).
Heat the olive oil in a very large, ovenproof skillet over medium heat. Add the onions and garlic, and cook for 3 to 4 minutes. Add the flour to make a roux, stirring frequently for 1 minute. Slowly add the beer and vegetable broth to make a sauce.
Add the Worcestershire sauce, tomato paste, sage, basil, rosemary, salt, and pepper. Add the portobellos, carrots, and potatoes. Use a spoon to coat the vegetables with the sauce.
Transfer the skillet to the oven. Roast for 1 hour, or until the vegetables are tender. Serve with sprigs of rosemary for garnish (if using).
Advertisement
This ad is displayed using third party content and we do not control its accessibility features.
The surplus of ingredients (root veggies! mushrooms! herbs!) in the pot roast means you don't need many accompaniments for your main course, but we do have one suggestion: a fresh, leafy green salad. A vegan kale caesar might be just the thing—especially if you opt to make the dressing yourself, like the one from this recipe.
Cashew Caesar Dressing
Ingredients
½ cup cashews or cooked chickpeas
¼ cup extra-virgin olive oil
¾ to 1 cup water (add more if you find the consistency isn't runny enough; keep it mind it will thicken up over time)
Juice of 1 large lemon
2 garlic cloves, pressed
2 tbsp. nutritional yeast
1 tbsp. capers
1 tsp. onion powder
½ tsp. vegan Worcestershire
Salt and pepper to taste
Advertisement
This ad is displayed using third party content and we do not control its accessibility features.
Method
Add the cashews or chickpeas, olive oil, water, lemon juice, garlic, nutritional yeast, capers, onion powder, Worcestershire sauce, and salt and pepper to a high-speed blender or food processor and blend until smooth. You can also use a handheld blender. Add more water as necessary if you like a thinner dressing.
Wrap it up with festive favorites:
I don't know about you, but for me the festive season is synonymous with cookie baking—and thankfully, there are plenty of super tasty vegan cookie recipes out there. But for this year, it's about comforts, so it'd make sense to turn to the recipes we associate with happy memories. These vegan macadamia nut cookies and vanilla bean chocolate chip cookies cover all my favorites, in two simple, healthy packages. Feel free to cut the recipes down, if you don't want to pack them up to enjoy later.
Vegan Macadamia Nut Cookies
Ingredients
1 cup coconut sugar
¾ cup coconut oil, softened
½ cup unsweetened applesauce
2 teaspoons pure vanilla extract
1¾ cups gluten-free 1-to-1 baking flour or all-purpose flour
2 tablespoons unsweetened dairy-free milk (if needed)
½ cup raw macadamia nut halves and/or pieces
Method
Place an oven rack in the middle position and preheat the oven to 350°F. Line a large baking sheet (at least 17 by 14 inches) with parchment paper. Alternatively, you can bake the cookies in batches using 2 medium baking sheets.
In a large bowl, use a hand mixer to beat the coconut sugar, coconut oil, applesauce, and vanilla extract until creamy.
Add the flour gradually, stirring it into the coconut sugar mixture until well combined and you have a thick and sticky dough. If needed, add the dairy-free milk to help the dough form. Then fold in the chopped nuts.
Using a tablespoon, scoop up the dough and roll into 24 balls using your hands. Place on the prepared baking sheet(s), about 2 inches apart. Using the back of a spoon, lightly flatten the cookies to help them spread.
Bake on the middle rack for 10 to 12 minutes, until the cookies are lightly golden and have spread slightly.
Remove from the oven and let cool completely before removing the cookies from the pan. Store in an airtight container at room temperature for up to 5 days or in the refrigerator for up to a week.
Vegan Vanilla Bean Chocolate Chip Cookies
Ingredients
½ cup coconut butter (see note)
½ cup pure maple syrup
1 cup plus 2 tablespoons oat flour
2 tablespoons coconut sugar
½ to ¾ teaspoon vanilla bean powder or 1 to 1½ teaspoons pure vanilla extract
¼ rounded teaspoon sea salt
1 teaspoon baking powder
¼ teaspoon baking soda
⅓ cup nondairy chocolate chips (mini or regular)
Method
In a mixer fitted with the paddle attachment, add the coconut butter and maple syrup.
Mix, slowly to start, then at a higher speed until smoothed out. Add the oat flour, coconut sugar, vanilla bean powder, and sea salt to the coconut butter mixture, and sift in the baking powder and baking soda.
Mix at slow speed (so the dry ingredients don't poof!), and then bring up to medium speed and mix until everything just comes together. Add the chocolate chips and mix to just incorporate.
The mixture should be a little sticky, not dry, but not too wet either. Scrape down the bowl with a spatula, then transfer to the fridge to chill for ½ hour.
Preheat oven to 325°F. Line a baking sheet with parchment paper. Place 1- to 1½-tablespoon scoops of the batter on the prepared baking sheet. Slightly flatten each cookie with a spatula or your hand.
Bake for 11 minutes, then remove from oven and let cool for 2 to 3 minutes on the pan. Transfer to a cooling rack to cool completely.
Note: It can be tricky to measure coconut butter when it's very hard. Use a butter knife to work out small chunks/slivers when hard. It's better to measure in small pieces than in larger chunks so the actual measure is more accurate.
Whether you opt for one, two, or all of these recipes, they're all certainly holiday-worthy meals that will help you feel festive as we wrap up this crazy year and start looking toward 2021.
Eliza Sullivan
mbg Nutrition & Health Writer
Eliza Sullivan is an SEO Editor at mindbodygreen, where she writes about food, recipes, and nutrition—among other things. She received a B.S. in journalism and B.A. in english literature with honors from Boston University, and she has previously written for Boston Magazine, TheTaste.ie, and SUITCASE magazine.