A Bakery Owner Teaches Us How To Make Homemade Gluten-Free Guava Coconut Bars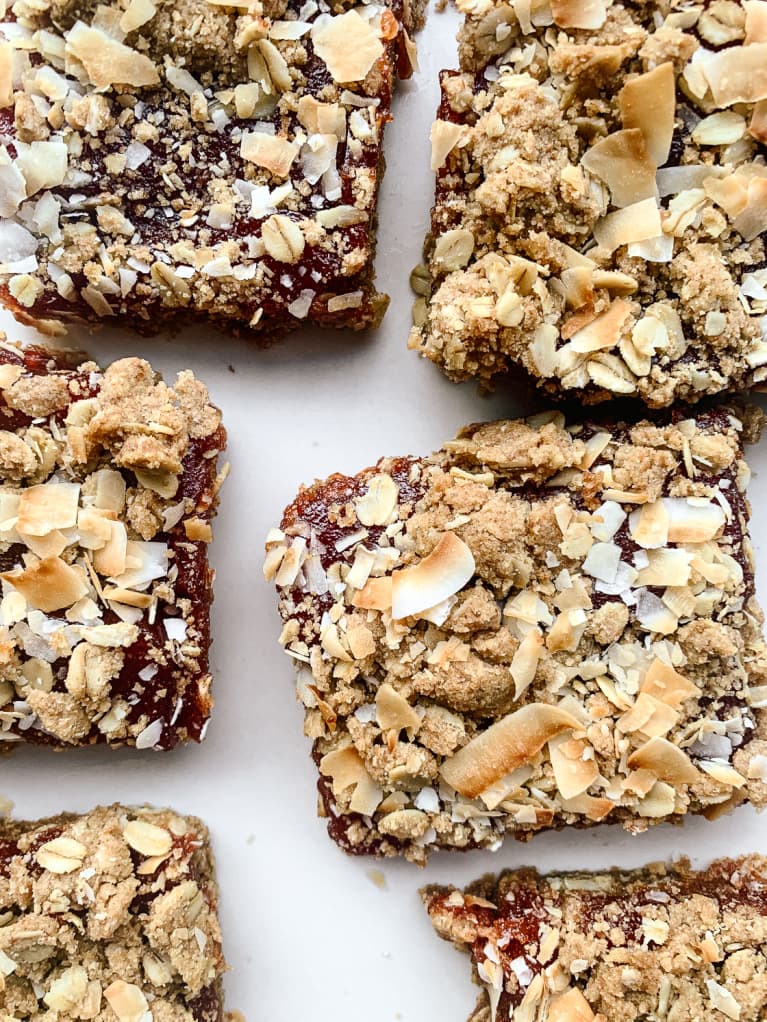 I'm a lover of all things tropical, so the combination of guava and coconut is a favorite pairing of mine. This recipe is a twist on Ovenly's Montego Bay Bars (date chocolate jam bars). It's especially delicious because it is the perfect balance of sweet and salty and is gluten- and dairy-free.
Guava is full of good nutrients and also happens to taste great in desserts. The coconut adds some texture and crunch while complementing the nutty almond flour and oats. As a bakery owner, I never really believed in "healthy desserts," but this one takes the cake (!).
Gluten-Free Guava Coconut Bars 
Vegan butter or olive oil for greasing the baking pan
10 tablespoons (142 grams) vegan butter, at room temperature (My go-to is Miyoko's cashew cream butter, but you can substitute any vegan or unsalted butter.)
1 tablespoon extra virgin olive oil
½ cup (100 grams) light brown sugar
½ cup (100 grams) dark brown sugar
1½ cups (204 grams) almond flour
1¾ cups (175 grams) gluten-free rolled oats
¾ cup unsweetened coconut flakes
1 teaspoon sea salt
½ teaspoon baking soda
595 grams (21 ounces) guava paste, approximately 1½ packages
Preheat oven to 350°F. Grease a 9-by-13-inch baking pan with vegan butter or oil.
Whisk the almond flour, oats, ½ cup of the coconut, salt, and baking soda together in a large bowl. Set aside.
In a stand mixer fitted with a paddle attachment (or using a hand mixer), cream the butter and olive oil with the light and dark brown sugars until light and fluffy, about 3 minutes. Turn the mixer off, add the flour and coconut mixture, and mix on low speed until just combined.
Firmly press ¾ of the dough mixture into the bottom of the prepared baking pan (reserve ¼ of the mixture for the topping). Press down to make a solid bottom crust.
Cut guava paste into ¼-inch-thick slices and cover entire bottom crust evenly.
Crumble the remaining ¼ cup dough mixture on top of the guava paste. Sprinkle the reserved ¼ cup coconut evenly over the crumble. Press down slightly so it sticks.
Bake for 33 to 35 minutes. The crumble should be lightly golden brown when ready. Cool and cut into 15 bars, approximately 3-by-2½-inch rectangles.
Want to turn your passion for wellbeing into a fulfilling career? Become a Certified Health Coach! Learn more here.