An Oven-Baked Cauliflower Steak With Inflammation-Easing Spices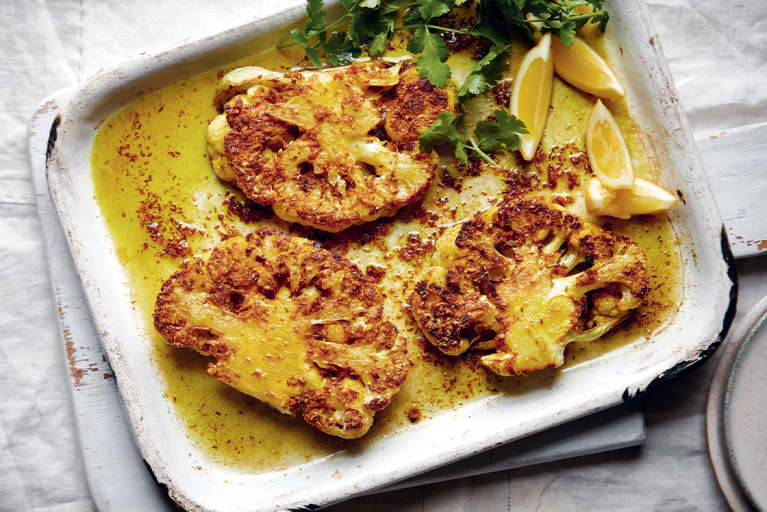 Our editors have independently chosen the products listed on this page. If you purchase something mentioned in this article, we may
earn a small commission
.
It may seem the world is starting to move on from its cauliflower craze, but we're still solidly on the side of this versatile cruciferous veggie. Want some pasta? An alternative to mashed potatoes? Some vegan chowder? This magical produce can seamlessly swap into those classic dishes.
Perhaps the most iconic cauliflower dish, however, is the vegan "steak." Below, you'll find a flavorful take on the popular dish, from How To Cook: The 100 Essential Recipes Everyone Should Know by Darina Allen of Ireland's Ballymaloe Cookery School. This means cauliflower steak has officially earned its place alongside "essential" cooking methods—proving it's more than just a trend.
"Roasting is a brilliant way to cook cauliflower," writes Allen, "and you can serve it plain or embellish it in lots of exciting ways. This dish is terrific as a vegan or vegetarian main course. Think of it as a base for lots of tasty toppings." She specifically suggests rosemary oil with diced tomato, or pomegranate seeds with tahini and cilantro.
We particularly like this recipe for the blend of spices it uses: ginger, garlic, and turmeric all have inflammation-fighting properties in addition to adding plenty of flavor. (Hint: Consider adding a little black pepper to the dish to help enhance absorption of turmeric's active ingredient, curcumin.)
Roast Cauliflower Steaks with Ginger & Spices
1 fresh cauliflower (700 g/1½ lb.)
1 teaspoon grated fresh ginger
1 garlic clove, crushed
1 teaspoon ground cumin
1 teaspoon ground coriander
½ teaspoon ground turmeric
½ teaspoon salt
7 tablespoons extra-virgin olive oil
Fresh coriander leaves and lemon wedges, to serve
Preheat the oven to 450°F.
Remove the leaves from the cauliflower, but just barely trim the base of the core. Cut the cauliflower head into ¾-inch-thick slices, or "steaks," through the base. You can save the two outer pieces for a roast vegetable gratin. Mix the ginger, garlic, spices, and salt with 5 tablespoons of the extra-virgin olive oil.
Heat the remaining olive oil in a wide frying pan over high heat. Sear the cauliflower steaks for about 2 minutes on each side until nicely colored—use more oil if necessary.
Carefully transfer to a roasting pan in a single layer; spoon the spicy oil over each cauliflower steak; flip over and drizzle a little more on the other side. Roast for 10 to 15 minutes until the cauliflower feels tender when the stalk end is pierced with the tip of a knife. Check after 8 to 10 minutes as they may need to be turned.
Serve along with lots of fresh coriander and lemon wedges.
Excerpted with permission from How To Cook by Darina Allen, courtesy of Kyle Books. Photography by Nassima Rothacker.