3 Better-For-You Bagel Recipes For National Bagel Day (Or Any Ol' Morning)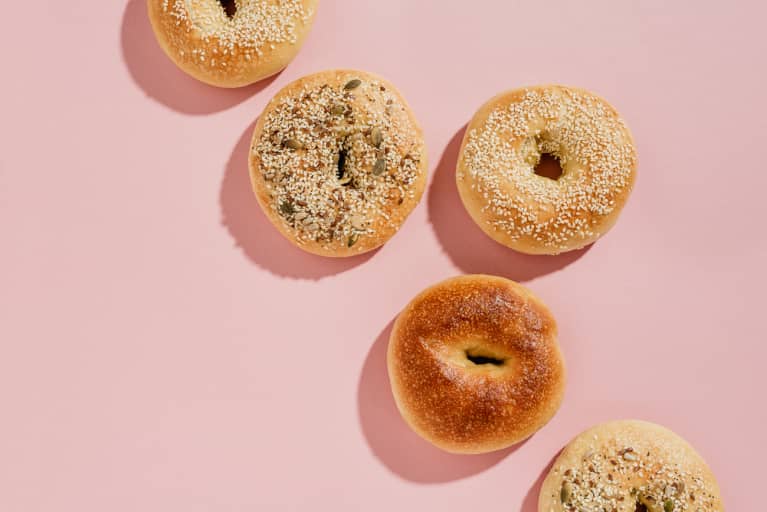 Bagels are delicious, but unfortunately, they aren't the healthiest breakfast option. As we know, eating balanced meals in the morning can keep us from feeling sluggish or making unhealthy decisions later on. While that information can seemingly prevent us from indulging in bagels that may lead to a blood sugar crash, they shouldn't keep us from the beloved breakfast food altogether.
To celebrate National Bagel Day (or really, just another morning), we've rounded up a list of our tastiest, better-for-you bagel recipes.
This bagel really isn't a bagel at all, but its shape and the delicious schmear might convince you otherwise. These Cinnamon-Raisin Sweet Potato Bagels are made of spiralized sweet potatoes and formed in a doughnut pan. The grain-free and dairy-free breakfast is full of nutrients and flavored with cinnamon, raisins, and a luscious maple cashew cream cheese.
Not only are these Honey-Crust Sprouted Spelt Bagels vegan, but they're also free of refined sugars and grains. Sprouted grains still have gluten but significantly less than refined wheat grains, making them easier to digest. Along with the health benefits, spelt provides a sweet and nutty flavor profile that makes this bagel deliciously distinct.
A low-carb bagel sounds like an oxymoron, but we promise it exists. While these Asiago Rosemary Keto Bagels are far from vegan, they will keep you in ketosis by using psyllium husk powder in lieu of wheat. The savory ingredients (three varieties of cheese and rosemary) make them perfect for breakfast or lunch. Try topping with an egg, tomatoes, and everyone's favorite spread: avocado.
Whatever your dietary intolerances or preferences, these three recipes are sure to satisfy your bagel cravings.
Want to turn your passion for wellbeing into a fulfilling career? Become a Certified Health Coach! Learn more here.