OMG! Green Vanilla Almond Shake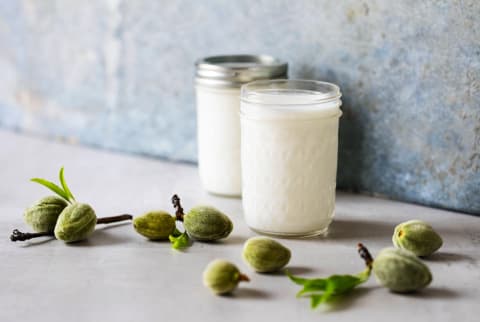 Image by Nadine Greeff / Stocksy
August 8, 2014
While developing and testing this recipe with my team, we all went a little crazy for it. Everyone kept going back for seconds, since it tastes just like a vanilla milkshake!
But what you're actually slurping on is nutrient-rich spinach, almond butter, and coconut water. Get it, gorgeous! Beauty starts from the inside; it's just a bonus when it can taste this good.
1 cup unsweetened coconut water
2 cups baby spinach
1 frozen banana
2 tablespoons almond butter
2 teaspoons organic vanilla extract
4 tablespoons (1 scoop) protein powder
1 cup ice
Add ingredients to a blender and blend until smooth.

Candice Kumai
Candice Kumai, quoted by Elle Magazine as "the golden girl of the wellness world", is a classically trained chef, wellness journalist and best-selling author of Clean Green Eats, Clean Green Drinks, Pretty Delicious, Cook Yourself Sexy and Cook Yourself Thin. She is a regular contributor on E! News and The Dr. Oz Show and has appeared as a regular judge on Iron Chef America and Beat Bobby Flay. She contributes to lifestyle publications such as Cosmopolitan, Shape, Yoga Journal, Men's Health, Clean Eating and Prevention and volunteers at dozens of charitable organizations. She is a Top Chef alumni, and is obsessed with avocados, yoga, bar method, coconut and her cat, Sisi. She lives in New York City.