Try This Farro & White Bean Soup With Leafy Greens For A Perfect Batch-Made Meal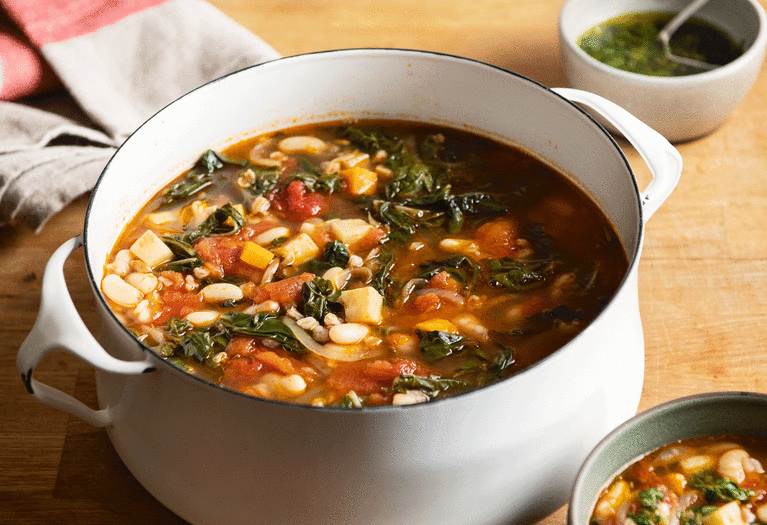 Our editors have independently chosen the products listed on this page. If you purchase something mentioned in this article, we may
earn a small commission
.
When it comes to making a soup that works as a stand-alone meal, it's about packing it with not only filling ingredients but also ones that provide a well-rounded set of nutrients—which is exactly what this clever vegetable soup does.
The core of the soup is made up of three ingredients that pack in nutrients. Great Northern beans provide a dose of plant-based protein, farro (an ancient grain) is a good source of fiber and other phytonutrients, and bitter green Swiss chard provides vitamins and minerals. Not only that, but this trio of ingredients are fabulously tasty together, too.
"It's a soup you can probably make any night of the week without having to run to the store (just be sure to plan ahead so you can soak the beans overnight)," writes Dan Kluger of the recipe. Though he originally developed it for a feature in Food & Wine, it now has a place of honor in his new cookbook, Chasing Flavor.
This is the sort of meal we imagine making on a cozy at-home Sunday,\ and enjoying it for the whole week to come as a quick lunch. While it's not totally pantry-based, we always have some produce like leafy greens on hand—and are always looking for new ways to utilize those go-to ingredients.
Kosher salt
1 cup dried Great Northern beans
¾ cup farro
¼ cup extra-virgin olive oil
1 small Spanish onion, thinly sliced
½ cup diced carrots
½ cup diced celery root
4 large garlic cloves, thinly sliced (3 tablespoons)
One 28-ounce can diced tomatoes
1 bunch Swiss chard, leaves coarsely chopped, stems reserved for another use
Freshly ground black pepper
In a bowl, whisk 6 tablespoons salt into 4 cups water until dissolved. Add the beans and soak for at least 8 hours, or overnight.
Drain the beans and place in a medium saucepan. Cover the beans with at least 4 inches of water and bring to a boil. Lower the heat and simmer the beans until tender, about 1 hour and 15 minutes. Drain, reserving 3 cups of the cooking liquid.
Meanwhile, place the farro in a small saucepan and cover with 2 inches of water. Add 1 tablespoon salt and bring to a boil. Cook the farro until al dente, about 20 minutes. Drain.
In a medium saucepan, heat the olive oil over medium heat. Add the onion and a pinch of salt and cook, stirring occasionally, until softened but not browned, about 7 minutes.
Add the carrots, celery root, and garlic and cook, stirring occasionally, until the vegetables begin to soften, about 5 minutes.
Add the tomatoes with their juices and cook over medium-high heat, stirring occasionally, until the juices have reduced by half, 8 to 10 minutes. Add the reserved cooking liquid from the beans and 7 cups water and bring to a simmer.
Stir in the beans, farro, and Swiss chard and simmer over medium heat until the chard is wilted, about 5 minutes. Season to taste with salt and pepper.
Want to turn your passion for wellbeing into a fulfilling career? Become a Certified Health Coach! Learn more here.