Why The Nama J2 Cold Press Juicer Is A Total Game-Changer, According To mbg's Health Editor
Health Writer & Editor
By Kristine Thomason
Health Writer & Editor
Kristine is a writer, editor, and editorial consultant who lives in Long Beach, CA.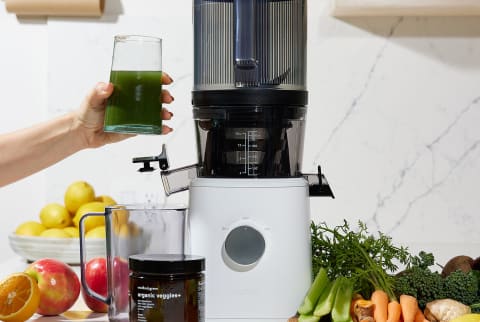 Image by mbg creative / Nama
September 17, 2021
At mindbodygreen, we have a philosophy that the best well-being habits are ones you actually stick to. For me, that includes moving my body, getting plenty of sleep, and including nutrient-rich plants in my diet as much as possible.
However, there's one nutrition strategy that I've found challenging in the past: juicing. Don't get me wrong, I thoroughly enjoy veggies-packed green juices, and I think they can be a hydrating, nutrient-dense part of a healthy diet.
However, buying regular cold-pressed juices can get pricey really quickly—and most at-home juicers I've tried in the past have been a bit of a time-consuming pain. For one, prep often involves meticulously cutting fruits and veggies to the correct size. Also, while it can be somewhat meditative to slowly insert one stalk of celery after the other into the juicer, I don't usually have an extra 20 minutes to spare in the morning. Not to mention, they're often difficult to clean (think, digging juice pulp out of every nook and cranny of the machine).
Why I love the Nama J2 juicer.
This juicer is a total game-changer. All you have to do is drop all your ingredients into the large "hopper" container that sits on top of the juicing chamber, turn it on, and step away while the juicer does its thing. From there, it slowly presses your fruits and veggies, to help maintain the nutrients and flavor of the juice.
I was also impressed to learn that the technology in the Nama J2 Cold Press Juicer yields up to 60% more juice from the same amount of ingredients, compared to traditional juicers (both a time- and money-saving component). Because of all these insightful features, it's also easier to make a big batch of juice for your household or to meal-prep for the whole week.
What's more, cleanup is a breeze. The necessary components of the juicer come apart seamlessly, so it's simple to wash. One of my favorite elements: There's a genius quick-release feature on the pulp outlet loop (the little tube where the juice pulp emerges). This may not seem that exciting—but believe me when I say I gasped with glee when I saw this innovative design component. It saves so much pulp-pulling struggle and totally eliminates cleanup dread.
How I include Nama juices in my well-being practices.
Perhaps most importantly, I love how the Nama J2 Cold Press Juicer makes it possible for juicing to be a more regular part of my morning routine (more on that here). All I have to do is load the juicer and walk away—leaving time for other self-care practices like moving through a yoga flow, journaling, or planning out my day.
I also love combining the juices I create with another of my go-to well-being tools: mbg's organic veggies+ greens powder. This formula contributes gut- and digestion-supporting ingredients like prebiotic fibers (inulin and flaxseed fiber, specifically), probiotics, and digestive enzymes.* Plus, it includes bonus ingredients I wouldn't add to my juice, like sea veggies or blood-sugar-supporting cinnamon bark extract.* Adding veggies+ to my juice is a complementary (and delicious) combination that helps me front-load my morning with nutrients and supercharge my entire day.*
Ultimately, the Nama J2 Cold Press Juicer has done something I never thought would be possible: make juicing a simple, accessible well-being habit.
Want to turn your passion for wellbeing into a fulfilling career? Become a Certified Health Coach! Learn more here.
Kristine Thomason
Health Writer & Editor
Kristine is a writer, editor, and editorial consultant who lives in Long Beach, CA. Kristine is a New York University graduate with a degree in journalism and psychology, and also a NASM-certified personal trainer. She has spent her editorial career focused on health and well-being, and formerly worked for Women's Health and Health. Her byline has also appeared in Men's Health, Greatist, Refinery29, HGTV, and more. In her current role she oversees, edits, and writes for the health, food, and movement sections of mindbodygreen.