My Top 9 Superfoods For Looking Good, Feeling Great & Losing Weight

Functional Medicine Doctor & NY Times bestseller
By Frank Lipman, M.D.
Functional Medicine Doctor & NY Times bestseller
Dr. Frank Lipman is a widely recognized trailblazer and leader in functional and integrative medicine, and a New York Times best-selling author.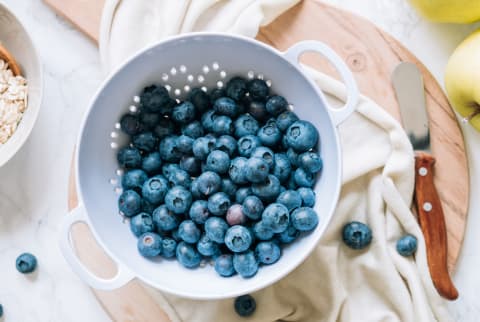 Image by Nataša Mandić / Stocksy
May 25, 2013
Lose weight! Boost immunity! Improve your love life! If there were a pharmaceutical drug that did all three, there'd be a stampede to the pharmacy, but for now, no such pill exists.
My advice? Build your own — not a pill, but a plan — an eating strategy that packs power, nutritional value and a host of benefits into every bite.
Advertisement
This ad is displayed using third party content and we do not control its accessibility features.
Where to start? Simply load up on the "Superfine 9," nine of the most nutritionally valuable foods you can buy.
What makes them super? Few calories, low in sugar and salt, plus lots of soluble fiber, nutrients, and health-boosting phytochemicals. Even better: not a drop of guilt should you over-indulge! If you're interested in looking great, feeling great, and weighing less, the real "magic pill" can be found in the organic produce aisle and at the seafood counter.
Here my nine favorite superfoods to get you started on a healthy, happy life.
Blueberries
Tasty, sweet and packed with disease-fighting phytochemicals, flavonoids and soluble fiber, blueberries have the power to help prevent serious diseases like cancer, diabetes, heart disease, stomach ulcers and high blood pressure. In sum, blueberries are miraculous! They also help tame inflammation throughout the body and can reduce "bad" cholesterol – so dig in for better health.
We love to blend blueberries into our smoothies, but while most of us think of blueberries for breakfast, they're also perfect for dessert. Having a snack attack? Instead of ice cream, curl up with a small bowl of frozen blueberries and enjoy popping 'em in your mouth, one by one.
Leafy greens
What's so amazing about the leafys is that calorie for calorie, they deliver more nutrients than just about any other food on the planet. Loaded with fiber, vitamins, minerals and phytochemicals, leafy greens stock your body with the artillery needed to fight off potential killers like heart disease and cancer. Simply put: leafys benefit virtually every cell you've got!
My favorite leafy greens are kale, spinach, Swiss chard, mustard, and dandelion greens because they're nutritious AND delicious. You can toss them into virtually anything to boost nutrition, but be sure to give them a good rinse first. Raw or cooked, on their own or added to smoothies, omelets and sauces, leafys add health-sustaining doses of vitamins A, C, K, folate, potassium and calcium to every meal.
For an easy added boost, try greens powder in your smoothies.
Advertisement
This ad is displayed using third party content and we do not control its accessibility features.
Chocolate
Dairy-free chocolate, in moderation, is a delicious treat that actually does a body good. It can help elevate mood, improve blood flow and even lower blood pressure. It helps reduce inflammation and LDL "bad cholesterol," and it's loaded with antioxidants, which can help prevent cell damage, degenerative diseases and even cancer – all of which is good news for chocolate lovers.
Keep in mind though, chocolate's numerous health benefits are not a license to set up camp in the candy aisle. You have to manage your "dose," keeping yours to a modest 1 ounce serving a few times a week. To maximize chocolate's benefits, look for high-quality, dairy-free dark chocolate that's at least 70% cocoa – and enjoy!
Cruciferous vegetables
Want to lower your cancer risk? Put the cruciferous on your list, namely broccoli, Brussels sprouts, cauliflower, cabbage, kale and bok choy. Research suggests cruciferous veggies have the ability to inhibit the growth of some types of cancer cells and even stop others by reducing the production of free radicals.
How to stuff more of cruciferous veggies into your diet? Don't wait 'til dinner, start your day with them – try cruciferous veggies at breakfast with a delicious Brussles sprouts hash – and put more healthy nutrients on your plate first thing, at the start of your day.
Advertisement
This ad is displayed using third party content and we do not control its accessibility features.
Beans
Dense and delicious, beans help raise levels of the hormone leptin, which curbs appetite. They also deliver a powerful combination of B vitamins, calcium, potassium and folate. All of this good stuff will help maintain healthy brain, cell and skin function, and even helps to reduce blood pressure and stroke risk. Pretty amazing, eh? To increase your intake, trying eating beans as a filling side-dish instead of bread or potatoes. They'll help keep you feeling fuller longer and deliver an excellent source of sugar-free energy through much of your day.
Walnuts
Walnuts — you don't need to eat a lot of them to tap into their power. Just a small handful a day will deliver a healthy dose of omega-3s, alpha-linolenic acid, melatonin, copper, manganese and the hard-to-find gamma-tocopherol form of vitamin E, which helps protect your heart. Walnuts on your plate may also protect your brain and help slow the onset of Alzheimer's and Parkinson's disease.
Not a nut fan? Then try adding chopped walnuts to cereal or fruit, or blend in 2 tablespoons of organic walnut butter to fruit smoothies. Either way, you'll still reap the benefits of the mighty walnut. For a delicious salad that double dips on the Superfine 9, try a strawberry spinach salad topped with walnuts!
Advertisement
This ad is displayed using third party content and we do not control its accessibility features.
Avocado
Don't be afraid of an avocado because you think it's fattening! The often overlooked avocado is a delicious, creamy superfood that's simply too health-boosting to skip. The myriad of healthy fats and nutrients found in avocados – oleic acid, lutein, folate, vitamin E, monounsaturated fats and glutathione among them – can help protect your body from heart disease, cancer, degenerative eye and brain diseases.
Avocados also taste great and are easily integrated into any meal – or even a fruit smoothie. Add a half an avocado to smoothies for a creamy texture and a powerful nutritional boost, or enjoy an avocado half as a nutritious "side" to your morning omelet instead of potatoes or toast.
Wild Salmon
Wild salmon is a rich source of protein, vitamin D, selenium, B2, B3, B6, B12 and those all-important omega-3 fatty acids. So exactly what can wild salmon offer you? Quite a bit, including protection from cancer, cardiovascular problems, macular degeneration, depression and cognitive decline – that's a lot of pluses in a pretty compact package. The best salmon to buy? Wild caught, Alaskan salmon, which routinely ranks low in contaminants and high in nutrients. Wild salmon's benefits start to kick in at about two servings a week, so there's no need to overdo it.
Advertisement
This ad is displayed using third party content and we do not control its accessibility features.
Chia seeds
Chia seeds are tiny, nutritional dynamos – in fact, they're the single richest source of plant-based omega-3 fatty acids you can buy. They're also loaded with antioxidants, protein and minerals, plus soluble and insoluble fiber to help keep your digestion moving in the right direction. What's more, chia seeds have an unusual property – they swell to more than 5 times their weight in liquid, so adding a spoonful or two to meals will help you feel fuller faster.
How to eat 'em?
They're virtually tasteless, so you can drop a spoonful or two into just about anything, including smoothies, sauces, soups and salads. But my favorite way to take advantage of this unusual superfood is to combine it with another superfood, i.e. chocolate, to dig into a serving of Chocolate Chia Pudding.
Frank Lipman, M.D.
For Dr. Frank Lipman, health is more than just the absence of disease: it is a total state of physical, mental, emotional, spiritual and social wellbeing. Dr. Lipman is a widely recognized trailblazer and leader in functional and integrative medicine, and he is a New York Times best-selling author of five books, How to Be Well, The New Health Rules, Young and Slim for Life, Revive and Total Renewal.
After his initial medical training in his native South Africa, Lipman spent 18 months working at clinics in the bush. He became familiar with the local traditional healers, called sangomas, which kindled his interest in non-Western healing modalities
In 1984, Lipman immigrated to the United States, where he became the chief medical resident at Lincoln Hospital in Bronx, NY. While there, he became fascinated by the hospital's addiction clinic, which used acupuncture and Chinese medicine making him even more aware of the potential of implementing non-Western medicine to promote holistic wellbeing.
He began studying nutrition, acupuncture, Chinese medicine, herbal medicine, functional medicine, biofeedback, meditation, and yoga. Lipman founded the Eleven Eleven Wellness Center in 1992, where he combines the best of Western medicine and cutting edge nutritional science with age-old healing techniques from the East. As his patient, chef Seamus Mullen, told The New York Times, "If antibiotics are right, he'll try it. If it's an anti-inflammatory diet, he'll do that. He's looking at the body as a system rather than looking at isolated things."
In addition to his practice, he is also an instructor in mbg's Functional Nutrition Program.
Read More