Mediterranean Salad With Swiss Chard & Quinoa
Image by Melanie DeFazio / Stocksy
August 29, 2014
When it comes to healthy greens, it seems like kale is still the darling of the wellness world, so it's easy to overlook it's colorful cousin: swiss chard. What you may not know is that chard is actually a member of the beet family, and is rich in vitamins A, K and C as well as minerals, fiber and protein.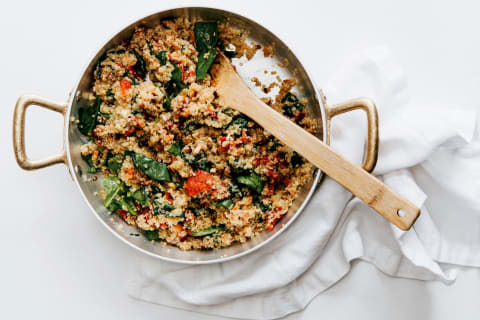 Image by Melanie DeFazio / Stocksy
Its nutritious leaves can be eaten raw, boiled or sauteed; in salads, pastas, soups, omelets or even on their own.
Young chard can be sauteed in just five minutes or so, until the leaves are wilted and tender. All you need is some olive oil, garlic, and maybe some pepper flakes to bring out its delicate flavor, and voila — instant side dish.
If you want to make a meal out of it, add a splash of stock or water, or a few pats of butter, and toss it with pasta. You can also fold it into an omelet with melted cheese or even a quesadilla.
I mixed the chard with quinoa and brought it back to its Mediterranean roots by tossing in some olives to enhance the flavors, reminiscent of a classic Greek salad.
Mediterranean Salad With Swiss Chard & Quinoa
2 cups cooked quinoa

1 bunch young swiss chard with tough stems removed, cut into 1-inch ribbons (including the thinner, tender parts of the stems)

4 Tbsp. extra virgin olive oil

4 Tbsp. stock (vegetable or chicken)

1 medium garlic clove, finely chopped

1 pinch of pepper flakes (or more, depending on how spicy you like it!)

6 kalamata olives, diced
6 cherry tomatoes, diced
1 small cucumber, diced
Salt and pepper to taste Directions
Cook the quinoa according to package instructions.
In the meantime, place a medium-sized skillet over medium heat, and add the oil until hot but not smoking.
Add the swiss chard, cover and cook (stirring occasionally) for about 3 minutes or just until the greens wilt.
Push the greens to the side of the skillet and add the garlic and pepper flakes, cook for about 30 seconds, just until the garlic begins to color and become fragrant.
Quickly pour in the broth and cook for about a minute more and then remove from the heat.
Stir in the quinoa, olives, tomatoes and cucumber.
Season with salt and pepper to taste.
Silvia Bianco
Live a vibrant, connected, physically and spiritually nourished life.
As a native Italian, connection is in my DNA. As a holistic professional chef, good nutrition and great taste go together.
We've sacrificed cooking for convenience and lost the sacredness of sharing a lovingly prepared meal. I'm on a mission to change that.
For 20 years, I've taught thousands of people (regardless of their dietary choices or restrictions) how to cook whatever they want to learn using simple, fresh, everyday ingredients along with practical, easy techniques.
Now I've gathered the tools and inspiration for you to make cooking simple and meeting at the table a meaningful and memorable experience. Get them by
SUBSCRIBING to chefsilvia.com and LIKE my FB page to get my latest divine, Mediterranean inspired recipes and cooking tips. Subscribe to Miracles & the Chef for some Sacred Sustenance - based on the teaching of ACIM.