Meal Prep Sunday: Black Rice + Coconut Red Lentils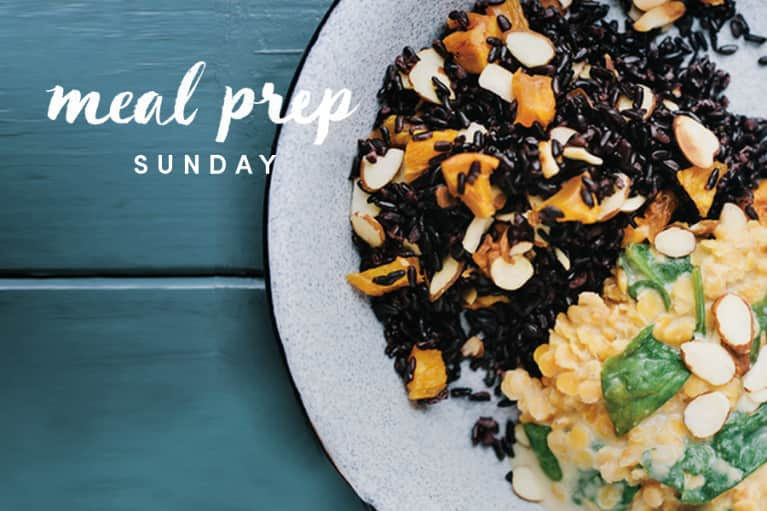 Our editors have independently chosen the products listed on this page. If you purchase something mentioned in this article, we may
earn a small commission
.
Welcome to Meal Prep Sunday, where you'll make a single, healthy recipe with serious bodily benefits, whether it makes your skin glow, helps soothe your gut, boosts your immunity, or more! Because it gets boring to eat the same thing every day, you'll do the bulk of the prep on the first day—and every day after that, there will be one small, five-minute-or-less tweak that will transform the leftovers into a new, amazing meal.
The new book Feeding a Family: A Real-Life Plan for Making Dinner Work by Sarah Waldman takes us through the seasons one healthy, family-friendly meal at a time. This dinner in particular is antioxidant- and fiber-rich, perfect for supporting your detoxification systems and promoting healthy, glowing skin.
Black rice is one of the healthiest rice varieties, due in part to all the powerful antioxidants and phytonutrients (think the more intense the color, the higher in health-promoting nutrients). It also contains fiber, iron, and copper along with protein. Together with red lentils, this fiber-packed meal is great for stabilizing blood sugar and heart health and promotes better digestion.
Shopping List for the Week
4 to 5 cups baby spinach
1 avocado
1 lemon
2 to 3 medium carrots
1 large crown broccoli (or 2 medium crowns)
1 small bunch cilantro
1 small bunch scallions/scallions
1 small bunch radishes
Eggs (optional)
Goat cheese (optional)
Pantry Staples (purchase if you don't have)
2 cups red lentils
2 (14-ounce) cans coconut milk
1 cup dry black rice
½ cup dried peaches
½ cup sliced almonds
Olive oil
salt and pepper
1 (14-ounce) can chickpeas
tahini
cayenne
Dijon mustard
Thai curry paste (red or green both work)
A Plate of Spring Colors: Red Lentils with Coconut Milk + Spinach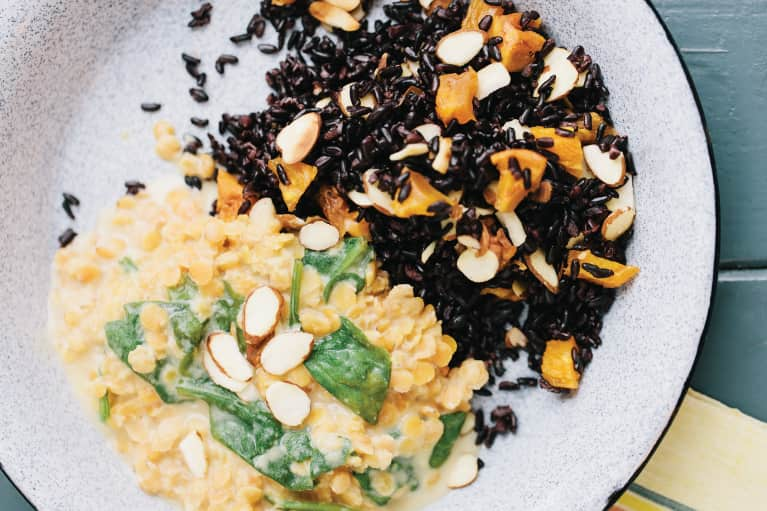 2 tablespoons olive oil
2 cups red lentils
2 14-ounce cans coconut milk
1 cup water
1-inch piece fresh ginger root, peeled
1 teaspoon kosher salt
2 packed cups baby spinach, roughly chopped
Method
1. Warm the olive oil in a saucepan set over medium heat. Add the lentils to the pan and toast for 1 minute. After 1 minute, add in the coconut milk, water, ginger, and salt. Cover the pan with a lid and simmer over low heat until the lentils are tender and the liquid is almost fully absorbed, about 20 minutes.
2. When you're ready to eat, remove the ginger, stir in the spinach leaves, and cook just until the spinach has wilted. Taste for salt and serve warm.
For baby: Red Lentils with Coconut Milk and Spinach is an ideal dinner for a baby, as it is packed with healthy fats, protein, and fiber. For young eaters, overcook the lentils slightly so they fall apart and lose any hard bite. Then, stir in finely chopped baby spinach.
Black Rice with Dried Peaches + Almonds
I like adding dried fruit (for sweetness) and toasted nuts (for a salty crunch) to rice sides. Here, anything from apricots to raisins, walnuts to pistachios, will do. Put your kids in charge of picking out a couple of additions from the pantry to add to the rice.
Serves 4
Ingredients
1 cup black forbidden rice
½ cup dried peaches, diced
½ cup sliced almonds, toasted
3 tablespoons extra-virgin olive oil
½ teaspoon kosher salt
Method
1. Boil the rice in a large pot of salted water until tender, about 20 minutes.
2. While the rice cooks, toss together the dried peaches, almonds, olive oil, and salt in a large serving bowl. Drain the rice, toss to remove any excess liquid, add it to the bowl with the dried peaches and almonds. Mix well before serving.
DAY 2: Rice Bowl with Tahini Dressing
Make a tahini dressing by combining 2 tablespoons tahini, 2 tablespoons room-temp water, the juice of half a lemon, salt, and a pinch of cayenne. Whisk together.
Using a portion of rice as your base, top with carrot ribbons, fresh cilantro, a soft-boiled egg (optional), and avocado. Drizzle with dressing.
DAY 3: Coconut Lentils over Herby Broccoli Rice
Chop half a large crown of broccoli (or 1 medium one) into small, rice-like pieces. Heat broccoli rice and 3 roughly chopped scallions in a large pan with a little olive oil and salt over medium heat. Cover and cook for 3 to 5 minutes until tender and bright green. Stir in a handful of roughly chopped cilantro. Reheat the lentils and serve over a heaped bowl of broccoli rice.
DAY 4: Black Rice + Spinach Dinner Salad
Make a simple dressing with 3 tablespoons of olive oil, the juice of ½ a lemon, and a teaspoon of Dijon mustard, and whisk together in a small bowl to combine.
In a medium mixing bowl, combine 1 can of chickpeas (drained and rinsed), 2 to 3 big handfuls of spinach, thinly sliced radishes, and a portion of the black rice. Toss with a couple of spoonfuls of vinaigrette and top with goat cheese (optional) to serve.
DAY 5: Coconut Lentil Thai Curry
Cut ½ a large crown of broccoli (or 1 medium crown) into small florets and thinly slice a medium-size carrot. Steam broccoli and carrots in a wide pan with about an inch of water covered for about 3 to 4 minutes until tender. Remove lid and stir in a spoonful of Thai curry paste and the remaining coconut lentils, and simmer everything over medium heat for 2 to 3 minutes to warm everything through. Serve with extra coconut milk if desired.