This Greens Powder Is Packed With Nutrients & Actually Tastes Delicious, Say mbg Reviews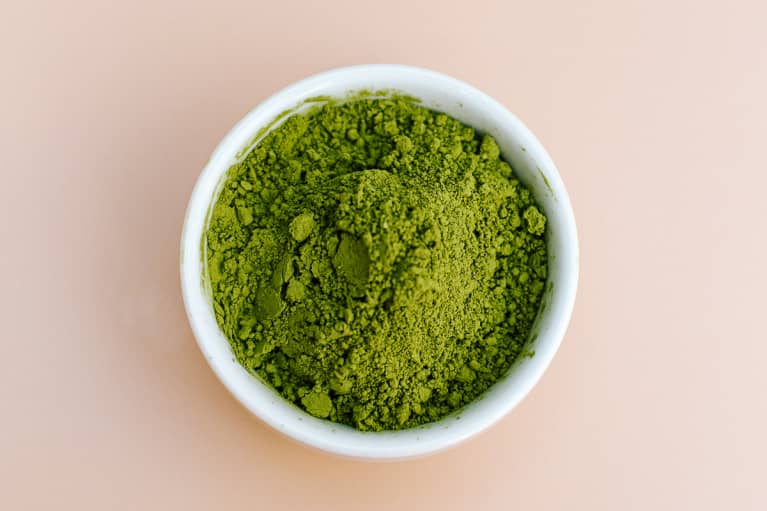 Greens powders are a fantastic way to get an extra serving of veggies and other nutrient-rich ingredients in your daily diet. That said, the very, well, green flavor of some may not exactly compel you to add them to your morning smoothie.
That's why, when mbg was developing organic veggies+, taste was definitely a consideration. In addition to the many benefits, like healthy digestion, immune function support, and better nutrient absorption—it was important to create a greens powder people actually enjoy taking.* Yes, organic veggies+ includes a blend of organic dark green leafy vegetables, unique sea vegetables, and fiber, but it also has a mild, even pleasant flavor.*
So, we were thrilled to hear mbg consumers not only loved how organic veggies+ helped them level up their nutrient intake but also raved about the taste.* In fact, multiple reviewers revealed the beneficial greens powder is one of the tastiest and most effective options they've ever tried.*
"I've tested out many brands, and most greens powders have overpowered the taste of my morning smoothie or have a rather pungent smell. This veggies powder didn't change the flavor of my favorite smoothie recipe, and I loved knowing how many sea veggies and antioxidants I was getting.* One unexpected bonus was an energy boost in the mornings, there were some mornings that it even replaced my second cup of coffee!*"
—Liza
"organic veggies+ is a great way to know you're getting a dose of veggies and super nutrients no matter what's on your daily agenda!* It mixes well with beverages, smoothies, and soups, so it's very versatile! Peace of mind knowing that you're taking care of your health and nutrient intake each and every hectic day!*"
—Meliss A.
"I could not be more excited about this veggies powder—seriously. I have been adding it to my morning smoothies over the last few weeks and the positive effects have been almost immediate.* I've always struggled to get enough leafy greens in my diet, so adding a greens powder to my smoothie has been an awesome way to round out my breakfast. It tastes great, and it feels like I have an extra step of energy in the morning whether I'm heading off to the gym or going straight to the office!* As a result, inflammation is down and so is my caffeine intake, which has helped reduce stress/anxiety.*"
—Lucas
"Great way to get my daily greens especially these days when it's harder to get fresh veggies.* Tastes great and have even mixed with soups and salads! Highly recommend!"
—Brian P.
"The best green veggie powder I have tasted."
"This is hands down the best green veggie powder I have tasted. It's easy to mix with your favorite smoothies or simply diluted in water."
—Alexandra A.
"mindbodygreen's veggies powder was a lifesaver after I got back home from a recent trip. My fridge was pretty sparse, but I needed some nutrients after an indulgent weekend away. In lieu of my usual spinach, I used the veggies powder and combined it with frozen berries, oat milk, hemp seeds, and a drop of vanilla, and my smoothie was delish! The powder had a very mild flavor and nice texture—not at all chalky. I'm excited to keep experimenting with it."
—Ella
"Love it in the morning with my vitamins...a great way to start a day, great flavor, no sugary taste; most important: organic."
—Beatrice N.
"I love veggies, but I don't always have the chance to eat as many servings per day as I'd like. Enter veggies powder! I knew I could likely mix this into smoothies and enjoy it, which I certainly did. However, I really wanted to test this product by adding it to other things, like my overnight oats, for instance. The results were amazing! It mixed in so well, no gritty texture, no harsh/bold flavors. It paired so well with berries and gave my oatmeal a very rich flavor. So easy to add in and such a bonus getting all the benefits (some of my favs being anti-inflammatory properties and increasing my intake of sea veggies) of this product all before 9 a.m.* My next attempt will be adding this to banana nice cream for an end-of-day treat and attempt at more veggies. Give this a try, even if only for your smoothies or for any other daring culinary adventure, and I think you'll be pleasantly satisfied and surprised!"
—Clara
"This checks off all the boxes for me in terms of keeping my health in check. I love that it has turmeric to fight inflammation, ginger for digestion, and leafy greens so I can easily fit more vegetables into my diet without trying—and who doesn't want that?* I love that they're easy to blend into a smoothie and don't have a strange aftertaste or strange ingredients."
—Camila
"An easy way to ensure you're getting enough vegetables.*"
"I typically have a smoothie every morning with spinach, fruit, vanilla protein, and chia seeds--and this veggies powder fit in perfectly. The ginger and turmeric made it taste amazing, and I definitely felt an extra boost when I used it—it's a great way to start a day and an easy way to ensure you're getting enough vegetables in your daily life!*"
—Noah