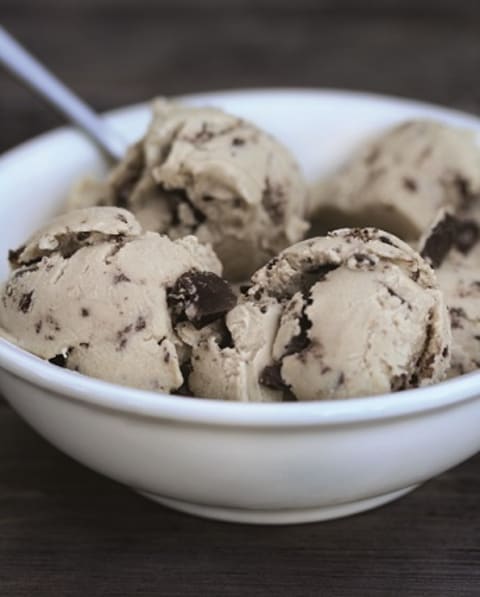 Once upon a time, I had a full-blown ice cream addiction, and it wasn't a pretty sight. It was ritualistic summer days of pint-sized fun, the inevitable "just a little something sweet after dinner," and a laughable accruement of cookie-dough bites and peanut butter cup morsels stealthily plucked and devoured from the larger "family" bin. Tighter jeans? Evening headaches? These *minor* inconveniences were no match for the lure of a moment spent with a cold, creamy, melty spoonful of ice cream bliss. My one and only excuse: teenager.
When I came around to understanding food a bit better, the ingredients of ice cream appalled me. Even the brands made with "all natural ingredients" were still made of all natural junk. Really really condensed all natural junk. As in, there's nothing good going on in there. Gross and ew. Eventually, I turned my back on conventional ice cream forever; ice cream and I were over.
Little did I know just how re-inspired I would become when working with raw food desserts…
Though I don't specify myself as a "raw food" chef per se, I do love many of the techniques and elements of the raw philosophy, and often incorporate them into the recipes I make. Specifically, I cherish the idea that we can lean on whole, plant-based, clean foods (and superfoods!) to create 99% of the flavors, textures and colors of almost any dish we crave … yes, even ice cream. Cream and sugar? Who needs them when you have cashews or almonds, and dates or maple syrup? Talk about an upgraded treat!
When I was contributing recipes for Brendan Brazier's latest literary masterpiece, Whole Foods to Thrive, I had a lot of fun creating some, dare-I-say, ice cream recipes with benefits. There's a lovely mint one made with real mint leaves, there's an action-packed protein ice cream, and then there's my favorite ice cream recipe of all: Maple-Maca Ice Cream (with chocolate chips!). I've shared my love for using the maca in recipes here before, and I don't see that trend stopping any time soon. Maybe it's this bona fide superfoods' profound benefits (the mineral-rich maca root has adaptogenic qualities, which may support the regulation of stress and repair, balance hormones, boost sex drive, and enhance strength and energy… all without being a stimulant). Or, maybe it's the fact that the potent, earthy, butterscotch-esque flavor is completely enchanting when combined with friendly flavors. All I know is that it's a good thing maca ice cream didn't come in store-bought pints when I was a teenager, else I may have never moved out of the frozen aisle.
At last, your ice cream with benefits is served…
Maple-Maca Ice Cream with Chocolate Chips
Though this ice cream is perfect for warm weather, maca has a slight warming quality, making it a good pick for cooler days as well. You do not need a ice cream maker for this recipe, however, if you do not have access to a high powered blender (like a Vitamix, Blendtec, or even a Magic Bullet), soak the cashews and water together for 30 minutes before blending for smoother results.
1/3 cup chopped dark chocolate
Blend all ingredients – except the chopped dark chocolate – in a blender until completely smooth. Transfer to a bowl or Tupperware container and freeze for 30 minutes. Mix in dark chocolate chunks into the cold ice cream, then continue freezing, covered, until frozen through – about 6-8 hours. Let defrost for 5 minutes before serving to soften.
Makes about 1 pint (4 servings).
Note: If you have an ice cream maker, feel free to put it to use for a fluffier texture.

Julie Morris
Julie Morris is a Los Angeles-based natural food chef, superfood expert, and bestselling author of 5 books including Superfood Soups, Superfood Snacks, Superfood Smoothies, Superfood Juices, and Superfood Kitchen. She has worked in the natural food industry for a decade as a recipe developer, culinary writer, on-camera personality, national speaker, and is an active advocate for whole, plant-based foods and superfoods for optimal health. Her mission is simple: to share recipes and nutrition tips that make a vibrantly healthy lifestyle both easy to achieve and delicious to follow.
For more of Julie's superfood kitchen, visit her at JulieMorris.net, or through her social media channels: Facebook, Twitter, and Instagram.