Close Banner
Advertisement
This ad is displayed using third party content and we do not control its accessibility features.
Manuka Honey Guide: How It Can Help With Gut Health, Insomnia, Allergies & More

Certified Holistic Nutritionist
By Sara McGlothlin
Certified Holistic Nutritionist
Sara McGlothlin is a certified holistic nutrition and wellness coach based in Richmond, Virginia. She graduated from the University of Virginia with a B.A. in economics, and received her master's in elementary education from Mary Baldwin College.

Medical review by
Heather Moday, M.D.
Allergist & Immunologist
Heather Moday, M.D. is the founder of the Moday Center for Functional and Integrative Medicine in Philadelphia, where she practices both traditional medicine and integrative medicine.
Manuka honey is enjoying a recent resurgence in the wellness world, and rightfully so. Native to New Zealand, it is produced by bees that pollinate the Manuka bush. Its uses are far-reaching1, from treating wounds and infections to boosting immunity to helping with acne and eczema. Basically, it's beneficial both topically and when consumed. While Manuka honey might be one of the most multi-purposeful medical remedies provided by nature, there are certain things to look out for. Here is everything you need to know, from its history to healing powers.
What makes Manuka honey so special?
Historically, honey has been used medicinally for thousands of years2 primarily as antimicrobial and antibacterial agents in treating wounds and infections. The benefits and quality will depend on the kind of honey being used. While the health benefits of honey are attributed to its hydrogen peroxide content3, Manuka honey consists of more components that up the ante. These compounds can only be found in the nectar of the Manuka flower (Leptospermum scoparium) native to New Zealand, resulting in a nutritional profile more potent4 than its mainstream counterpart. Leptospermum species were first described in the late 18th century, but it wasn't until research conducted in the 1980s identified and documented the enhanced antibacterial properties5 of the Manuka plant.
What is interesting is that even the quality across all Manuka honeys can vary, which is why the Unique Manuka Honey Factor (UMF) was established. The UMF is a quality assurance grading system that tests the levels of methylglyoxal (MG) and dihydroxyacetone (DHA), the two chemical compounds responsible for the Manuka nectar's uniqueness. The higher the concentration of both, the more pure and potent. The product is then graded for its authenticity and assigned a rating, ranging from UMF 5+ to UMF 20+.
How to tell if your Manuka honey is real.
When purchasing your next jar, here are a few things to look out for:
The label states that it is genuine Manuka honey, and the UMF trademark is included.
It is from a New Zealand company.
It has at least a UMF rating of 10+ (with higher ratings denoting higher quality).
The nutritional profile of Manuka honey.
Thanks to Manuka honey's long list of nutrients6 (and therefore very impressive résumé), it is used to treat a variety of conditions. It is a rich source of amino acids, B vitamins, calcium, copper, iron, magnesium, manganese, phosphorous, potassium, sodium, and zinc (just to name a few). As if you needed another reason to seek it out for yourself, here are multiple science-backed benefits of the amazing Manuka honey.
Topical uses for Manuka honey.
However, Manuka honey shouldn't only be an item in your first aid kit. It can have cosmetic effects11 and can give your beauty regimen a boost. The MG compounds found in Manuka honey have been shown to increase collagen cross-linking12, promoting its structural growth in the skin. Additionally, Manuka honey's amino acids both build and protect collagen. More collagen means more skin elasticity13, which keeps skin looking firmer. But the beauty benefits don't stop there. Manuka honey is a natural humectant11, (translation: It is super hydrating) and helps your skin retain moisture. To reap these amazing effects, make an at-home face mask like this revitalizing recipe.
How Manuka honey supports gut health.
Manuka honey may support your microbiome. It contains a certain type of sugar called oligosaccharides1, which has a prebiotic effect14 and is known to promote the proliferation of good bacteria. Studies are also showing Manuka honey's ability to help with various digestive disorders. The high antioxidant content has been specifically effective in helping to treat gastric ulcers15 and inflammatory bowel disease16.
Taking a tablespoon or two is beneficial, but if you want more bang for your buck, try these gut-healing gummies. They combine Manuka honey with gelatin, which is another gut-friendly food.
Good-for-Your-Gut Manuka Gummies
Makes approximately 10 to 12
1 cup frozen blueberries
¼ cup filtered water
2 tablespoons Manuka honey
Juice from 2 lemons
3 tablespoons grass-fed beef gelatin
Add frozen berries and water to a medium pot and place on burner over medium heat. Cook 5 to 7 minutes, stirring occasionally while berries soften, using a wooden spoon to help break them down. Add lemon juice to pot and whisk until combined. Bring blueberry and lemon mixture to a slight boil.
Turn off heat and transfer mixture to a blender and process until liquefied. Add honey and blend again on low speed. Add gelatin and process again on high speed until creamy.
Pour mixture into molds and transfer to refrigerator. Allow to set for at least 30 minutes.
How Manuka honey supports your immune system.
Multiple studies have concluded that Manuka honey is great for your immune system. The delicious elixir contains flavonoids22, a family of antioxidants known to be highly anti-inflammatory23. Furthermore, one study24 showed that Manuka honey stimulated immune cells, while another study concluded1 that it may help inhibit the production of pro-inflammatory cytokines.
More specifically, Manuka honey is commonly associated with healing a sore throat. Not only do its antibacterial, antiviral, and antimicrobial properties create the perfect trifecta for treatment, but Manuka's viscous texture helps coat and soothe the throat25, destroying those harmful bacteria in its path. Is your cough keeping you up at night? One research study26 even found sleep conditions improved for both children and adults suffering from upper respiratory issues.
We suggest swallowing some honey when your throat gets sore, or combining it with apple cider vinegar to cure a cold. If you want to get fancy, stir it in your homemade fire cider and drink a shot each morning as a preventive measure. Cheers!
How Manuka honey helps oral hygiene.
How Manuka honey helps with allergies.
If you are susceptible to seasonal allergies, you have likely heard of using local honey as a natural remedy. But even if Manuka honey comes from a different continent, it could provide relief. In one study30, participants who received a daily Manuka honey sinus solution reported an improvement in their symptoms. Another showed patients who suffer from fungal allergies responded positively to Manuka when more traditional methods weren't working.
How Manuka honey can help with sleep.
Spiced Manuka Golden Milk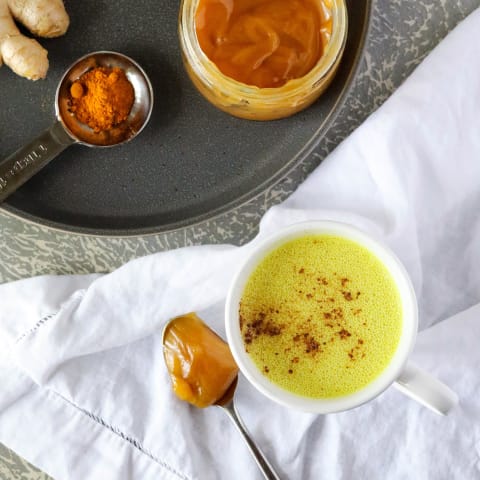 2 cups unsweetened nondairy milk (like full-fat coconut milk or almond milk)
1 teaspoon ground turmeric
½ teaspoon ground cinnamon
¼ teaspoon grated ginger
pinch of black pepper
2 tablespoons Manuka honey
Add milk to a small saucepan over medium-high heat.
Add turmeric, cinnamon, ginger, black pepper, and honey, and whisk to combine.
Continue to cook on the stovetop until slightly simmering, about 4 to 5 minutes. Serve immediately, or transfer contents to a blender and process 10 to 20 seconds until frothy.
How manuka honey may be beneficial for aiding cancer treatment
How Manuka honey can help satisfy your sweet tooth.
Last but certainly not least, if you have a sweet craving, we've got you covered. Not all sugar is created equal. While most sweeteners are completely devoid of nutrition, many actually deplete essential vitamins and minerals42 when consumed. That is clearly not the case for Manuka honey. Know this: Your sweet tooth isn't something to be stopped; as humans, not only are we hard-wired to want sweet foods, but cravings are a way your body communicates with you. The trick is in choosing a treat that will both satisfy and serve you. The next time you feel a craving coming on, try these No-Bake Manuka Bars for an upgraded dessert with all the nutritional benefits to boot.
No-Bake Manuka Bars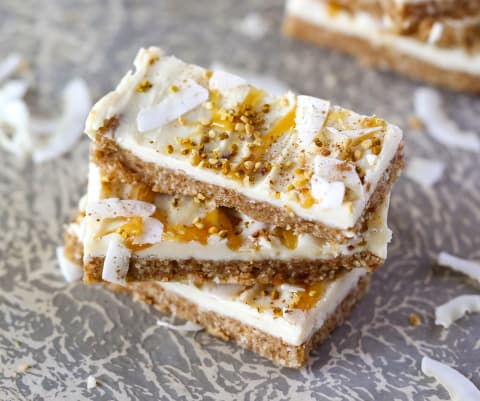 Makes approximately 8 bars
2 cups walnuts
¾ cup unsweetened shredded coconut
1 teaspoon cinnamon
dash of pink Himalayan sea salt
8 Medjool dates, pitted
1 teaspoon vanilla extract
1 tablespoon coconut oil, melted
1 cup coconut butter, softened
2 tablespoons ghee
1 tablespoon Manuka honey (plus more for drizzling)
½ teaspoon vanilla
¼ cup unsweetened coconut flakes
dash of cinnamon
1 tablespoon bee pollen (optional)
Line an 8-by-8-inch baking dish with parchment paper.
Place walnuts and shredded coconut in a food processor and blend until the consistency of coarse sand. Add cinnamon, sea salt, vanilla, and dates, and process again, slowly incorporating coconut oil until sticky crumble is formed.
Transfer mixture to baking dish and press down until evenly spread. Place in the fridge for 20 minutes.
Meanwhile, make frosting. Add coconut butter, ghee, honey, and vanilla to a medium bowl and stir to combine. Spread evenly on top of walnut coconut crust. Drizzle more honey if desired and add toppings. Place back in the fridge for at least 30 minutes to set. Slice into bars and store in the fridge.
The side effects of Manuka honey.
One study43 confirmed that Manuka honey was safe for healthy individuals, but if you are allergic to bees, you may want to think twice before taking it orally. Due to possible traces of bee proteins44 found in Manuka, it could cause a reaction. If you have type 2 diabetes, you may want to be wary as well. While it falls lower on the glycemic scale compared to other sweeteners, you do run the risk of it spiking your blood sugar. However, when it comes to how Manuka affects patients with metabolic disorders, science has stated both sides1, so the research45 is still out on this one.
While Manuka honey is obviously super special, even normal honey is a potent inflammation fighter. Here's the deal.
Want to turn your passion for wellbeing into a fulfilling career? Become a Certified Health Coach! Learn more here.
Watch Next
Enjoy some of our favorite clips from classes
Watch Next
Enjoy some of our favorite clips from classes
What Is Meditation?
Mindfulness/Spirituality | Light Watkins
Box Breathing
Mindfulness/Spirituality | Gwen Dittmar
What Breathwork Can Address
Mindfulness/Spirituality | Gwen Dittmar
The 8 Limbs of Yoga - What is Asana?
Two Standing Postures to Open Up Tight Hips
How Plants Can Optimize Athletic Performance
What to Eat Before a Workout
How Ayurveda Helps Us Navigate Modern Life
Messages About Love & Relationships
Love & Relationships | Esther Perel
Love Languages
Love & Relationships | Esther Perel
Related Videos (10)
What Is Meditation?
Box Breathing
What Breathwork Can Address
The 8 Limbs of Yoga - What is Asana?
Two Standing Postures to Open Up Tight Hips
How Plants Can Optimize Athletic Performance
What to Eat Before a Workout
How Ayurveda Helps Us Navigate Modern Life
Messages About Love & Relationships
Love Languages
Advertisement
This ad is displayed using third party content and we do not control its accessibility features.
More On This Topic
more Food
Advertisement
This ad is displayed using third party content and we do not control its accessibility features.
Advertisement
This ad is displayed using third party content and we do not control its accessibility features.