This Zingy Side Salad Is Packed With Healthy Fats & Perfect For The Keto Diet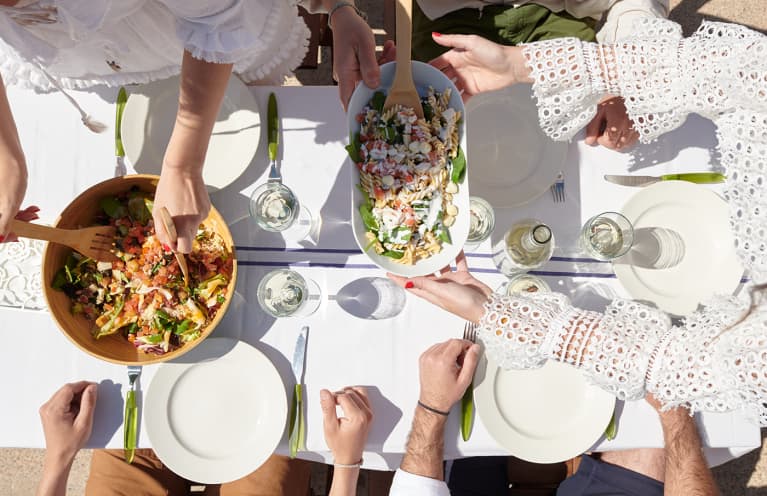 This article was produced to support the mindbodygreen supplements+ line. Our supplements adhere to the highest standards of ingredients and quality. We hope you enjoy these products, for more information
click here
.
There's no such thing as too many salads, but if you're getting tired of your usual greens dish, consider this keto-diet-friendly recipe. This salad is fresh, flavorful, and certainly unique. It features pickled mushrooms and onions, which amp up the color and zing of this dish and are easier to make than you may think.
"The acidity of the pickled mushrooms and red onion will cut through any richness," writes Monya Kilian Palmer in Lazy Keto Kitchen. "The flavor is quite strong, so I add feta and avocado to offer a milder flavor element and a creamy texture to the salad."
Avocado and feta are great examples of healthy fats—ones that pair well with the herbs, spices, and other flavors in this salad. Feta is one of our favorite cheeses to keep on hand (and not just because it's a staple in the Mediterranean diet): It has 4 grams of protein per ounce, and because it's particularly flavorful, a little bit goes a long way.
Pickled Mushrooms With Avocado & Feta Salad
For the pickled mushrooms:
9 oz. button mushrooms, halved if large
Apple cider vinegar, for pickling
2 fresh dill sprigs
2 fresh flat-leaf parsley sprigs
1 teaspoon whole black peppercorns
2 garlic cloves, peeled
For the pickled red onion:
¼ red onion, very thinly sliced
1 tablespoon red wine vinegar
4 handfuls mixed salad leaves
Squeeze of fresh lemon juice
1 large avocado, peeled, stoned, and diced
1.75 oz. full-fat feta cheese, crumbled
2 tablespoons olive oil
Ground white pepper and freshly ground black pepper
Fresh dill sprigs, to garnish
To make the pickled mushrooms, place the mushrooms into a wide, shallow bowl or jar and cover with equal amounts of cold water and apple cider vinegar. The mushrooms need to be completely submerged in the mixture, so be mindful of the size of your vessel so that you do not waste an unnecessarily large amount of vinegar. Add the dill, parsley, and black peppercorns. Smash the peeled garlic cloves with the back of a knife and add those too. Cover and leave in the refrigerator overnight, or for at least 12 hours.
For the pickled red onion, place the red onion in a small, shallow bowl and pour over the red wine vinegar. Cover and leave in the refrigerator (see above). Give both the mushrooms and red onion a quick stir every so often to ensure even pickling.
When you're ready to assemble the salad, drain the mushrooms very well (discarding all the pickling elements). Be sure to check for any peppercorns in among the mushrooms (no one wants to bite into one of those!). Drain the pickled red onion and set aside.
Pat the mushrooms dry with paper towels and place them in a salad bowl. Add the salad leaves and toss together. Squeeze a little lemon juice over the avocado to prevent browning, then lightly season with ground white pepper and add it to the salad, along with the crumbled feta.
Finish the salad with the olive oil and top with the drained pickled red onion. Season with a generous crack of black pepper to balance the saltiness of the feta. Scatter over a few sprigs of fresh dill for a beautiful finish.
Lazy Keto Kitchen by Monya Kilian Palmer is published by Kyle Books. Photography by Maja Smend. Excerpted with permission.