These 16 Pantry Staples Make The Keto Diet So Much Easier & Tastier

By Jennifer Marie Garza
mbg Contributor
Austin, Texas-based Jennifer Marie Garza runs two successful websites, iSaveA2Z and LowCarbInspirations, in addition to the incredibly popular Facebook page, Keto Friendly Recipes and a Facebook group called Low Carb Inspirations. She's also the author of Easy Keto For Busy People.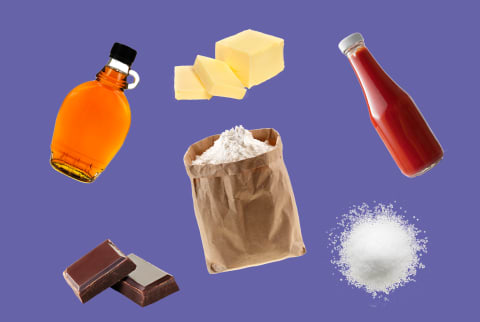 Image by mbg creative / iStock
June 30, 2019
We carefully vet all products and services featured on mindbodygreen using our
commerce guidelines.
Our selections are never influenced by the commissions earned from our links.
The
keto diet
is known for its benefits such as weight-loss, more energy, and better mental clarity. Sounds ideal right? Yes, but sticking to the diet is key to getting these benefits. Jennifer Marie Garza, the founder of the popular keto blog
Low Carb Inspirations
and author of the new cookbook
Keto-Friendly Recipes: Easy Keto for Busy People
, believes one of the essential factors of success on the keto diet is having the right foods around you. The first step in her keto journey was to clean out her pantry of all the foods that didn't fit with the keto diet. In this excerpt from her new book, she shares the pantry staples to stock up on while on the keto diet.
There are a few ingredients I recommend keeping in your pantry that will help you more easily adapt to the keto lifestyle.
Alternative flours
Flour with gluten is a no-no on the keto diet, but there are lots of other varieties to use instead.
Coconut flour
Made from dried coconut meat.
Almond flour and other nut flours
Almost any nut can be made into flour, though almond flour is the most popular and the easiest to find at the store.
Bone broth
Made from the bones of beef or chicken, bone broth is cooked for at least 10 hours and up to 24 hours. It is high in collagen and has anti-inflammatory properties.
Butter
This fat is used frequently on the keto diet, so it's good to buy the best you can afford. Kerrygold has a higher butterfat content than other butters; plus, it is free of growth hormones.
Chocolate
It can be hard to find sugar-free chocolate that is naturally sweetened and free of artificial ingredients. Lily's stevia-sweetened chocolate comes in a wide variety of bars, baking chocolate, and chocolate chips.
Collagen
This is a protein made up of amino acids and can be purchased in powder form. It's also found in bone broth.
Fiber
Adding fiber to your diet helps maintain bowel health, lowers cholesterol, and controls blood sugar. It also aids in weight loss. Good sources of fiber include chia seeds, flaxseed, flax meal, and psyllium husk powder. You can also buy unflavored fiber in powder form and add it to beverages or recipes.
Flavorings
If you want to add flavor without calories, a few drops of an oil flavoring can do the trick, but it's important that the flavoring you use includes only natural ingredients. LorAnn Naturals is a wonderful brand with lots of flavors to choose from.
Ketchup
Maple syrup
MCT oil
Short for medium-chain triglycerides, MCT is a type of fat found in oils like coconut oil and some dairy products. This kind of fat is good because it goes from the gut to the liver, where it is turned into ketones. You can buy the oil and add it to recipes to amp up the good fat in whatever you are eating.
Pork rinds
These snacks are crunchy and delicious and a nice alternative to potato chips, which are not part of a keto diet. They are gluten-free, high-protein, and free of carbs.
Salt
I use mostly table salt in the recipes, but I also like Himalayan salt because, in addition to seasoning food, it has more than 84 minerals and trace elements that are good for you.
Sweeteners
There are several good sweeteners available that offer all the sweetness you want without the carbohydrates and calories. When you are at the store, pay attention to the labels. Many sweeteners look keto-friendly, but they have extra processed ingredients that I don't recommend.
Erythritol
A natural sweetener found in pears, watermelon, and grapes. It is less sweet than sugar, so it is often found mixed with other sweeteners like monkfruit. Sukrin is a good brand that offers granulated, brown sugar, and confectioners' (aka icing sugar) varieties.
Swerve also offers granulated, brown sugar, and confectioners' varieties. It is a mix of erythritol and oligosaccharides. I love the taste of Swerve and use it all the time.
Monkfruit
This is a sweetener made from the juice of a small, round Southeast Asian fruit. My favorite brand is Lakanto, which can be found at many grocery chains. It comes in granulated ("Classic" on the Lakanto package), brown sugar ("Golden" on the Lakanto package), and powdered (aka confectioners') forms and can be used 1:1 in place of sugar.
Stevia
Derived from the leaves of a plant native to Brazil and Paraguay, stevia also sweetens without calories. Pyure is my preferred brand, and it offers both granulated and powdered (Bakeable Blend) varieties as well as liquid stevia.
Whey protein isolate
A supplement that adds protein to your diet, whey isolates have a higher protein content than whey concentrate or whey hydrolysate, and they are almost completely dairy-free and carbohydrate-free.
Xanthan gum
This is a thickener and stabilizing agent that is often used to compensate for a lack of gluten in baked goods.
RO*TEL Tomatoes
This blend of tomatoes and chilies is delicious and adds lots of low-carb flavor. It comes in original, mild, and hot versions, which will appeal to pretty much any taste. They come in cans, so you can store them indefinitely in your pantry.
Want to turn your passion for wellbeing into a fulfilling career? Become a Certified Health Coach! Learn more here.

Jennifer Marie Garza
Jennifer Marie Garza runs two successful websites, iSaveA2Z and LowCarbInspirations, in addition to the incredibly popular Facebook page, Keto Friendly Recipes, and a Facebook group called Low Carb Inspirations. She's also the author of Easy Keto For Busy People. Garza lives in Austin, Texas with her husband and two daughters. She loves to spend her time creating delicious keto-friendly meals and providing healthy, tasty foods for her family.