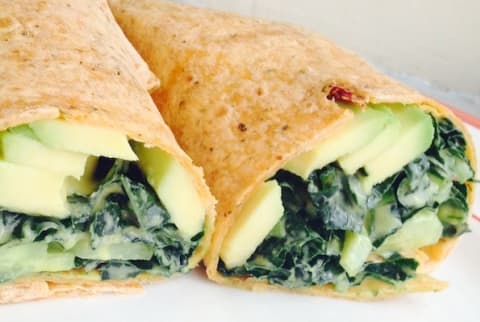 Photo by Shutterstock.com
July 3, 2014
This super simple wrap is easy to make and great to bring for lunch to work or school! It's filled with kale, cucumbers, avocados and a homemade mustard dressing.
The perfect summer wrap, on-the-go!
1 cup Tuscan kale, washed and chopped (or any kale will do)
mustard dressing (see below)
1/2 avocado, sliced
1/4 cup cucumber, peeled and sliced
2 wraps
Mustard Dressing Ingredients
2 Tbsp. olive oil
1 Tbsp. Dijon mustard
1/2 lemon
salt and pepper
Make dressing: combine all ingredients together, stirring until combined.
Mix kale and dressing together, allowing the mustard dressing to soften the kale. Assemble wrap starting with avocado, then add cucumber, and finally add the mustard kale.
Anna Gannon
Anna Gannon is a writer and yoga & meditation teacher. She is the community and social media lead at Expectful, a groundbreaking meditation program for pregnancy and parenthood, where she also hosts the Expectful Podcast. She has a bachelor's in physical education and coaching from Queens College. Her work has been featured on The Huffington Post, Yoga Today, The Expectful Blog, and more.