I'm A Cancer Survivor — Here's The (Crazy Cheap) Morning Elixir I Use To Beat Stress & Boost Immunity
mbg Contributor
By Sara Weinreb
mbg Contributor
Sara Weinreb is the host of the Medium Well podcast and curator of the weekly email, Sara... lately.. She has a bachelor's degree from Tulane University.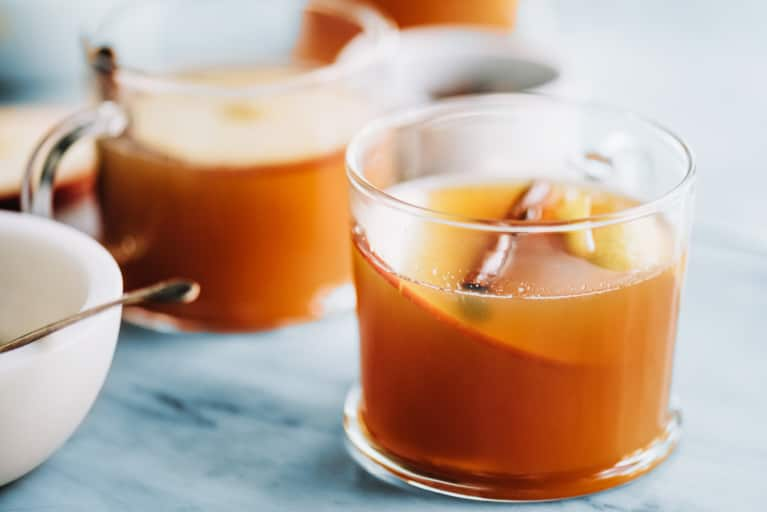 Our editors have independently chosen the products listed on this page. If you purchase something mentioned in this article, we may
earn a small commission
.
Last year I made a commitment to myself to start off my morning in a way that reduces stress and is full of healthy goodness. This commitment was spurred by my cancer diagnosis, which led to a dedication to living a holistic lifestyle, using food as medicine, and helping others learn to do the same. One of my favorite parts of my morning ritual involves making a warm, calming superfood-filled elixir that helps support my immune system and regulates my system to combat stress. The best part? It costs me less than $2.50 to make this—cheaper than a cup of coffee! And it often serves as my breakfast since it has protein and healthy fat.
I keep my elixirs affordable by shopping for bulk ingredients at local herb shops or online as well as using discount online sites such as Thrive Market for ingredients like raw cacao powder, collagen, and adaptogens. Another hack? Discount shops (like TJ Maxx and HomeGoods) often have amazing superfoods in their food sections at a discount!
I use tahini for flavor, healthy fat, minerals, and because it is highly regarded in ayurveda (as well as cardamom) for balancing vata (my favorite is a brand called Soom; it's delicious!). Collagen serves as protein (feel free to leave this out if you are vegan/vegetarian) and as gut support. Reishi serves as both a calming element and an immune-builder as the queen of all functional mushrooms, and he shou wu as an adaptogen that helps support stress response, as well as improving hair, nails, and energy and is chock-full of minerals and vitamins. And the raw cacao ensures all this tastes like you are drinking hot chocolate while providing a hearty dose of antioxidants!
If you don't have an ingredient or would prefer to use another superfood, adaptogen, or functional mushroom—go for it! Make the elixir work for you.
Immune-Building, Stress-Busting Elixir
2 cups boiling water
2 tablespoons raw cacao powder
2 tablespoons tahini
1 tablespoon collagen
½ teaspoon reishi
¼ teaspoon he shou wu
¼ teaspoon cardamom
⅛ teaspoon cinnamon
1 teaspoon raw Manuka honey (optional, or sweetener of choice)
Dash of pink salt
Method
Blend all ingredients until smooth.
Looking to cut out your a.m. coffee? One writer did, and it made a world of difference.