The 2 Things I Did To Reduce Sugar Cravings That Totally Worked: A Registered Dietitian Explains
Fat. The thing I was subconsciously taught to fear growing up. When it came to food and physical appearance, fat always seemed to be the last word anyone wanted to hear. Not until deep into my 23rd year of life was I finally comfortable with the word "fat."
Stemming from the low-fat and fat-free marketing craze that took off in the 80s, the media has done a fantastic job making people fear fat in all forms. Once America heard fat was bad, people began replacing fats with carbohydrates, specifically refined carbohydrates and those with added sugars. This idea that "fat makes you fat" was exploited by the commercial food industry. Taking advantage of the consumers' negative perception of fat, these companies marketed foods with labels such as "fat-free" and "low-fat." However, these foods are generally packed with sugar to compensate for the lack of flavor that's removed with fat. These sugars are often chemical-based additives that cause a spike in insulin levels and over time lead to serious health problems such as obesity, diabetes, and heart disease.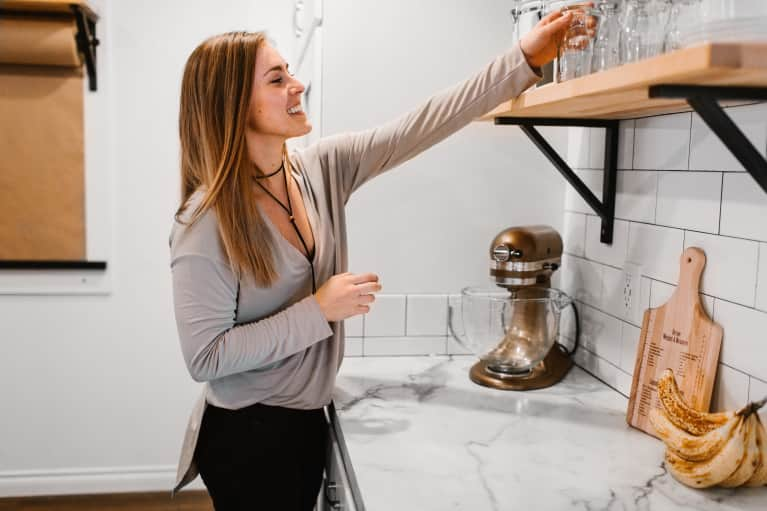 Waking up from the low-fat life was tough.
As a kid, it was standard to see the people around me, including my parents, buying into these societal healthy trends and choosing the nonfat and low-fat options. It also wasn't out of the ordinary for me to use "I Can't Believe It's Not Butter Spray" on my meals (this is horrifying to think about now), to seek out or create my own recipes neglecting the use of oil, or to order egg white omelets at restaurants (this last one is especially crazy to think about since egg yolks are one of the most nutritious foods. But how was I supposed to know this wasn't healthy when everyone else was doing it? No one taught me the truth about fats growing up. In fact, I didn't even consider eating more fats until about a year and a half after finishing college with my nutrition degree! (How crazy is that?)
I've gone through my fair share of seeing what works best with my body—eating six meals a day, high-carb, vegetarian, counting calories, high-protein, low-fat. Nothing seemed to work exceptionally well. Not to mention the horrible digestive problems I was experiencing for the last four years. It felt like everything I put into my body was bothering me and I could never find the root cause.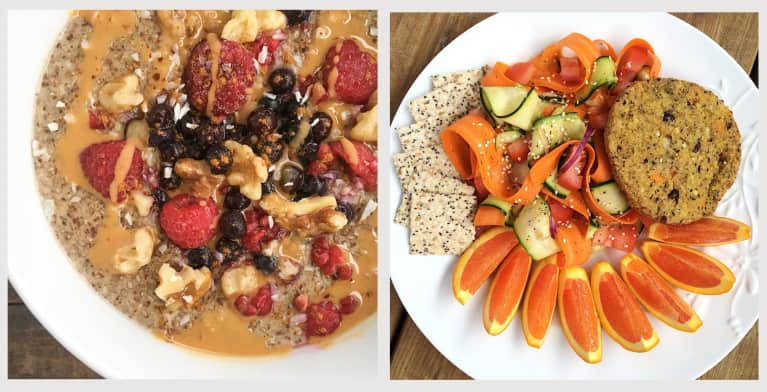 Finally, after educating myself about fat, GI issues and sugar intake, I decided it was time to dramatically change my diet. (Above is a side by side comparison of something I'd eat on a higher-fat diet versus when I avoided fat (right).)
It started with a seven-day sugar detox.
I began 2017 with a new mindset and completed a seven-day sugar detox. I cut out all added sugars, kept my fruit intake to a minimum and ate unlimited veggies. Before this, I was still cooking with healthy oils like olive, avocado and coconut oil, eating whole eggs, having nuts here and there, but consuming nowhere near the quantity of healthy fats I currently eat now. I went from only eating the recommended amount of avocado (1/8 portion) to either ½ or ¾ of an entire avocado in one sitting.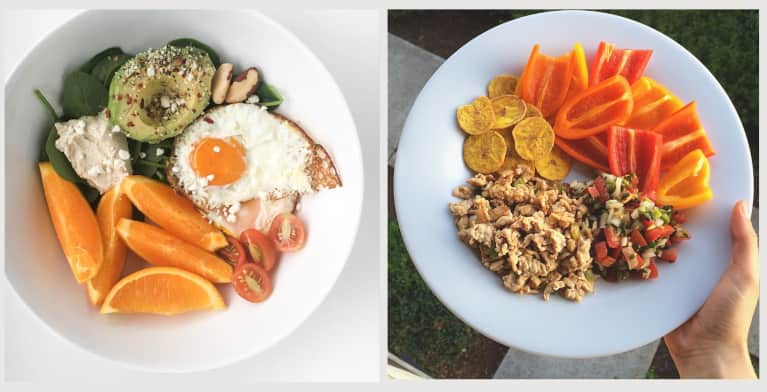 I started cooking with ghee for the first time ever for its lactose-free amazing health benefits—rich in fat-soluble vitamins and trace minerals like selenium, vitamin K2 and CLA (conjugated linoleic acid), and for its positive effect on serum lipid levels, I started adding MCT oil to almost everything I was eating and drinking for its antioxidant properties, easy digestion, and its satiating abilities to keep me fueled with higher energy throughout the day.
I added more dietary fat and removed foods that were causing digestive issues.
In addition to adding healthy fats and reducing my sugar intake, I removed the trigger foods that were causing me GI discomfort. I can honestly say my body has never felt so great! My bloat is nearly gone, I'm fuller and more satisfied after my meals, I have more energy throughout the day, I'm seeing more physical gains in the gym, and my sugar cravings have subsided.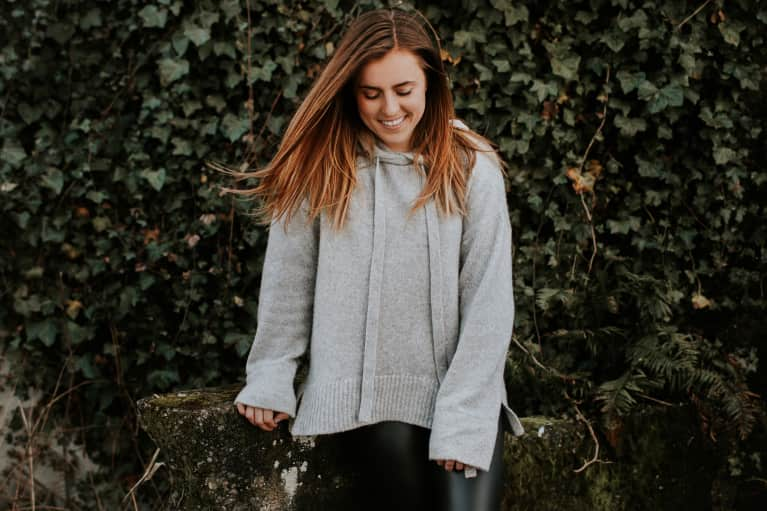 Is it time to re-evaluate your relationship with healthy fats?
If it took me, a registered dietitian, this long to have a real relationship with fat, surely there are others still stuck in the same place I was—avoiding fat for all the wrong reasons and missing out on some incredible health benefits (and delicious foods!). Of course, before changing your diet significatly, you'll want to talk to your doctor to make sure it's the right move for you. Fats are an essential nutrient we need in our diets. They help absorb fat-soluble vitamins (A, D, E, and K), regulate body temp, help with hormonal balance, satiety, brain function, weight management and more. Eating a low-fat diet has even been shown to reduce HDL cholesterol (our "good" cholesterol) and induce atherogenic dyslipidemia.