All The Ways We're Using Digestion-Boosting Ginger This Fall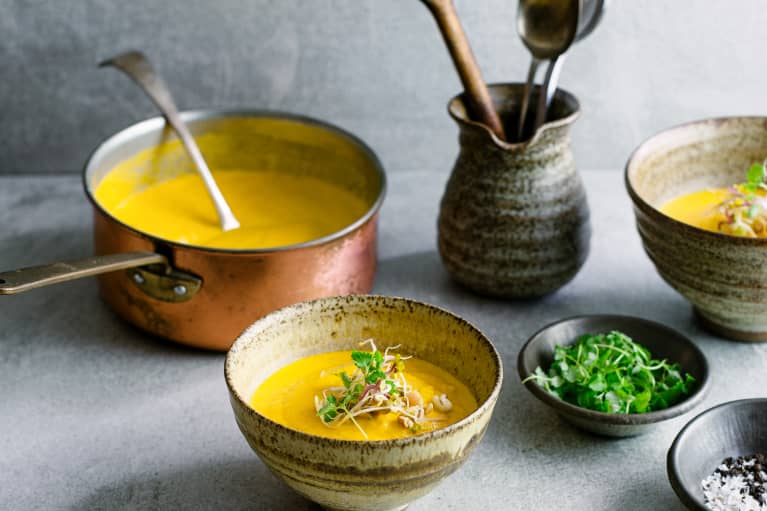 When chilly fall weather starts to come around, I find myself reaching more and more frequently into my spice cabinet. After all, what's better in fall than adding some warming spices to soups, roasted veggies, and even coffee? Not to mention, there are some spices with benefits that go far beyond their warming touch. Case in point: ginger. Beyond its powerhouse flavor potential, ginger is also packed with some stellar health benefits, which is why I'll be tossing it into just about everything this season.
The health benefits of ginger, according to experts.
When we ask our experts about their favorite ingredients, it seems like ginger comes up pretty often. "I love fresh, raw ginger for some of the antimicrobial properties," registered dietitian Maya Feller, M.S., R.D., CDN, said during an appearance on the mindbodygreen podcast—which is part of why she swears by it for helping support immunity.
"Ginger is not just a flavorful addition to your meal; it's been used for thousands of years as a tool for soothing the stomach due to its calming herbal bioactive properties," writes functional medicine practitioner Will Cole, IFMCP, DNM, D.C. "In fact, studies have shown ginger's anti-inflammatory actions in the body after just one month of consistent use," he says.
If those two experts' perspectives aren't enough, research shows that ginger also boosts digestion and may be particularly helpful in easing period pain and muscle soreness.
Our favorite way to use ginger in the fall.
The other fabulous thing about ginger, from a culinary perspective, is its versatility. You may be thinking, But, it's such a distinctive flavor! However, ginger makes frequent appearances in many regional cuisines around the globe, in both savory and sweet applications.
But for this time of year, there's one favorite way to use ginger in the kitchen: soups (and stews). Since ginger accentuates the natural warmth of these dishes, it's only sensible to get those flavors stewing (pun intended). Here are some of our favorite recipes featuring ginger: