I've Tried Every Digestion Trick And This Is The (Surprisingly Cheap And Easy) One That Actually Works

Contributing Food Editor
By Liz Moody
Contributing Food Editor
Liz Moody is a food editor, recipe developer and green smoothie enthusiast. She received her creative writing and psychology degree from The University of California, Berkeley. Moody is the author of two cookbooks: Healthier Together and Glow Pops and the host of the Healthier Together podcast.
Every night after dinner, I make myself the same drink: a generous dash of lavender bitters in sparking water. It calms me down and helps me digest my food before bed, and it tastes just sweet enough to be a satisfying soda substitute. My approach to bitters is similar to Windex from My Big Fat Greek Wedding or coconut oil in the health food world: Feeling bloated? Take some bitters. Have a stomachache after eating too many tortilla chips? Bitters got your back. Is your belly requesting chocolate cake while your mind is kindly saying "no, thank you"? Bitters, bitters, bitters.
Bitters are commonly used to add a, well, bitter note that balances out cocktails, but for centuries, the tinctures have been used medicinally.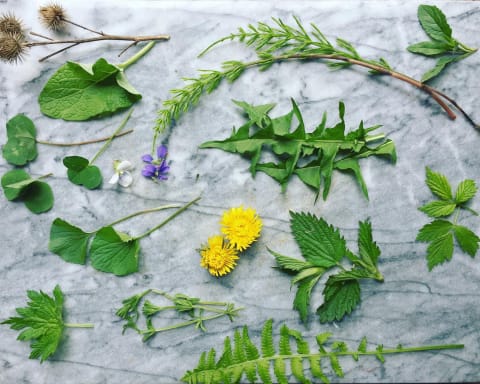 This makes sense—a bitter refers to simply herbs extracted in alcohol, and we've long been aware of the healing properties of herbs. While there aren't any rules about the types of herbs in bitters (and most brands like to keep their signature brand proprietary), there are a few that are commonly used to achieve that bitter flavor, including cascarilla, a medicinal tree bark; gentian, a super bitter root; and cassia chips, which are related to cinnamon. Those combine with spices like cardamom, peppercorn, vanilla bean, juniper berries, and more—you name it, there's a bitter flavor for it. The spices and herbs provide the unique flavors that make bitters in sparkling water a great soda replacement.
Medicinally, bitters are working on two levels.
First, the sheer bitterness of the tinctures stimulates your stomach acid1, making it easier for it to go to work digesting whatever food you eat. Beyond that, the medicinal properties of whatever spices and herbs are used go to work. Vanilla has been shown2 to increase mental performance, for instance, while lavender has been shown time and again3 to be a powerful weapon against stress, anxiety, and depression. People have also long relied on powerful bitter flavors to eliminate sweet cravings. Combined with the filling feeling of carbonated water, bitters make it easy to happily decline dessert.
But not all bitters are created equal.
Watch out for brands with artificial colors and flavors—they're incredibly common in bitters land. I love Scrappy's Bitters, which has flavors like cardamom, orange peel, and lavender, while Urban Moonshine makes bitters specifically created to ease digestion in a size that's perfectly suited to toss in your purse or travel carry-on, perfect for pulling out on a plane or after a hearty restaurant meal (just order some sparkling water and you're good to go). While the taste varies, most aren't incredibly bitter, with the flavor on the bottle typically dominating the palate. It's most akin to a can of La Croix—except with potent healing effects.
Want to turn your passion for wellbeing into a fulfilling career? Become a Certified Health Coach! Learn more here.