Eating Healthy Starts With Your Pantry — Here Are 9 Ways To Revamp It
mbg Contributor
By Caroline Muggia
mbg Contributor
Caroline Muggia is a writer, environmental advocate, and registered yoga teacher (E-RYT) with a B.A. in Environmental Studies & Psychology from Middlebury College.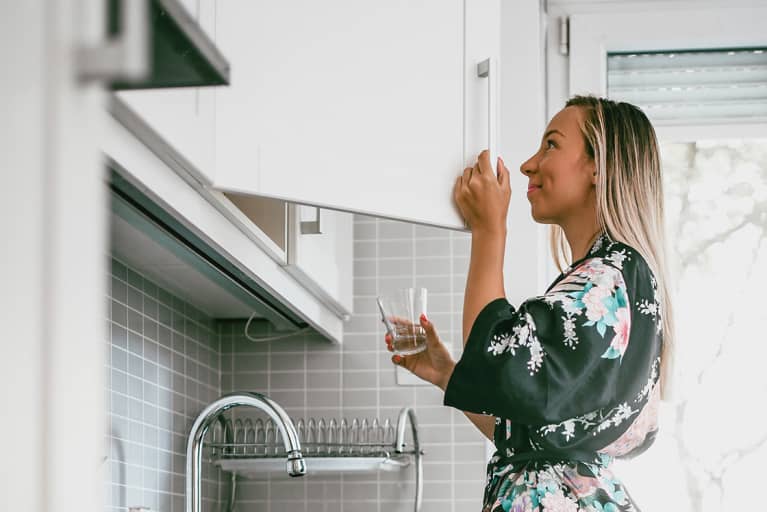 Our editors have independently chosen the products listed on this page. If you purchase something mentioned in this article, we may
earn a small commission
.
Maggie Battista, the author of the new cookbook,
A New Way to Food
, struggled with her weight and dieting for years until she found that eating nutritious, plant-based, and refined-sugar-free foods were the secret to feeling good. In her new cookbook, she shares the over 100 recipes that have influenced her healthy living journey.
A New Way to Food
is all about embracing foods that taste good and fuel our bodies rather than focusing on dieting. In this excerpt from her new cookbook, she shares her tips for revamping your pantry, so it becomes easier to prioritize healthy eating.
This book isn't about deprivation—it's about making smarter choices that support your beautiful body and long-term wellness. You'll see that my pantry is as abundant as ever, just a lot more wholesome. Here are the building blocks for all the meals I make in my kitchen and the keys to making more wholesome versions to fit any creamy, sweet, and savory cravings:
1.
Switch up your sweeteners.
The glycemic index measures how rapidly digestible a food is or the extent to which it raises blood sugar levels after eating it. Diabetics watch this measure very closely, and while I've never been a diabetic, I find it super helpful to be mindful of this. The more stable and lower my glycemic levels, the longer I feel full and the less I want to eat. A food that registers high on the glycemic index (like a piece of milk chocolate cake sweetened with white sugar) may give me a sugar high and then crash and may send me looking for more food sooner. Since I wanted to stuff myself with good foods that kept me fuller longer, I changed the sugars in my pantry to natural sweeteners, which are lower on the glycemic index. I also take care to avoid purchasing any foods with added sugar (for example, most prepared foods have even just a little sugar, including many types of bread, tortillas, and wraps).
Although a little organic cane sugar certainly remains in my pantry (because I work in food and need access to everyday ingredients), I prefer to stock and only consume these lower glycemic sweeteners:
Apples (whole, fresh; and shredded, frozen)
Bananas (whole, fresh; and peeled/chopped, frozen)
Brown rice syrup
Coconut sugar
Dates
Date nectar
Date sugar
Date syrup
Honey (light, wildflower, chestnut, hazelnut, raw, simple syrup)
Maple sugar
Maple syrup
Molasses
All of these sweeteners are still forms of sugar, so use as little as possible in your everyday cooking. And, to be clear, during active wellness mode, it's best to consume only natural sugars via fruit and wholesome carbohydrates.
2.
Ditch dairy for plant-based milks and cheeses.
Now that I only eat plant-centric dairy, my body feels so much better—the inflammation in my joints is nonexistent, and I rarely get sinus infections. And since most store-bought desserts are made with animal dairy, I am compelled to steer clear of desserts generally. The switch was a huge win for me.
Plain, unsweetened plant milk, typically the homemade variety, forms the base of all of my smoothies and is always in my fridge. I use it in baked goods, scrambled eggs, and to make creamy dishes even creamier. I also add a splash to coffee or tea. Of the many varieties I've tried, cashew and almond milk are my top choices.
I usually make nut milks from scratch in my kitchen. I also stock boxed plant milk from the grocery store for using in a pinch—read the label to ensure it has no added sugar. I make other plant milks, as needed, for specific dishes.
These are the milks I use regularly:
Almond milk
Cashew milk
Coconut milk
Hazelnut milk
Oat milk
Pistachio milk
In lieu of dairy-based cheeses and condiments, I now use plant-based cheeses in my cooking. They really are delicious and add enough creaminess to support my craving. I typically make almond ricotta and crème fraîche from scratch and purchase plant-based cheese shreds at the store to use sparingly on a pizza.
3.
Get your fat from healthy sources.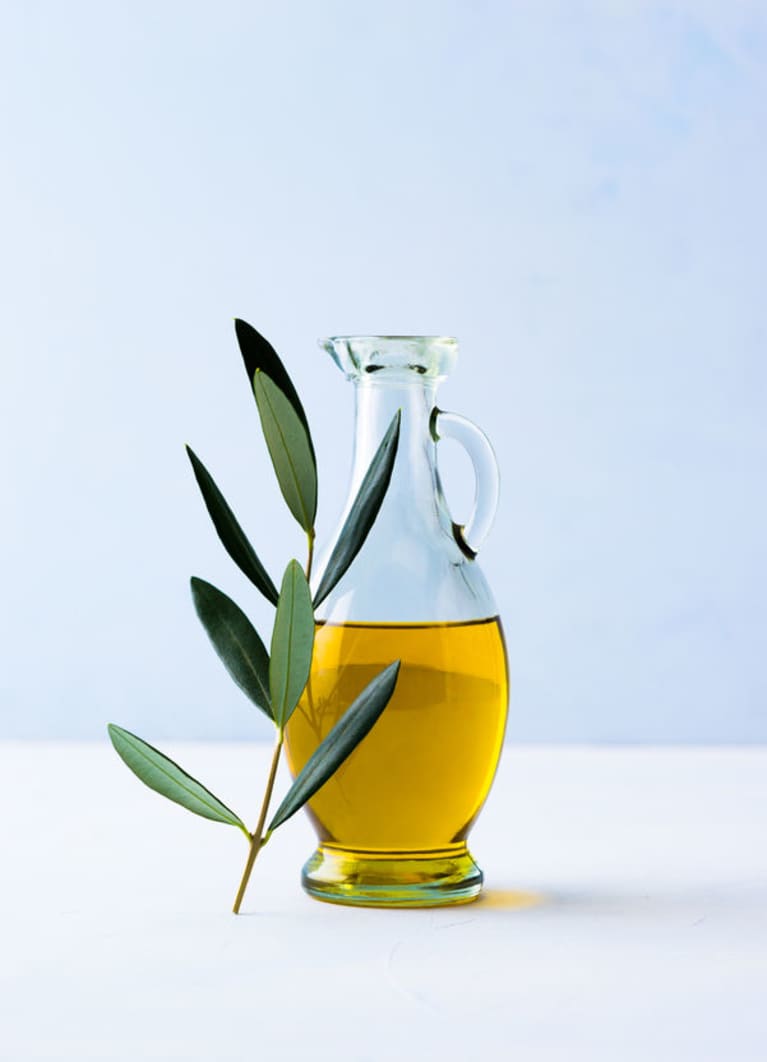 Healthy oils and fats have been proven to be essential to weight loss, brain function, and strong muscles. While I don't use gallons of oil in my home cooking, I do use as much as I need—just healthier, mostly unrefined oils.
I prefer using extra-virgin olive oil to sauté at lower heats. I use grapeseed or coconut oil to sauté over high heat, as well as in my baking. (For those who don't love the taste of coconut, know that refined coconut oil tastes less like actual coconut.) I use light sesame oil at higher heats; toasted sesame oil is better to just flavor dishes, as the seeds have already been cooked and the oil turns rancid quickly overheat.
I love to use ghee when butter is useful in a certain recipe. Ghee is essentially clarified butter—the milk solids have been removed through a heating process, and the golden fat has been toasted up beautifully. It tastes a little like browned butter: aromatic and nutty. It is neither vegan nor dairy-free because some milk solids inevitably remain in the golden liquid. You can buy ghee in most markets or make your own.
These are all the oils I use regularly:
Avocado oil
Coconut oil (refined and unrefined)
Ghee
Grapeseed oil
Olive oil (extra-virgin, cold-pressed)
Safflower oil
Sesame oil (light and toasted)
Pay close attention to the temperature guides on the bottles of each oil you use and do not use oil outside of those suggested temperatures. If oil ripples in a hot pan or smokes, it's turned toxic and should be tossed. As for other healthy fats, I stock the sort that I crave daily like avocados, shredded and flaked coconut, all types of olives, and nut butters. I also eat sustainably sourced wild salmon about once a month.
4.
Make produce the star of every dish.
Since the bulk of my dishes are filled with produce, my home is always filled with fruits and vegetables. While I will buy a beautiful tub of strawberries when they're in season or a pile of just dug parsnips from the local farmers market, I stock a fairly standard roster of produce—like onions, carrots, celery, potatoes, greens, greens, and more greens, etc. Except for the greens, I store most of these ingredients in a cool pantry—a space in the kitchen that is dark and away from any heat. I am hyper-concerned about food waste, so I buy more perishable produce in very small quantities.
I also keep a lot of unsweetened dried fruit on hand to top smoothies, grain bowls, or salads—and to add to savory stews. Fruit is sweet enough naturally, so search out the sort with no added sugar. I store dried fruit in the refrigerator but bring it to room temperature before using so it's soft and pliable in my dish.
I eat animal protein only occasionally—a bit here or there—most likely when I am cooking for guests or family. I buy organic, pasture-raised, and grass-fed meat from a trustworthy farmer in bulk a few times per year; I freeze it and thaw as needed.
This is the animal protein most typically in my kitchen:
Beef (organic feed, grass-fed): consumed 1 to 2 times per month
Chicken (organic feed, pasture-raised): consumed 1 to 2 times per year
Duck (organic feed, pasture-raised): consumed 1 to 2 times per year
Eggs (organic feed, cage-free): consumed 1 to 2 times per week
Salmon (wild-caught): consumed 1 to 2 times per month
Turkey (organic feed, pasture-raised): consumed 1 to 2 times per year
I get plenty of protein from all the plant-based ingredients in my pantry, so I have no concerns with making meat a special-occasion ingredient.
6.
Fill up on beans, legumes, and whole grains.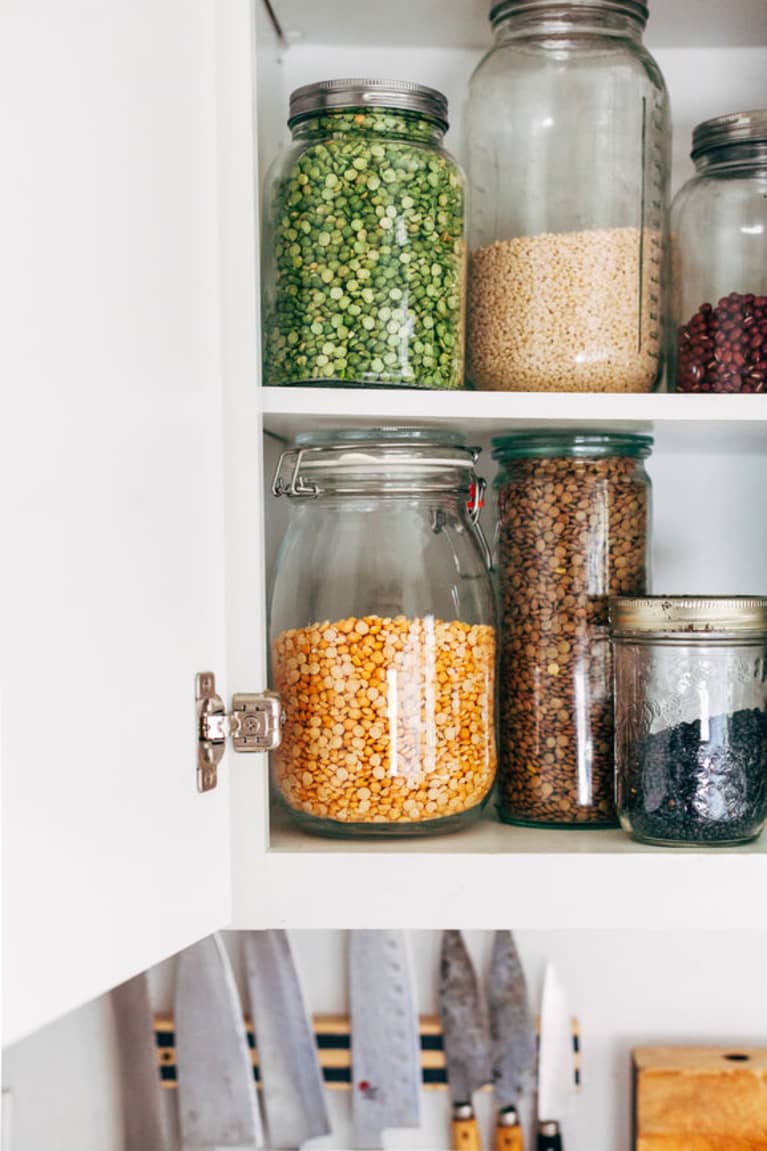 The bulk of my plates are filled with scoops of beans and legumes, as they pack a nutritional punch that keeps me fuller longer.
I prefer to stock dried beans, as they require no preservatives and, when simmered slowly, develop a beautiful creaminess. I also stock canned beans since they make a meal in minutes. Search out canned beans that have not been genetically modified and that come in cans lined without bisphenol A (BPA). Drain and rinse canned beans before using.
I eat grains to help me feel fuller longer, too. I stock a variety of grains and prefer to cook with many types—like basmati rice, quinoa, rye flakes, and couscous—to make my dishes interesting and nutritionally varied.
You'll notice a few alternative flours throughout the recipes. I like to substitute buckwheat, spelt, and rye flours for some or most of the all-purpose flour in some of my recipes, to add just a little more nutritional value to a baked treat.
7.
Add a nutritional crunch with nuts and seeds.
I use nuts for everything from adding a little crunch to a salad to pureeing for plant milk, using as egg substitutes in baking, or to make creamy sauces and salad dressings. I prefer to source raw, shelled, whole nuts and do any roasting or salting when I'm ready to use them. The only variant is almonds, which I tend to stock in multiple states: sliced, slivered, whole, ground, and flour.
I often source whole seeds—like flaxseeds and chia seeds—as well, always organic, and grind or chop just before use. Whole seeds stay fresher longer, maintain their bite, and keep their unique flavor.
Nuts and seeds are sensitive and can become rancid after just a few months at room temperature. I store most of my nuts and seeds in labeled glass jars in the back of my fridge.
8.
Try something tart and tangy in your dishes.
Vinegars contribute so much to my new way of cooking. I splash a little on vegetables at the end of a sauté and even drink well-diluted shots during allergy season. I tend to use apple cider vinegar and coconut vinegar most frequently and, often, interchangeably.
If I happen to have extra hulled strawberries, I'll slide them into a container of white wine vinegar for up to a week to impart their sweet flavor into the vinegar and, subsequently, into my dishes.
In addition to vinegars, I'm a big fan of adding pickles and ferments to my plates, often just before serving to offer a healthy probiotic punch or dynamic flavor contrast. For example, pickled onions perk up a bowl of plain rice and add a vibrant punch.
9.
Stock condiments and spices for further flavor.
I keep a variety of condiments on hand—too many to count—to make my bowls and plates feel powerful and taste delicious. Pureed garlic and ginger are essential, as most dishes dazzle with a little cooked in. I also prefer to use flavors from my childhood that are spicy and punchy like chipotle in adobo, chili oil, and all kinds of hot sauce—a little stirred into a fried rice dish or splashed on an egg can make a meal more exciting. As well, miso paste, nutritional yeast, and mushroom powder add that hard-to-recognize umami that many dishes need to make them savory and appetizing. You'll see them used throughout my recipes.
You'll find a bunch of other ingredients in my pantry as well as some never-fail foods like dark chocolate for nibbling and teas to ease anxiety or perk me up. But it's with all of these major ingredient shifts that my recipes became way more wholesome and pleasurable, on the palate and on the plate.