This Badass Boss Lady Uses Weed To Combat Her Gluten Sensitivity

Contributing Food Editor
By Liz Moody
Contributing Food Editor
Liz Moody is a food editor, recipe developer and green smoothie enthusiast. She received her creative writing and psychology degree from The University of California, Berkeley. Moody is the author of two cookbooks: Healthier Together and Glow Pops and the host of the Healthier Together podcast.
Ashlae Warner is already known to many healthy food lovers as the woman behind Oh Lady Cakes, a nourishing, inspiring corner of the web featuring semi-indulgent, semi-healthy desserts galore. Her new venture, Alchemy Food Co., takes her baking skills to a new level, as she tackles marijuana (now legal in Colorado) to make the first-ever line of healthy edibles. We caught up with her to chat about the inspiration behind the new project, how marijuana allows her to eat gluten despite her sensitivities, and how she thinks the herb can help with the very real prescription drug crisis facing the country.
mbg: Where did the idea for Alchemy Food Co. come from?
AW: A jar of year-old canna-coconut oil. No joke.
On the first day of legal recreational marijuana sales, my then-fiancé waited in an hours-long line and brought home a quarter ounce of bud. I had no idea what to do with it, so I used it to infuse some coconut oil. And then said coconut oil sat in a cabinet for a solid year before I finally decided to do something with it. I ended up using it to make some almost raw brownies with maple ganache and—to my surprise—they were a huge hit. So huge that everyone who tried them made it a point to tell me that I needed to figure out a way to sell them.
Once I realized Colorado didn't have any edible options for the health-conscious cannabis consumer, I approached my soon-to-be husband with the wild idea of starting a whole food edibles company and—again, much to my surprise—he was all-in. We applied for our recreational license in August 2016, and we've been trying to navigate the weird world of legal cannabis ever since.
mbg: Do you think of marijuana as a health food?
AW: I don't think of it as a health food, but I do consider the plant to be a natural and healthy alternative to pharmaceuticals. I use it to treat everything from anxiety and restlessness to headaches and menstrual cramps—ailments that would normally be treated with OTC medications or prescription drugs (which can be really hard on your body). Depending on the issue I'm trying to address, I'll dose with anywhere from 2.5 to 100 mg—which probably seems like a wide range, but, for me, the dose is determined by how the plant is being used (consumed, applied topically, etc.).
mbg: Is eating marijuana different, health-wise, than smoking it?
AW: I think that depends on the delivery method. While using a vape pen carries a lower health risk than smoking a joint, it's widely known that inhaling anything other than clean oxygen can cause inflammation and lead to long-term health consequences (like the c-word). If you're worried about avoiding any potential health risks, eating marijuana is the way to go—assuming you're not always reaching for gummies or cookies, because then you'd probably be better off just smoking a joint.
mbg: Have you experienced any health transformations from the consumption of marijuana?
AW: Yes, definitely. I have chronic endometriosis (for two to three days each month I get cramps so intense that they make me vomit) and was on a daily dose of upward of 2,800 mg of painkillers. Using marijuana (in the form of homemade canna-coconut oil suppositories to keep things localized) has allowed me to reduce my use of painkillers by more than half, which is a pretty awesome thing.
Also, I recently (and accidentally) discovered that I can eat gluten without all the adverse side effects if I consume a little ganja 20 to 30 minutes before chowing down. Yeah, you read that right. Marijuana has allowed me to enjoy gluten without all the associated GI issues. How cool is that?
I can eat gluten without all the adverse side effects if I consume a little marijuana 20 to 30 minutes before chowing down. How cool is that?
mbg: Do you have any tricks for baking or cooking with cannabis in a healthy way?
AW: I always make my own infusion from unrefined coconut oil and the best bud (or trim) I can get my hands on. Down at Alchemy HQ, I use everyone's favorite Instant Pot, but at home I use a LEVO (and I highly recommend it over any other method). Making my own infused oil allows me to be in control of the quality and potency, and that's really important to me. Not to mention, using a LEVO guarantees homogeneity (it's got a built-in stirrer), which is also extremely important when it comes to dosing.
As for baking or cooking with it, you can use canna-coconut oil in any recipe that calls for oil or butter. My favorite way to consume cannabis has always been in products similar to what we make at AFC, something that's wholesome and nutrient-dense but also something that's delicious and delivers a really smooth and consistent high.
mbg: Were there any challenges with nailing your signature recipes? How did you overcome them?
AW: The recipe development for Alchemy was a lot more challenging than I thought it would be. Once I nailed the recipes at a smaller size, I had to work out how to scale them. Thankfully the recipes themselves scaled but the approach I was using did not. For 48 hours straight (I barely slept a wink), I wracked my brain trying to figure out what I was doing wrong, and it wasn't until I took a few steps back (and a really deep breath) that I realized I was overprocessing everything. Easy fix. But then I started incorporating the infused oil. I expected the process to be fairly simple and straightforward, but our first round of testing revealed issues with the potency. I bought this fancy little magnetic stirring device, and now all I have to do is stir the infused oil for a few hours before using it. It's a time-consuming step but one that guarantees Alchemy's products are homogeneous, so it's kind of necessary.
As for how I overcame those challenges, turns out a little pep talk from my husband (who is also my business partner) does the trick. Not only is he reassuring and supportive, but he's also really good at telling me what I need to hear (which, at the time, usually isn't something I want to hear). All I know is that the dude has a way with words that manages to bring the kind of clarity I need to solve problems. And I love that about him.
mbg: Thanks, Ashlae! Could you share a healthy cannabis recipe with us?
AW: How about some almond butter no-bake cookies? They're delicious and not completely terrible for you. And they're based on one of the most popular recipes on my site. Also? They'd be perfect to bring to a holiday party.
No-Bake Almond-Butter Canna-Cookies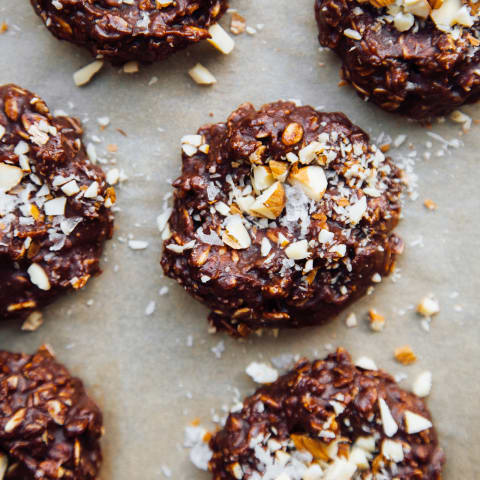 3 tablespoons unrefined coconut oil
1 tablespoon unrefined canna-coconut oil*
¼ cup Grade B maple syrup (or honey)
6 tablespoons cacao powder
½ cup creamy almond butter
1 cup thick rolled oats
Pinch of sea salt
Raw almonds, roughly chopped, to top
Sea salt flakes, to top
Line a large baking sheet with parchment paper; set aside. Melt the coconut oil in a small saucepan set over medium heat. Once liquid, stir in the maple syrup and cacao powder, followed by the almond butter.
Take it off the heat and mix in the rolled oats and salt. Using a 1½-tablespoon cookie scoop, drop the mixture onto the prepared baking sheet, flatten with the back of a spoon, then sprinkle with chopped almonds and sea salt flakes, if desired.
Transfer sheet to freezer and chill for 10 to 15 minutes, or until solid. Cookies will keep in the refrigerator for up to one week but can be stored in the freezer for up to one month.
*Notes on the canna-coconut oil: I infuse my oil with a sativa-dominant hybrid at the ratio of 3.5 to 7 grams of flower (decarboxylated at 250˚F for 40 minutes) for every 90 grams of oil. I infuse using a LEVO at 190°F for 6 to 10 hours. Once the oil is finished infusing, I pour it into a silicone tray and store it in the freezer, thawing a cube or two as needed. To dose accurately, and use the correct amount of infused oil, use this calculator.