How To Make A Dreamy Chocolate Collagen Frappe That's Actually Good For You
Registered dietitian
By Lauren Koffler, M.S., R.D., CDN
Registered dietitian
Lauren Koffler, M.S., R.D., CDN, is a Registered Dietitian Nutritionist based in New York City, where she runs her private practice, Lauren Koffler Nutrition. She is also an adjunct professor at New York University, where she earned her Master's in Clinical Nutrition.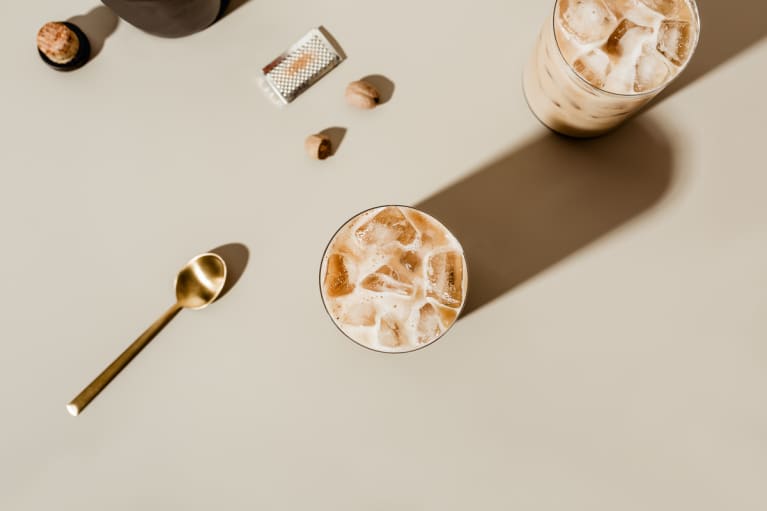 Who doesn't like a cool, refreshing sip in the summer? This healthier take on the traditional frappe is just as rich and decadent: With ingredients like coconut cream, collagen, and creamy oat milk, you're bound to have a blended drink of dreams (whipped coffee, who?).
It boasts some promising beauty benefits, too, making this frappe a triple threat: It delivers on simplicity, taste, and skin-healthy ingredients.* After all, collagen supplements have been shown to support skin hydration and smooth the appearance of fine lines, and the hyaluronic acid, vitamin C, and vitamin E in mbg's formula help enhance those benefits twofold.*
Feel free to get creative with the proportions in this recipe, depending on how strong you like your coffee. Sweet or strong, your chocolate collagen frappe is up to you! Below, you'll find a general guideline:
Chocolate Collagen Frappe
1 cup chilled coffee (this will come out best if you brew your coffee in advance!)
¼ cup milk of your choice (I like oat milk, but almond, coconut, or cow's milk will all work)
⅓ cup coconut cream
1½ tablespoons unsweetened cocoa powder
1½ cups ice cubes (if you like your frappe frothier, use more ice cubes!)
2 tablespoons mbg grass-fed collagen+
If the above blend doesn't taste sweet enough, you can add additional sweetener (like coconut sugar) to taste
Place all ingredients in a blender and mix until smooth—enjoy!