Why You Should Try Dukkah + How To Make It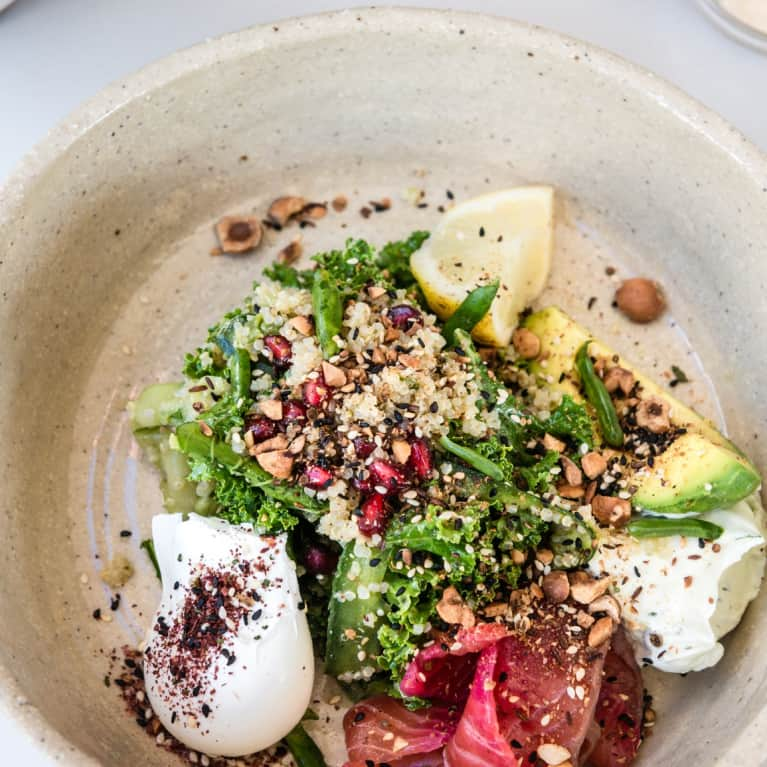 Who doesn't appreciate a little extra crunch and flavor on, well, everything?
Enter dukkah, the Egyptian spice, seed, and nut blend that we'd be happy use as a garnish for everything from eggs, salads, roasted vegetables, soups, toast (avocado or otherwise), and even yogurt. We even love it mixed with a little olive oil as a dip for good sourdough or flatbread. It adds a pop of flavor and extra layer of texture with the simple combination of anti-inflammatory spices and protein-packed nuts and seeds.
While fairly popular in other countries, we've noticed this somewhat exotic-to-Americans topping popping up on more NYC restaurant menus lately. At Bluestone Lane, it's served atop their irresistible Squash Smash toast, The Smile adorns its kale and delicata salad with it, and at Ladybird they sprinkle it on both a beet salad and churros (!!).
You can seek it out pre-mixed at good spice shops, but it's almost easier to make your own—which has the advantage of letting you tailor it to your tastes. The recipe below calls for cashews and hazelnuts, but feel free to switch those for any of your favorite nuts—pistachios, almonds, and macadamias are all delicious here.
⅓ cup cashews
⅓ cup hazelnuts
2 tablespoons coriander seeds
2 tablespoons sesame seeds
1 tablespoon cumin seeds
1 teaspoon cracked black pepper
1 teaspoon sea salt
½ teaspoon chili flakes
Preparation
1. Heat a large skillet over medium heat. Add pistachios and almonds and dry toast them for about 5 minutes, tossing occasionally, until they start to turn golden and fragrant. Transfer to a plate.
2. In the same pan, toast coriander seeds, sesame seeds, and cumin seeds for about 2 to 3 minutes over medium-low heat, until fragrant.
3. Combine nuts, seeds, salt, pepper, and chili in the bowl of a small food processor and pulse until everything is finely chopped (alternatively, you can do this old school with a mortar and pestle). You don't want a fine powder; you're looking for small bits and pieces that still lend a bit of crunch.
4. Store in a glass container in the fridge for up to a month.